Littlerock Reservoir, California, USA
Also known as:  Littlerock Lake, Little Rock Reservoir, Little Rock Lake
Welcome to the ultimate guide for history, statistics, local fun facts and the best things to do at Littlerock Reservoir.
If you're considering Littlerock Reservoir vacation rentals, we've made it super easy to explore accommodations and nearby hotels using the interactive map below. Simply click on a listing to compare similar properties, best rates and availability for your dates. Or keep scrolling to read our Littlerock Reservoir guide!
Littlerock Reservoir visitor and community guide
Littlerock Reservoir is a man-made water storage system located in Los Angeles County, California, southeast of Palmdale and about three miles southwest of Littlerock, after which it's named. In 1924, the Littlerock Dam was constructed to assist the area's farming communities in maintaining a sufficient supply of water for crop irrigation. This new reservoir served Palmdale and Littlerock, but that job now goes to the California Aqueduct system, whose construction began in 1960. Although both the Littlerock Reservoir and the California Aqueduct are in use today, both built by the Department of Water Resources (DRW) as part of the California State Water Project, Littlerock Reservoir is now a used as a backup storage system. The community of Littlerock proudly proclaims itself "The Fruit Basket of the Antelope Valley" with fruit stands and U-pick orchards lining the highway.
Littlerock Creek feeds into Littlerock Reservoir as its main source of water, coming in from the southern end of the lake. The reservoir rests at an elevation of 3,405 feet. The Littlerock Dam at the northern end controls water outflow into Palmdale Lake. Although Littlerock Reservoir is no longer the primary water supply for the Palmdale area, this 150-acre lake is now a recreational destination enjoyed by area residents when water levels are high. Fishing in Littlerock Reservoir is popular, aided by the stocking that the government sometimes provides. Rainbow trout, brown trout, carp, catfish, largemouth bass and bluegill are all angled for here, usually with good results. Fishing is popular year round, and the reservoir does not freeze over as a rule. Boats must not have engines over 10 horsepower, and speeds cannot exceed 5 mph. The Littlerock Recreation Area provides picnic areas, boat rentals, and a store. Visitors must purchase a National Forest Adventure Pass for day use.
Situated in Antelope Valley near the edge of the Angeles National Forest, the area surrounding Littlerock Reservoir is abundant with wildlife and outdoor adventure opportunities. Deer hunting is popular in the area. Horseback riding is found in the vicinity. Four large camping facilities, which allow recreational vehicles and tents, are located around the lake on the south and southwestern sides. Hiking is popular, and some of the local trails, including the High Desert National Recreation Trail, are popular with locals and vacationers alike.
City dwellers flock to the area for a weekend of recreation and relaxation; it's located only an hour's drive from the city of Los Angeles. It's also popular for year-round activities, as the temperatures here are mild in the winter and allow vacationers to spend a great amount of time outside. Mount Waterman is a favorite skiing area. Southern California's climate is perfect for outdoor activities in all the seasons. A wide choice of accommodations is available for those wishing to spend some time in the area; similarly, real estate is diverse and likely will provide an option to suit every potential buyer. From weekend tourists to retirees looking for a permanent home to families looking for a vacation cottage, the area's proximity to larger Southern California towns and cities allows wide variety in style, price range and choices of vacation rentals and real estate for lease or sale.
Littlerock Dam itself is considered an important piece of architectural history. The structure, when originally built, was an Eastwood cement multiple-arch buttress dam, which is much more interesting visually than most other dam construction appearances. The Eastman multiple-arch buttress dam was a design created by John Eastman, an engineer who favored the multiple-arch approach to dam building for its aesthetics, its strength and its lower cost. He built more than 15 dams of this kind in California and the American Southwest; Littlerock Dam was one of the last, constructed the same year of his death. However, not long after its completion, concern arose that the dam's construction would not withstand a severe earthquake, and demand grew for the dam's inadequacies to be corrected. Since then, the dam has undergone substantial corrective construction actions and upgrades, the last of which was completed in 1995. Although the dam may be safer and stronger in its new incarnation, those who were familiar with its prior appearance are a bit heartbroken that its unique construction has been replaced with a more traditional gravity dam appearance.
Custom Littlerock Reservoir house decor
Read our full review of these personalized lake house signs.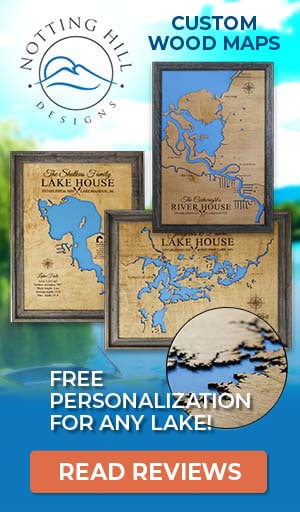 Things to do at Littlerock Reservoir
Vacation Rentals
Fishing
Boating
Camping
Picnicking
Hiking
Horseback Riding
Hunting
Wildlife Viewing
National Forest
Fish species found at Littlerock Reservoir
Bass
Black Bass
Bluegill
Brown Trout
Carp
Catfish
Largemouth Bass
Rainbow Trout
Sunfish
Trout
---
Best hotels and vacation rentals at Littlerock Reservoir
The Littlerock Reservoir map shown above is a simple and stress-free way to search for trip accommodations. But if you want to take a deeper dive to find the ideal waterfront home, cabin, condo, hotel or resort, visit our favorite lodging partners by clicking the buttons below.
Note: These are affiliate links so we may earn a small commission if you book through them. While there is no extra cost to you, it helps provide resources to keep our site running (thank you)! You can read our full disclosure policy here.
---
Littlerock Reservoir photo gallery
New photos coming soon!
Littlerock Reservoir statistics & helpful links
We strive to keep the information on LakeLubbers as accurate as possible. However, if you've found something in this article that needs updating, we'd certainly love to hear from you! Please fill out our Content Correction form.
Advertise your Littlerock Reservoir vacation rental
LakeLubbers will soon offer homeowners and property managers the opportunity to to showcase their vacation rentals to the thousands of lake lovers searching our site daily for accommodations. If you'd like additional details, please contact our advertising team here.
Looking for the Littlerock Reservoir forum?
LakeLubbers previously offered visitors the ability to create accounts and participate in lake forums. When we overhauled the site's content management system in 2021 we had to disable those features. We're evaluating options and welcome your comments and feedback here.
We also encourage you to join our lake-lovin' community on Facebook and Instagram!
Spread the word! Share our Littlerock Reservoir article with your fellow Lake Lubbers!