Monarch Lake, Colorado, USA
Lake Locations:
USA - West - Colorado - Northwest -
Also known as:  Monarch Reservoir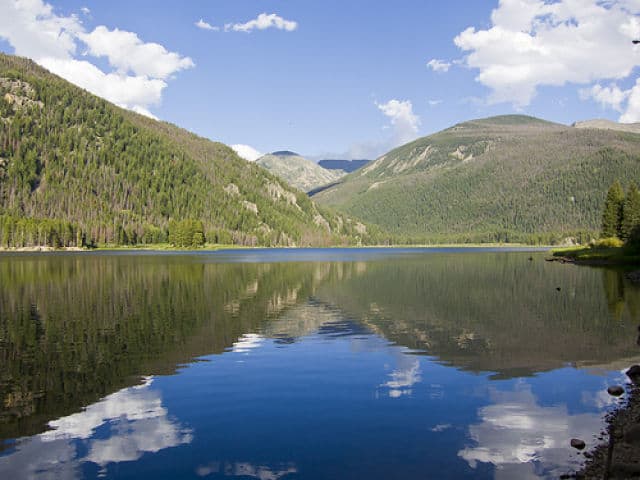 One of the prettiest hikes on Colorado's west slope is the trail around Monarch Lake. The small reservoir is one of the few in the area not directly a part of the massive water project that provides water to the Front Range. Monarch Lake is considered one of the 'Great Lakes of Colorado' along with Grand Lake, Lake Granby, Shadow Mountain Lake, Willow Creek Reservoir and Meadow Creek Reservoir. Unlike other reservoirs in the group, Monarch Lake is not drawn down and remains at full pool year round.
Monarch Lake is located in Arapaho National Forest just outside Rocky Mountain National Park. Although there are no campgrounds, no swimming beaches and no motorized craft allowed on Monarch Lake, the 140-acre reservoir is considered one of the most desirable destinations in the area. The reason is the hiking trails; not only is the trail around the lake relatively flat and picturesque, other major trails branch off from here to lead to some of Colorado's favorite hiking locations. The western part of the circular trail around Monarch Lake is a part of the Continental Divide National Scenic Trail that winds from Canada to Mexico. Other branches of the trail are the main access points into the Indian Peaks Wilderness Area. Some trails eventually wind their way into Rocky Mountain National Park. Monarch Lake is the gateway for backpackers and rugged adventurers to access true road-less wilderness in Colorado.
Fishing is a popular sport at Monarch Lake. The clear waters hold brook trout, rainbow trout, cutthroat trout, brown trout, Arctic grayling and sucker. The water is relatively shallow, reaching only 8 feet at its deepest point. Because there are no motors allowed and no boat ramp, most fishermen cast their lines from shore or use a kayak, canoe or float tube. Kayaking and canoeing are popular at Monarch lake as the water is relatively calm, the shore well-wooded and wildlife often seen. Moose often can be seen drinking in the shallows. Osprey nest near the lake and compete with anglers for the best catch.
The shoreline trail has little grade and is well-maintained, making the easy four-mile loop a fine hiking location for families with children. Horses, bicycles, snowmobiles and other motorized vehicles are prohibited. The loop shadows the shoreline, with the lake in sight most of the time. The trail is open year round and a favorite with cross-country skiers and snowshoe hikers. Monarch Lake thus maintains an aura of silence, pierced only by the natural sounds of wildlife going about their daily activities. Those following the outward branches of the trail, however, encounter steep climbs, many creeks to be crossed, spectacular views of nearby peaks and the intersection of multiple other trails. It is here the Indian Peaks Wilderness backpackers and backwoods campers enter the wilderness to test their limits.
All visitors must obtain an Arapaho National Recreation Area pass for a nominal fee. Those heading into the Indian Peaks Wilderness must also purchase an Indian Peaks Wilderness Backcountry Permit which authorizes them to camp overnight in the area. A ranger station is located at a cabin near the dam, with vehicle parking, restrooms and regularly-scheduled, ranger-led talks and guided walks in the area. Several camping areas are located downstream along Arapahoe Creek at Lake Granby.
The surrounding area is well-supplied with guest lodgings including guest ranches, resorts, bed-and-breakfasts and motels along the highway that runs past Lake Granby. There are also ski slopes, snow parks, golf courses, music festivals, antique shops, mine tours, small historical museums and small towns filled with historic charm in the general vicinity. Visitor can find plenty of activities to keep them entertained when not hiking. Lake Granby has swimming beaches and a marina for power boating fans, so those with a yen for less physically exhausting activities will be fully occupied. Both the town of Granby and the town of Grand Lake offer a full complement of restaurants, shopping and supplies.
Monarch Lake reservoir was created to aid logging near the turn of the last century. Businessmen from the Boulder area created the Monarch Consolidated Gold and Copper Mining and Smelting Company, near Arapaho Creek. They solicited investors and created several subsidiary companies to engage in logging and other activities. A small dam was built near the junction of Arapahoe Creek and the south fork of the Colorado River to run a sawmill, store cut logs, then float them down the river. At one time the town of Monarch was booming, with boarding houses, stores and spin-off businesses. A railroad spur was even built to connect the town to the main railroad lines. Unfortunately, the gold and copper deposits never materialized, the trees fit for logging were soon cut, and the final remaining big business in town – a box company – burned. Investors found that the financial reports were all speculative; the businesses never did make any money. The town was slowly abandoned and now lies under the waters of Lake Granby. All that is left to memorialize Monarch's passing is a 'steam donkey' engine sitting next to the trail to Monarch Lake and the remains of a group of the workers' cabins near the trail. And of course, Monarch Lake.
Lodgings are easily found near Monarch Lake, both in nearby towns and occasionally private properties nearby. There is no real estate available along the shoreline of Monarch Lake as it is all public lands. In other areas, however, existing homes may be found and, on occasion, building sites. Because the lake is less than 100 miles from Denver and Boulder, the area is increasingly popular for vacation homes and ski cottages. Some property may be available along the creeks at times but it likely will take some diligence to locate. Once you see Monarch Lake, you'll understand its popularity. So bring the backpack or the skis and come make the trek around Monarch Lake. One trip and you'll be hooked. And, watch out for moose!
Things to do at Monarch Lake
Vacation Rentals
Fishing
Boating
Beach
Canoeing
Kayaking
Tubing
Golf
Camping
Campground
Cabin Rentals
Hiking
Biking
Cross-Country Skiing
Snowmobiling
Horseback Riding
Wildlife Viewing
Birding
National Park
National Forest
Museum
Antiquing
Shopping
Fish species found at Monarch Lake
Brook Trout
Brown Trout
Cutthroat Trout
Grayling
Rainbow Trout
Sucker
Trout
---
Monarch Lake Photo Gallery
Monarch Lake Statistics & Helpful Links
Spread the word! Share our Monarch Lake article with your fellow Lake Lubbers!