Meadow Creek Reservoir, Colorado, USA
Also known as:  Meadow Creek Lake
Welcome to the ultimate guide for history, statistics, local fun facts and the best things to do at Meadow Creek Reservoir.
If you're considering Meadow Creek Reservoir vacation rentals, we've made it super easy to explore accommodations and nearby hotels using the interactive map below. Simply click on a listing to compare similar properties, best rates and availability for your dates. Or keep scrolling to read our Meadow Creek Reservoir guide!
Meadow Creek Reservoir visitor and community guide
Meadow Creek Reservoir is a little Colorado lake with a well-deserved reputation as a desirable destination. Only 50 acres in size, the small reservoir was built in the early 1970s as a water storage reservoir for Denver Water. The little reservoir, only 58 feet deep, serves as a collection point for the expansive Moffat Tunnel Collection System. Using this system of reservoirs, rivers, tunnels and canals, the headwaters of the Colorado River along the Western Slope in Northwest Colorado provide a large portion of the water supply for the City of Denver and other growing cities in between. The reason most visitors come to Meadow Creek Reservoir isn't the water supply but the opportunity for fishing, primitive camping and hiking the many trails leading from the reservoir into the Indian Peaks Wilderness Area and Arapaho National Forest. Because of its prominence as a hiking junction, Meadow Creek Reservoir richly deserves its designation as one of the Colorado Great Lakes.
Although located in a remote area of the Arapaho National Forest, Meadow Creek Reservoir can be reached by car. A county road circles three-quarters of the lake, with a parking area for those arriving to hike the surrounding trails. There is no designated campground, but those with the appropriate permit are allowed to camp off the road as long as they don't camp within 100 feet of the water. There are no fancy campground amenities available; one pit toilet is provided but no drinking water. The lake is at 9,958 feet in elevation, so the road may be impassible in winter. Snowmobiles may be the only way to get here if ice fishing or winter camping is the goal. As there is no boat launch ramp and no motorized boats are allowed, the area remains quiet, the water surface serene. Most of the shoreline is accessible for bank fishing, but part of the south shoreline is privately owned.
Meadow Creek Reservoir is the perfect place to bring the children fishing. The lake holds rainbow trout and cutthroat trout, with a large number of smaller brook trout. Creel limits are set higher than usual for these smaller trout, and anglers are encouraged to keep them to reduce the numbers. Both fishermen and nature lovers use canoes, kayaks and float tubes on the lake. Some bring small sailboats that can be launched by hand. Every visitor is left with memories of the surrounding peaks and forests reflected in the pristine lake. Permits are available at a kiosk near the dam during the summer months.
Meadow Creek Reservoir lies in Grand County, the home of Lake Granby, Grand Lake, Monarch Lake, Willow Creek Reservoir and a number of other well-known reservoirs and lakes. As over 70% of Grand County is public lands, the county has become a go-to destination for adventurous hikers and outdoors fans. In winter, parts of the Arapaho National Forest are available for hunting. Some trails in the area are available for horseback riding, mountain biking and off-road-vehicles. Others are strictly hiking trails of varying degrees of difficulty.
The Junco Lake Trailhead at the eastern end of Meadow Creek Reservoir is relatively easy and follows an old logging road. Other trails it intersects include the Columbine Lake Trail and the Caribou Pass Trail. The latter climbs through alpine tundra to nearly 12,000 feet; crossing the Pass requires crossing a narrow ledge at dizzying heights . Eventually, the Caribou Pass trail intersects the Arapaho Pass trail. Another trail leading away from the Junco Lake trailhead is the High Lonesome Trail heading both into the Indian Peak Wilderness and south toward the town of Frazier. The High Lonesome is easy and well-marked. The portions outside of the Wilderness Area are available for mountain bike riding and horseback riding. In winter, some of the trail is designated for snowmobiling. All hikers must check in at the wilderness forest service registration box and verify their intended route. As always, it is wise to let someone know your hiking route and expected time of return.
For those interested in a quiet day of fishing or nature enjoyment on Meadow Creek Reservoir, but not inclined to engage in primitive camping or strenuous hiking, the recreational destination of Winter Park-Frazier is less than 15 miles to the south. The two towns share a boundary line and a commitment to providing superb recreation to a large number of annual visitors, particularly in winter. All types of lodgings are available in the area, with ski resorts, lodges, guest ranches, bed-and-breakfasts and small motels in plentiful supply. During prime ski season, reservations will likely be necessary. Between Frazier and Winter Park, there are activities going on year around to entice visitors.
In summer, there are hot air balloon rides, music festivals and fairs; the High Country Stampede and Rodeo is in session Saturday nights in July and August. The Cozens Ranch Museum in Frazier and the Grand County Museum in Hot Sulphur Springs both offer historic exhibits and activities geared toward educating the public about pioneer life on the Western Slope in the late 1800s and early 1900s. Frazier holds the claim of once being referred to as the Western White House, as President Eisenhower spent many vacations fly-fishing for trout in the tributaries to the Frazier River. One could easily spend a week or two in the area with a full range of activities along with visiting Meadow Creek Reservoir. Real estate is available near Frazier, but far less can be found near Meadow Creek Reservoir.
This area of Colorado is quite arid, and water has always been at a premium. An elaborate and ever-expanding system of water rights controls who gets what percentage of the surface water in the area. Water from Meadow Creek Reservoir is piped through a diversion tunnel south to where it intersects the main Moffat Tunnel for transfer to the Denver water treatment plants. In recent years, Denver and its suburbs have grown, as have the towns on the Western Slope. Additionally, environmental concerns have reserved more water to assure the survival of native fish, plants and animals. The history of the Colorado courts is filled with epic fights over water rights and the shenanigans of the less ethical to claim more than their fair share. For now, everyone is satisfied that the water is being divided fairly. But, the future is uncertain as population grows in both areas. More small reservoirs like Meadow Creek Reservoir may soon be necessary. Small man-made lakes like Meadow Creek are worth their weight in gold. Won't you come and experience a golden sunset on Meadow Creek Reservoir?
Custom Meadow Creek Reservoir house decor
Read our full review of these personalized lake house signs.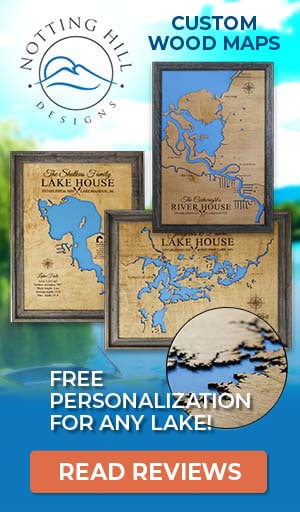 Things to do at Meadow Creek Reservoir
Vacation Rentals
Fishing
Ice Fishing
Boating
Sailing
Canoeing
Kayaking
Tubing
Camping
Campground
Hiking
Biking
Snowmobiling
Horseback Riding
Hunting
National Forest
Museum
Fish species found at Meadow Creek Reservoir
Brook Trout
Cutthroat Trout
Rainbow Trout
Trout
---
Best hotels and vacation rentals at Meadow Creek Reservoir
The Meadow Creek Reservoir map shown above is a simple and stress-free way to search for trip accommodations. But if you want to take a deeper dive to find the ideal waterfront home, cabin, condo, hotel or resort, visit our favorite lodging partners by clicking the buttons below.
Note: These are affiliate links so we may earn a small commission if you book through them. While there is no extra cost to you, it helps provide resources to keep our site running (thank you)! You can read our full disclosure policy here.
---
Meadow Creek Reservoir photo gallery
New photos coming soon!
Meadow Creek Reservoir statistics & helpful links
We strive to keep the information on LakeLubbers as accurate as possible. However, if you've found something in this article that needs updating, we'd certainly love to hear from you! Please fill out our Content Correction form.
Advertise your Meadow Creek Reservoir vacation rental
LakeLubbers will soon offer homeowners and property managers the opportunity to to showcase their vacation rentals to the thousands of lake lovers searching our site daily for accommodations. If you'd like additional details, please contact our advertising team here.
Looking for the Meadow Creek Reservoir forum?
LakeLubbers previously offered visitors the ability to create accounts and participate in lake forums. When we overhauled the site's content management system in 2021 we had to disable those features. We're evaluating options and welcome your comments and feedback here.
We also encourage you to join our lake-lovin' community on Facebook and Instagram!
Spread the word! Share our Meadow Creek Reservoir article with your fellow Lake Lubbers!