Lake Agnes, Colorado, USA
Lake Locations:
USA - West - Colorado - Northwest -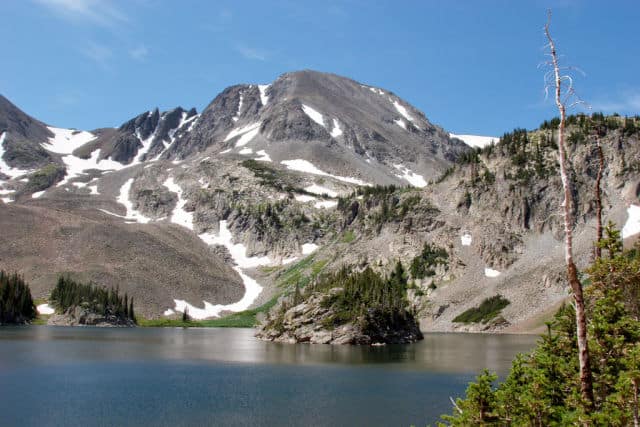 Set in the mountains of north central Colorado, Lake Agnes is an exclusive private lake surrounded by the aspen, alder and pines of the Routt and Arapaho National Forests. Not to be confused with Lake Agnes in Jackson County, this Lake Agnes is a peaceful retreat in Grand County a mere 26 miles from the world-renown ski resort of Steamboat Springs.
Lichen Ranch, also known as Lake Agnes Fishing Ranch, is the site of the residential development surrounding Lake Agnes. Said to be one of the largest private lakes in Colorado, the two-mile shoreline is divided into 19 lots each with approximately 35 acres of unspoiled countryside. To assure that no construction distracts from the mountain landscape, each lot has been laid out with a predetermined site for a residence with strict architectural guidelines for custom homes. The mountain landscape covering the development's 640 acres holds numerous ponds, streams and grassland areas shared by residents. Homeowners have exclusive rights to a 150-foot radius around their residence. The remaining property is considered an "easement of enjoyment."
Amenities found within Lake Agnes' "easement of enjoyment" are guaranteed to enhance your outdoor experience. Equestrians will enjoy the common barn and turnout areas for horses. Hikers will enjoy the trails that circle the lake and lead adventure seekers into scenic trails of Routt and Arapaho National Forests. A community dock is available for those who have not built private docks.
The shared easement makes it possible for homeowners to access Lake Agnes' entire shoreline – a real treat for anglers residing at a fishing ranch. The beautiful blue water of this natural 110-acre lake is stocked with rainbow, brown and cutthroat trout. Said to be one of Colorado's deepest natural lakes, the management of the lakes fishery is overseen by a "fishing committee." When a catch-and-release status is posted by the committee at Agnes Lake Fishing Ranch, a small lake near the entrance to Lichen Ranch is available to anglers hoping to catch a trout for dinner.
Sailing, canoeing and kayaking across the sparkling water of Lake Agnes is a popular pastime. Boats are limited to electric motors assuring that only the sounds of wind, waves and wildlife echo through the hills of Lake Agnes Fishing Ranch. Wildlife species that may visit the lake from the surrounding forests include elk, deer, moose, coyote, bobcat, bear, red fox, badger, beaver, bald and golden eagles, osprey, owls, and song birds.
With Routt and Arapaho National Forests literally at your doorstep, residents may include park offerings among the many advantages of life on Lake Agnes. For something more rigorous than a quiet day on Lake Agnes, residents may enjoy mountain biking, hunting, horseback riding, wilderness camping, river rafting, kayaking and cross-country skiing within each forest.
Close to home, in Colorado's Northwest Tourism Region, you will find Rabbit Ears Pass less than three miles north of Lake Agnes. The 9,426 foot mountain pass, found on highway 40, marks America's Continental Divide. Continue driving west through the Rocky Mountains and you will arrive at one of Colorado's popular resort communities. With a population exceeding 10,000, Steamboat Springs combines the friendliness of small-town life with breathtaking beauty and endless summer and winter attractions.
Approximately 25 miles south of Lake Agnes is the ranching community of Kremmling. Sharing the feel of the open west, this community is 97 miles from Denver. Roads leading from Kremmling connect Lake Agnes residents to the unforgettable beauty of Rocky Mountain National Park and Arapaho National Recreation Area. Here the more daring and adventuresome may enjoy rock climbing and mountaineering, backcountry camping, cross-country skiing, snowshoeing and snowmobiling.
Wonderful vacation rentals and real estate properties dot the countryside from Kremmling to Steamboat Springs making it possible for visitors to enjoy Colorado's national park and forests. To think beyond vacation and imagine owning a luxury home in Colorado's mountains is only a dream for most. At Lake Agnes that dream will be limited to fewer than 20 homeowners. Whether you consider Lichen Ranch your home or vacation destination you will be one of the few to stable your horse, hike the trails or fish the waters of this exclusive private property. Come to Colorado and live your dream at Lake Agnes.
Things to do at Lake Agnes
Vacation Rentals
Fishing
Boating
Sailing
Canoeing
Kayaking
Camping
Hiking
Rock Climbing
Biking
Cross-Country Skiing
Snowmobiling
Horseback Riding
Hunting
Wildlife Viewing
Birding
National Park
National Forest
Fish species found at Lake Agnes
---
Lake Agnes Statistics & Helpful Links
At LakeLubbers.com, we strive to keep our information as accurate and up-to-date as possible, but if you've found something in this article that needs updating, we'd certainly love to hear from you!
Please let us know about it on our Content Correction form.
Spread the word! Share our Lake Agnes article with your fellow Lake Lubbers!