Los Vaqueros Reservoir, California, USA
Also known as:  Los Vaqueros Lake
Welcome to the ultimate guide for history, statistics, local fun facts and the best things to do at Los Vaqueros Reservoir.
If you're considering Los Vaqueros Reservoir vacation rentals, we've made it super easy to explore accommodations and nearby hotels using the interactive map below. Simply click on a listing to compare similar properties, best rates and availability for your dates. Or keep scrolling to read our Los Vaqueros Reservoir guide!
Los Vaqueros Reservoir visitor and community guide
The Los Vaqueros Reservoir in the San Francisco Bay area is being remodeled! Soon to be re-opened, Los Vaqueros Lake is going to be even bigger and better. The dam is complete, the fish are stocked, the marina moved, and new fishing docks being built. The reservoir is being refilled now and is expected to be full by spring with an additional 340 acres of surface area and an additional 60,000 acre-feet of water storage. It may seem unusual to completely remodel a relatively new reservoir, but the new Los Vaqueros Lake solves several problems simultaneously in the Contra Costa-Delta area. Located due east of Oakland, the enlarged reservoir allows the Contra Costa Water District to store additional water during the period of least salinity in the Delta while still providing adequate water for the endangered fish in the tributaries feeding San Francisco Bay. In addition to regular expected customer usage of the water supply, the enlarged reservoir holds an emergency water supply that can be transferred quickly to the populous Bay area should their regular water supply system be disrupted by earthquake or levee failure.
California's water supply problems, particularly in the Central Valley and the San Francisco Bay area, have been the subject of much media reporting for several years. The struggle has focused on simultaneously providing adequate drinking water to rapidly growing population centers while still providing enough water in the tributaries and feeder creeks emptying into the San Joaquin River Delta for both irrigation and aquatic life. Long the subject of court battles, environmental issues and ever-growing demand, Los Vaqueros Reservoir expansion offers at least a partial solution to more available water in a land of little rainfall.
Although the San Joaquin River has plenty of water at some times of the year, the flow is greatly reduced at other times, and the salinity increases. Los Vaqueros Reservoir solved the problem initially by pumping water into the reservoir from a tributary during periods of low salinity and plentiful water to be released to over 500,000 homes throughout the year. Because the plan solved the immediate problem so handily, an expansion of Los Vaqueros was the chosen solution to beginning to solve the long-term problem of a degraded San Joaquin Delta. Intake pipes will pump in water from several different locations to avoid over-draining resources. Improved fish screens are in use to protect fish in the pumping areas.
Already known as an excellent fishery, the new, improved Los Vaqueros is slated to become even more productive. The California Department of Fish and Game has planted 40,000 chinook salmon fingerlings and 20,000 kokanee in the expanding reservoir where they join rainbow trout, largemouth black bass, brown bullhead, channel catfish, white catfish, bluegill, redear sunfish, green sunfish, white crappie, Sacramento perch, striped bass and bullhead. The southwest end of the reservoir away from the dam construction has been reopened, although water levels are still low. Because private boats are not allowed, fishing is currently from shore only. Once the new marina is open in its new location, it will again be renting electric boats for use on the reservoir. New fishing docks will facilitate shore fishing. Because Los Vaqueros is a drinking water reservoir, no swimming or water contact sports are allowed, not even wading. Personal watercraft are forbidden, as are dogs.The reservoir also offers picnic areas and restrooms but no camping facilities. Los Vaqueros Interpretive Center, located near the dam, offers trail maps and information about the natural area surrounding the reservoir.
In keeping with the desire to improve habitat for wildlife, the new Los Vaqueros expansion will add additional acreage to the existing 19,300 acres now set aside for natural habitat. A full 55 miles of trails for hiking and nature exploration already exist on reservoir lands, mostly on the south and west sides of the reservoir. A large portion of the east side is reserved as wildlife corridor with no public access. Some trails are necessarily being relocated. A number of them will be available to horseback riding when reopened.
The watershed is currently home to many rare, threatened and endangered species including fairy shrimp, bald and golden eagles, Alameda whipsnake, western pond turtle, California tiger salamander, California red-legged frog, San Joaquin kit fox, and the San Francisco dusky-footed wood rat. Golden eagles hunt in the foothills and nest in the oak trees in winter and spring, providing for spectacular wildlife sightings. The area's large population of ground squirrels provides excellent prey for eagles and other raptors. Red-tailed hawks, prairie falcons and barn owls are the most common. Regular visitors to the reservoir often see deer, coyote, fox and bobcat. Nearly 100 small ponds on the watershed are home to mallards, cinnamon teal, greater yellowlegs and killdeer. Ospreys, terns, grebes, mergansers, cormorants, herons and pelicans fish the reservoir regularly, while tens of thousands of migratory birds stop temporarily during migration. Local Audubon groups perform an annual bird count and are amazed at the wide variety of birds sighted.
There are no lodgings available at Los Vaqueros Reservoir, but both Livermore to the south and Brentwood to the north offer hotels, small motels, resorts and local rentals. The reservoir is within 50 miles of Oakland, Stockton and Tracy. Nearby Mount Diablo State Park offers camping facilities, and there are a number of bed-and-breakfast facilities along the main roads in the area. The reservoir is close enough to the South Bay area to be convenient for an afternoon of hiking or fishing. Some real estate is available nearby but not on the reservoir itself. So come see the newly remodeled Los Vaqueros Reservoir the next time you visit the Bay area. Bring the bird book, the binoculars and the hiking boots. You're in for an unexpected treat!
* Statistics for the newly-enlarged reservoir are not all available, so most numbers listed reflect historical statistics.
Custom Los Vaqueros Reservoir house decor
Read our full review of these personalized lake house signs.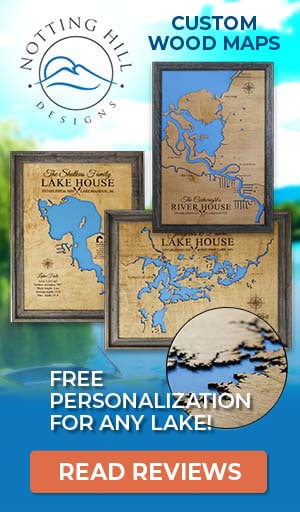 Things to do at Los Vaqueros Reservoir
Vacation Rentals
Fishing
Boating
Swimming
Camping
Picnicking
Hiking
Horseback Riding
Hunting
Wildlife Viewing
Birding
State Park
Fish species found at Los Vaqueros Reservoir
Bass
Black Bass
Bluegill
Brown Bullhead
Catfish
Channel Catfish
Chinook Salmon
Crappie
Kokanee Salmon
Perch
Rainbow Trout
Redear Sunfish (Shellcracker)
Sacramento Perch
Salmon
Striped Bass
Sunfish
Trout
White Catfish
White Crappie
---
Best hotels and vacation rentals at Los Vaqueros Reservoir
The Los Vaqueros Reservoir map shown above is a simple and stress-free way to search for trip accommodations. But if you want to take a deeper dive to find the ideal waterfront home, cabin, condo, hotel or resort, visit our favorite lodging partners by clicking the buttons below.
Note: These are affiliate links so we may earn a small commission if you book through them. While there is no extra cost to you, it helps provide resources to keep our site running (thank you)! You can read our full disclosure policy here.
---
Los Vaqueros Reservoir photo gallery
New photos coming soon!
Los Vaqueros Reservoir statistics & helpful links
We strive to keep the information on LakeLubbers as accurate as possible. However, if you've found something in this article that needs updating, we'd certainly love to hear from you! Please fill out our Content Correction form.
Advertise your Los Vaqueros Reservoir vacation rental
LakeLubbers will soon offer homeowners and property managers the opportunity to to showcase their vacation rentals to the thousands of lake lovers searching our site daily for accommodations. If you'd like additional details, please contact our advertising team here.
Looking for the Los Vaqueros Reservoir forum?
LakeLubbers previously offered visitors the ability to create accounts and participate in lake forums. When we overhauled the site's content management system in 2021 we had to disable those features. We're evaluating options and welcome your comments and feedback here.
We also encourage you to join our lake-lovin' community on Facebook and Instagram!
Spread the word! Share our Los Vaqueros Reservoir article with your fellow Lake Lubbers!