Coast Trail Lakes, Point Reyes National Seashore, California, USA
Also known as:  Bass Lake, Pelican Lake, Crystal Lake, Ocean Lake, Wildcat Lake
Welcome to the ultimate guide for history, statistics, local fun facts and the best things to do at Coast Trail Lakes, Point Reyes National Seashore.
If you're considering Coast Trail Lakes, Point Reyes National Seashore vacation rentals, we've made it super easy to explore accommodations and nearby hotels using the interactive map below. Simply click on a listing to compare similar properties, best rates and availability for your dates. Or keep scrolling to read our Coast Trail Lakes, Point Reyes National Seashore guide!
Coast Trail Lakes, Point Reyes National Seashore visitor and community guide
One of the most popular day hikes in the California Bay Area is a trek beside the Coast Trail Lakes of Point Reyes National Seashore. Only 45 minutes outside of San Francisco, the Palomarin section of the trail is only about 5.5 miles long and has an easy elevation change of about 600 feet. Several parts of the trail are along an old fire road, making this a relaxing stroll for a sunny afternoon. Fantastic views of the ocean from atop the bluffs command the eye where the trail emerges from the wooded surroundings. Both birds and wildflowers are abundant, with spring blooms providing splotches of brilliant color in the clearings. And, when the trail turns inland, small freshwater lakes invite hikers to enjoy a cool refreshing dip in the water. So popular is this activity that Bass Lake actually has a couple of rope swings hung over the water for the daring to make a big splash. At about 2.5 miles along the trail, many visitors arrive in summer, towels in hand, to take advantage of this rustic swimming hole.
Five named lakes make up the list of Coast Trail Lakes: Bass Lake, Pelican Lake, Crystal Lake, Ocean Lake and Wildcat Lake. Located almost directly above the San Andreas Fault, all of the lakes were caused by a massive landslide sometime in the past, cutting them off from their once-larger watersheds. Most have small out-flowing streams draining into the Pacific. All are less than 20 acres and are unspoiled, undeveloped and scenic. Horses are permitted on the Coast Trail in this area; bicycles and dogs are not. When hikers leave their vehicles at the Palomarin Trailhead and the trail turns inland, they will pass a number of tiny wetland ponds covered in pond lilies and sheltering ducks and waterfowl. Side trails lead down to many of these ponds, but the trails are unmaintained.
Bass Lake is the first sizable lake to appear. A side trail leads half a mile to the shoreline and the popular rope swings. Beyond Bass Lake, an unmaintained trail leads to Crystal Lake down a narrow path surrounded by poison oak. For this reason, those intending to make the effort are advised to wear a long-sleeved shirt and long pants for protection. A signboard on the right marks the trail. The main trail then begins to descend, and Pelican Lake appears on the left. Beyond Pelican Lake, the old National Park Service metal sign marks the trail to Double Point, a spectacular rock promontory jutting into the Pacific. The beach below is perfect habitat for harbor seals, sea otters and murre. The trail to Double Point is not maintained, and the park service discourages its use but it is commonly listed in guide books. This point is a common turn-around point for short-distance hikers.
A short distance beyond the Double Point cut-off is another short, unmaintained trail that leads to Alamere Falls. The Alamere Falls Trail is narrow and in some areas somewhat dangerous, particularly where it contains loose rock. The falls themselves consist of several short drops with a final fall to the sea. Determined hikers will need to cross over the stream between the first and second drop of the falls before they reach a place to view the sight of Alamere Falls dropping about 60 feet to the beach. Alamere Falls is a rare 'tidefall'-a waterfall emptying directly into the ocean. Those who make it to this point may continue down to the beach if desired, although the path is steep and has some treacherous loose rock long the way. The flow of the falls varies by the season. Binoculars are a must from any vantage point along the Alamere Falls Trail, as one often sees harbor seals frolicking in the surf below. More purposeful hikers may forego these added side trails and proceed up the Coast Trail to the other two lakes.
Ocean Lake and Wildcat Lake can be reached from either the Coast Trail or the Wildcat Beach Trail. A cut-off from the Coast Trail leads the the trail along the beach. Both trails pass the two lakes and meet at a point just beyond Wildcat Lake. The Coast Trail continues on to meet other trails in the area. A small rustic campground available only to walk-in camping is located near the point where the two trails meet and offers toilet facilities and drinking water. The camping area is a favorite among horseback campers and has hitching posts set up to secure horses at the campground. Campers can access the beach from here. Although access to the entire Point Reyes National Seashore and the trails is free, permits and reservations are required for the campground. The Coast Trail Lakes can also be accessed from the Five Brooks Trailhead to the north, utilizing Ridge Trail and Lake Ranch Trail to the Coast Trail.
Although Point Reyes National Seashore is visited by 2.5 million people every year, the Coast Trail Lakes are seldom crowded as the entire 71,000-acre park preserve is crisscrossed with multiple trails. The lakes are not productive for fishing. Fishing is not allowed in any freshwater stream in the preserve, and saltwater fishing is tightly controlled. Anglers should check with the National Park Service to clarify fishing regulations. Most visitors to the trails are nature lovers who enjoy the wealth of natural plants and trees in the area, including eucalyptus, Bishops pine, Coyote brush, California coffeeberry, bush lupines, California sagebrush, Douglas fir and the multiple varieties of wildflowers. Nearly 490 species of birds have been sighted at Point Reyes National Seashore, including nearly 50% of all North American bird species. Few places can beat the Coast Trail for varied scenic views.
Bird lovers have a special treat awaiting them as they near the Palomarin Trailhead parking lot. Nearby on Mesa Road the Point Reyes Bird Observatory Visitor's Center provides education on birds in the area. The Observatory is one of America's few full-time ornithological research facilities and allows visitors to view bird banding and netting. The beach areas in Point Reyes are often off-limits during periods of the year to protect endangered marine animals and birds during breeding season and the rearing of young. However, several public swimming beaches are nearby along the coast, with county and state parks offering access, additional camping, boating and recreation opportunities.
All types of lodgings are available outside of the preserve, with guest cottages, resort hotels, bed-and-breakfasts and small inns occupying many of the private inholdings within the perimeter. The towns of Olema, Point Reyes Station and Bolinas act as tourist centers in the area, with Bolinas in particular well supplied with art galleries, unique shopping and recreation. Real estate here is sometimes available and has kept its value well. With San Francisco just across the Golden Gate Bridge, big-city nightlife and culture are never far away. So, the next time you're in the Bay area, bring the hiking shoes and enjoy the beautiful Coast Trail Lakes and their spectacular surroundings.
*Few statistics exist for the Coast Trail Lakes. Acreage is therefore an estimate. Elevation is for Bass Lake only.
Custom Coast Trail Lakes, Point Reyes National Seashore house decor
Read our full review of these personalized lake house signs.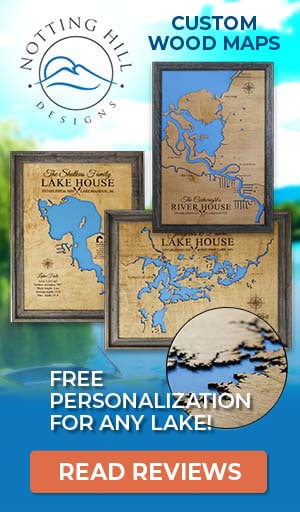 Things to do at Coast Trail Lakes, Point Reyes National Seashore
Vacation Rentals
Fishing
Boating
Swimming
Beach
Camping
Campground
Hiking
Biking
Horseback Riding
Waterfall
Wildlife Viewing
Birding
State Park
National Park
Shopping
Fish species found at Coast Trail Lakes, Point Reyes National Seashore
---
Best hotels and vacation rentals at Coast Trail Lakes, Point Reyes National Seashore
The Coast Trail Lakes, Point Reyes National Seashore map shown above is a simple and stress-free way to search for trip accommodations. But if you want to take a deeper dive to find the ideal waterfront home, cabin, condo, hotel or resort, visit our favorite lodging partners by clicking the buttons below.
Note: These are affiliate links so we may earn a small commission if you book through them. While there is no extra cost to you, it helps provide resources to keep our site running (thank you)! You can read our full disclosure policy here.
---
Coast Trail Lakes, Point Reyes National Seashore photo gallery
New photos coming soon!
Coast Trail Lakes, Point Reyes National Seashore statistics & helpful links
We strive to keep the information on LakeLubbers as accurate as possible. However, if you've found something in this article that needs updating, we'd certainly love to hear from you! Please fill out our Content Correction form.
Advertise your Coast Trail Lakes, Point Reyes National Seashore vacation rental
LakeLubbers will soon offer homeowners and property managers the opportunity to to showcase their vacation rentals to the thousands of lake lovers searching our site daily for accommodations. If you'd like additional details, please contact our advertising team here.
Looking for the Coast Trail Lakes, Point Reyes National Seashore forum?
LakeLubbers previously offered visitors the ability to create accounts and participate in lake forums. When we overhauled the site's content management system in 2021 we had to disable those features. We're evaluating options and welcome your comments and feedback here.
We also encourage you to join our lake-lovin' community on Facebook and Instagram!
Spread the word! Share our Coast Trail Lakes, Point Reyes National Seashore article with your fellow Lake Lubbers!