Kelly Lake, California, USA
Lake Locations:
USA - West - California - Bay Area -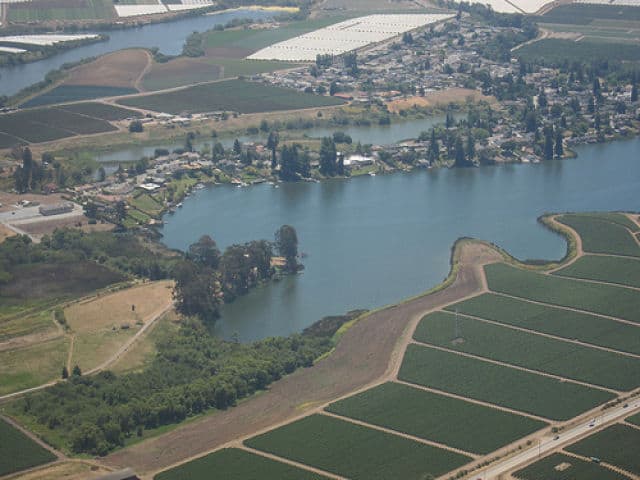 Take a scenic 95-mile drive south of San Francisco and you will arrive at the exclusive Kelly Lake properties in the community of Watsonville. Kelly Lake is a quiet 70-acre private lake located in California's beautiful Monterey Bay area. Found between the cities of Santa Cruz and Monterey, Kelly Lake residents are only minutes away from the spectacular beaches and world-renowned scenery of central California's Monterey Bay.
Evidence has been found that the land surrounding Kelly Lake was once the site of an Indian village and burial ground. The first inhabitants of the area were members of a coastal tribe named the Ohlone, or Costanoan. In 1769 Gaspar de Portola and the members of his Spanish expedition were the first recorded Europeans to see the San Francisco Bay and surrounding lands. Additional exploration and small settlements soon followed Portola, but it was the 1848 gold rush that brought great change to California. Settlers who arrived at Kelly Lake and Santa Cruz County introduced ranching and farming to the area; agriculture remains the primary industry today.
Typical of many small California lakes, studies documenting Kelly Lake's data are few. If you view the devastating images from of the area's 1989 Loma Prieta earthquake, it is easy to understand how the earth's movements were the primary force behind the creation of Kelly Lake. A study of the lake's sediments in 2000 generated the theory that Kelly Lake may have been formed when the earth's uplift shifted a river's course. River debris likely created a dam at the southwest end of what would become Kelly Lake. Lake sediments also tell us that there have been repeated rapid rises in lake levels, an indication that dams may have been built on Kelly Lake in the past. However, no evidence of a dam exists on spring-fed Kelly Lake today. Variations in lake levels are primarily controlled by weather and climate.
The shallow waters of Kelly Lake are found within the community of Watsonville in the neighborhood of Interlaken. Much of Kelly Lake's northern shore is lined with cultivated land, adding an air of tranquility to the lake. A school, local businesses and organizations share access to Kelly Lake.
Most of Kelly Lake's eastern shore is lined with beautiful lakeside homes. Lush landscaping leads residents from sun-swept patios to private docks where vacations begin. Whether you choose to boat, sail, waterski, fish or swim, the fun is literally at your doorstep. For those who choose to cast a line into Kelly Lake, smallmouth bass, yellow bass, sucker or Sacramento perch may be your catch of the day.
Set in the Pajaro Valley, Watsonville and Kelly Lake residents celebrate Santa Cruz County's thriving agricultural business. Each year the number one crop is celebrated at the Watsonville Strawberry Festival. The Santa Cruz County Fair is held each September and the fairgrounds are only blocks from Kelly Lake. To celebrate the area's farming heritage, the Agricultural History Project presents exhibits, archives and a research center within walking distance of the lake. Surrounded by a landscape that reflects the bounty of this fertile land, local wineries, gardens and city parks invite many afternoons of outdoor exploration.
The friendly community of Watsonville is found at the southern end of California's San Francisco Bay Area tourism region. Within Santa Cruz County alone, you can explore 6,094 square miles of ocean at Monterey Bay National Marine Sanctuary and 29 miles of beaches found in two state parks and six state beaches. Don't miss the opportunity to drive 35 miles south to the city of Monterrey, where you can marvel at the sea life in the Monterey Bay Aquarium, walk John Steinbeck's Cannery Row, or stroll through charming shops and dine on mouth-watering seafood at Old Fisherman's Wharf.
Centrally located to the dramatic scenes of Monterey Bay, Kelly Lake makes the ideal haven for an unforgettable vacation or an exclusive home for a fortunate few. Look for the perfect escape among lakefront real estate properties on Kelly Lake or vacation rentals in the community of Watsonville. Whether you choose to paddle the Pacific waves or sail sparkling lake water, make Kelly Lake more than a destination — make it home.
Things to do at Kelly Lake CA
Vacation Rentals
Fishing
Boating
Sailing
Swimming
Beach
Water Skiing
State Park
City Park
Fish species found at Kelly Lake CA
Bass
Black Bass
Perch
Sacramento Perch
Smallmouth Bass
Sucker
Yellow Bass
---
Kelly Lake CA Photo Gallery
Kelly Lake CA Statistics & Helpful Links
Spread the word! Share our Kelly Lake CA article with your fellow Lake Lubbers!