Lookout Shoals Lake, North Carolina, USA
Also known as:  Lake Lookout, Lookout Shoals Reservoir
Welcome to the ultimate guide for history, statistics, local fun facts and the best things to do at Lookout Shoals Lake.
If you're considering Lookout Shoals Lake vacation rentals, we've made it super easy to explore accommodations and nearby hotels using the interactive map below. Simply click on a listing to compare similar properties, best rates and availability for your dates. Or keep scrolling to read our Lookout Shoals Lake guide!
Lookout Shoals Lake visitor and community guide
Lookout Shoals Lake is a lakefront living gem in North Carolina's Piedmont region. The 1,300-acre reservoir is known affectionately as Lake Lookout to the many residents who live in the area's gated communities. Created along the Catawba River between Lake Hickory and Lake Norman, the reservoir's main purpose is hydropower generation. Now, it is also being eyed as a major source of water for the City of Statesville about ten miles away.
The long, irregular shoreline consists of many narrow coves and arms, giving the lake a feeling of endless, meandering waters. Nearly 40% of the shoreline is designated for preservation, with a similar amount devoted to housing development. Most homesites on the waterfront are over an acre, and homes are sited well back from the shore. Some developments have permits for their own waterfront docks, while other developments have communal docks with boat slips. The 1,300 acres of water provide plenty of space for waterskiing, wakeboarding, jet skiing, swimming, pontooning and sailing. The narrow arms and coves lend themselves to kayaking and canoeing.
There are no public beaches at Lookout Shoals Lake, but the public has access by way of two boat launch locations that Duke Energy maintains in conjunction with the North Carolina Wildlife Resources Commission. The lake is a popular spot for anglers seeking largemouth bass, crappie, panfish and several varieties of catfish. Striped bass are stocked yearly. The Wildlife Resource Commission has worked diligently to enhance fish habitat, improving native aquatic vegetation stands to promote spawning and food sources. Fishing tournaments are held at the reservoir on a regular basis. A special canoe launch site is located below the Lake Hickory Dam at Catawba County's Riverbend Park for floating the stretch of river down into Lookout Shoals Lake. An angler's trail provides bank fishing.
Duke Energy relicensing documents state that future projects include improving the Sharon Access Area and the Lookout Shoals Access Area to add restrooms, more parking and better launch facilities. Another access point at the upper end of the lake will be developed which includes primitive camping. A walking and hiking trail will be developed from Riverbend Park along the lakeshore down to the new access area. A tailrace fishing area will be created, with a portage path around the Lookout Shoals Dam. Riverbend Park itself covers 450 acres, with 12 miles of trails winding among upland forest and wetland wildlife habitat. A small fishing lake allows pond fishing.
Lookout Shoals Lake's location makes it a popular residential area for those who work in nearby Statesville or Hickory. The lake is less than an hour from Charlotte. Because the primary purpose of the reservoir is to produce electrical power, water levels often vary. In recent years, too much water has been more of a problem than low water levels; heavier-than-normal local rains caused flooding in low-lying areas where the lake rose over the banks. Required setbacks keep homes safely above the reach of high water, but some roads were flooded. Duke Energy is working with local stakeholders to maintain better stability of water levels in such instances, but it isn't uncommon to have the water level vary by six feet.
Both Statesville to the east and Hickory to the west of Lookout Shoals Lake offer a wide variety of lodgings, restaurants and local attractions. Several museums detail the rich history of central North Carolina and Catawba County. Restored 18th century mansions, covered bridges and locations of interest are spread throughout the county. Statesville's Iredell Museums feature both contemporary art exhibits and activities for kids guaranteed to promote fun and learning.
One of the more unusual locations to visit is the small town of Hiddenite, located north of Statesville. Here visitors can visit the Hiddenite Center, featuring a restored home on the National Registry of Historic Places. The center holds ever-changing art exhibits, ballroom dancing classes, square dancing and events reflecting the history of the region. Also in the small town of Hiddenite, the Emerald Hollow Mine is open for public 'prospecting'. Besides emeralds, the unique geological area holds sapphire, garnet, aquamarine, topaz, rutile, amethyst, tourmaline, citrine, clear and smoky quartz crystals along with the exceedingly rare Hiddenite-found only in this location. Educational tours are offered, and a gift shop and lapidary service offer found gemstones both raw and in unique settings. A commercial campground nearby makes this the ideal family vacation stay.
Many small inns, bed & breakfasts and guest cottages are available in the area surrounding Lookout Shoals Lake, although lodgings on the lake itself may be hard to find. Real estate is still available, although not many more building sites remain. Not nearly as busy and densely-populated as Lake Norman or Lake Hickory, Lookout Shoals Lake won't remain a secret much longer. Bring the canoe and the fishing gear and stop by for a day. You'll find much to love at Lake Lookout and in the surrounding area.
Custom Lookout Shoals Lake house decor
Read our full review of these personalized lake house signs.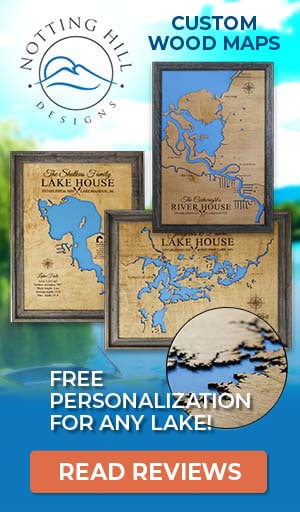 Things to do at Lookout Shoals Lake
Vacation Rentals
Fishing
Fishing Tournaments
Boating
Sailing
Swimming
Beach
Canoeing
Kayaking
Jet Skiing
Water Skiing
Wakeboarding
Camping
Campground
Hiking
Wildlife Viewing
Museum
Fish species found at Lookout Shoals Lake
Bass
Black Bass
Catfish
Crappie
Largemouth Bass
Striped Bass
---
Best hotels and vacation rentals at Lookout Shoals Lake
The Lookout Shoals Lake map shown above is a simple and stress-free way to search for trip accommodations. But if you want to take a deeper dive to find the ideal waterfront home, cabin, condo, hotel or resort, visit our favorite lodging partners by clicking the buttons below.
Note: These are affiliate links so we may earn a small commission if you book through them. While there is no extra cost to you, it helps provide resources to keep our site running (thank you)! You can read our full disclosure policy here.
---
Lookout Shoals Lake photo gallery
New photos coming soon!
Lookout Shoals Lake statistics & helpful links
We strive to keep the information on LakeLubbers as accurate as possible. However, if you've found something in this article that needs updating, we'd certainly love to hear from you! Please fill out our Content Correction form.
Advertise your Lookout Shoals Lake vacation rental
LakeLubbers will soon offer homeowners and property managers the opportunity to to showcase their vacation rentals to the thousands of lake lovers searching our site daily for accommodations. If you'd like additional details, please contact our advertising team here.
Looking for the Lookout Shoals Lake forum?
LakeLubbers previously offered visitors the ability to create accounts and participate in lake forums. When we overhauled the site's content management system in 2021 we had to disable those features. We're evaluating options and welcome your comments and feedback here.
We also encourage you to join our lake-lovin' community on Facebook and Instagram!
Spread the word! Share our Lookout Shoals Lake article with your fellow Lake Lubbers!