Lewiston Lake, California, USA
Lake Locations:
USA - West - California - Shasta Cascade -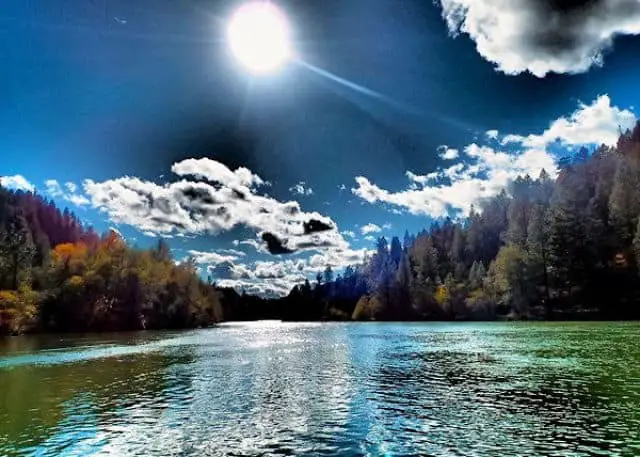 A great blue heron intent on catching fish for his breakfast stands undisturbed as a canoe glides by, holding an angler with the same idea. With nothing but the swish and pop of a fly rod to break the silence, morning begins on Lewiston Lake. Nestled at the base of the Trinity Alps in northern California, Lewiston Lake's glassy waters reflect the surrounding mountains while the trout under the surface call fly fishermen from all over.
Created by the construction of the Lewiston Dam in 1963, Lewiston Lake is an impoundment of the Trinity River, which makes up both its inflow and outflow — the eight-mile long lake is a pause on the river's journey. Built primarily for flood control and to generate hydroelectric power, Lewiston Lake has become a popular recreation destination.
Lewiston Lake is downriver from the much larger Trinity Lake, and its water comes from the bottom of Trinity Lake. As a result, the water temperature hovers around 45 to 50 degrees year-round. The lake's water levels are very stable and do not fluctuate seasonally. The cooler water is perfect for trout, and Lewistown Lake has abundant populations of rainbow trout, brook trout, and German brown trout. There is also a healthy kokanee salmon population.
Although all anglers will find plenty of fish, the lake is very popular with fly fisherman. In fact, Lewiston Lake is one of the best fly fishing lakes in California. The first two miles of the Trinity River below the Lewiston Dam are reserved for catch and release fly fishing. Anglers can try their hand against the silver salmon and king salmon and steelhead and German brown trout that live in the river. Also below the dam, the Trinity River Fish Hatchery is operated by the California Department of Fish and Game. The hatchery raises salmon to compensate for salmon lost because of the dams, and it is open to the public.
Lewiston Lake is ideally suited to quiet boats and kayaks, and there are no personal watercraft or jet skis permitted on the lake. Small motor boats are allowed, and there are several marinas and boat launches around the lake. There are also boat rentals available. The Trinity River is a great place for rafting.
The Whiskeytown-Shasta-Trinity National Recreation Area surrounds Lewiston Lake. It is part of the 2.1 million acre Shasta-Trinity National Forest, which is the largest national forest in California. It is an incredibly diverse national forest with elevations ranging from 1,000 feet to mountain peaks of 14,162 feet. The forest includes part of five designated wilderness areas, and the recreation opportunities are almost limitless. There is hiking, mountain climbing, horseback riding, skiing, cross country skiing, snowmobiling, and hunting all within the forest, an easy drive from Lewiston Lake.
There are vacation rentals and some real estate and residential development around Lewiston Lake. Accommodations range from tent camping to cabin rentals. There are RV sites, and the forest service runs several campgrounds around the lake including the Mary Smith campground. Designated as one of the prettiest lakeside campgrounds in California, it is for tent camping only. Nearby historic Lewiston has restaurants, shopping and other amenities. Lewiston and the area around it has a rich gold mining history.
The surrounding forest and mountains make Lewiston Lake feel like a high mountain lake and the cool water makes it fish like a slow -oving river. With such abundant fish and peaceful surroundings, it is a great lake for fly fishing and quiet boats.
Things to do at Lewiston Lake
Vacation Rentals
Fishing
Boating
Canoeing
Kayaking
Jet Skiing
Camping
Campground
Cabin Rentals
Hiking
Mountain Climbing
Cross-Country Skiing
Snowmobiling
Horseback Riding
Hunting
National Forest
Shopping
Fish species found at Lewiston Lake
Brook Trout
Brown Trout
Chinook Salmon
Coho Salmon
Kokanee Salmon
Rainbow Trout
Salmon
Steelhead Trout
Trout
---
Lewiston Lake Photo Gallery
Lewiston Lake Statistics & Helpful Links
Spread the word! Share our Lewiston Lake article with your fellow Lake Lubbers!