Little Lakes Valley Trail Chain of Lakes, California, USA
Lake Locations:
USA - West - California - High Sierra -
Also known as:  Mack Lake, Marsh Lake, Heart Lake, Box Lake, Long Lake, Chickenfoot Lake, Lower Gem Lake, Upper Gem Lake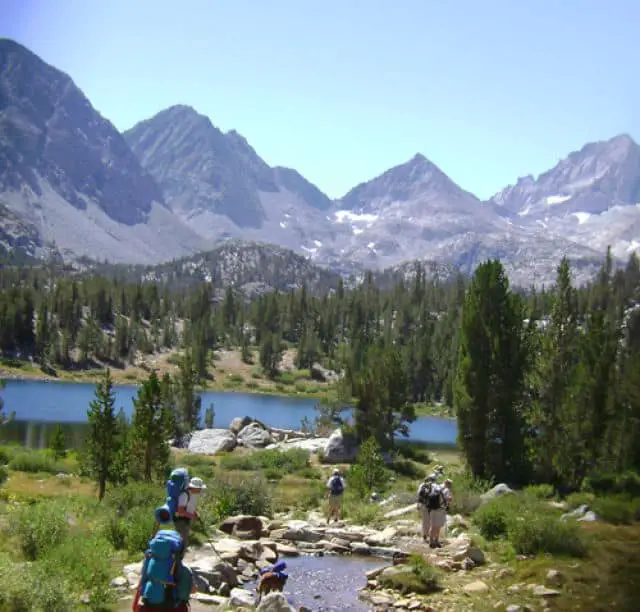 The Little Lakes Valley Trail is an 'easy' trail, according to experienced hikers in California's High Sierras. However, these beautiful lakes are located at a high altitude which may be difficult for those unaccustomed to the thin atmosphere. The trailhead starts at 10,300 feet, which is the highest trailhead in the Sierra Nevadas. From there, it's only another 650 feet up to the highest point on the trail. The trail is less than seven miles along eight spectacular small lakes in Little Lakes Valley. The string of lakes in the glacier-gouged canyon are all set amid outstanding scenic vistas and are breathtaking.
This interesting trail along Rock Creek levels out somewhat after the first initial climb to a series of low hills which hide a string of beautiful and unspoiled alpine lakes. This is the John Muir Wilderness, filled with breathtaking views, inspiring peaks, and unspoiled wilderness. The first lake to come into view is Mack Lake, followed by Marsh Lake over a low hill. A bit larger, Heart Lake is next and is somewhat heart-shaped. Next comes Box Lake, followed by Long Lake. In order to see Chickenfoot Lake (shaped somewhat like a chicken track), hikers take a short loop off the main trail which passes along the lakeshore then circles back to the main trail. Still heading up the trail, hikers are faced with a sign that points either to Morgan Pass straight ahead or Gem Lakes to the right. Some intrepid hikers opt to climb the steep trail to the pass to admire the view or continue on the loner trail. Others head to Lower Gem Lake and Upper Gem Lake. This marks the end of the Little Lakes Trail, although other trails travel through the area for many miles. The trail round-trip is posted as 6.6 miles.
The Little Lakes Valley Trail is extremely popular because of the spectacular scenery and ease of access. The trailhead parking area is located 13 miles off US 395, where hikers may camp for a single night to become acclimated to the elevation. Because the trail is considered easy, experienced hikers choose this trail for a day's outing with their children and dogs. On warm summer days, the trail may become quite crowded. Several 13,000-foot peaks tower above the little valley, including Mt. Mills, Dade, Abbot and Bear Creek Spire. Cameras are almost standard equipment for the Little Lakes Trail, and many photography buffs make sure to take the hike in different seasons. In spring, wildflowers blaze along the creek and in the high meadows, while aspens shade parts of the path and shelter native wildlife and birds. In autumn, the crowds thin but the scenery becomes a brilliant mass of varied golds and yellows as the aspens change color.
On a deserted week day, the only other visitors hikers may see on the trail is an angler or two. Fly fishermen fish both the lakes and Rock Creek for trout. Brown trout are the most common variety caught, but anglers report catching the occasional brook trout or even a wild rainbow trout. All California fishing regulations are in effect. Because of the altitude, snow may linger long in the spring or arrive early to surprise fall hikers. Spring run-off can swell the creek to a dangerous torrent. The Ranger Station at the trailhead keeps visitors abreast of current weather conditions and issues permits for overnight visits.
For those wishing to spend more than a day hiking the Little Lakes Trail or others in the area, one must secure the correct permit from the Ranger and will be reminded of the rules. No campfires are allowed in the area at any time. Because this is bear country, bear canisters must be used for both food and trash. Once past the vault toilet at the trailhead, there are no sanitary facilities, and any drinking water must be purified. The closest facilities for lodgings, food or a welcome shower are private businesses located at the junction of US 395 and Rock Creek Road leading to the trailhead. Other campgrounds are located nearby in the Inyo National Forest.
The trail is probably most popular as a day hike for vacationers to the Mammoth Lakes area just a few miles to the north. Although most people think of Mammoth Lakes as a winter sports destination, many visitors arrive in summer to take advantage of the excellent accommodations in the area and enjoy boating and fishing. Mammoth Lakes is a full-service resort town with all types of attractions and amenities to please visitors. Winter brings a number of ski slopes, snowboarding, sledding, dog sledding, snowshoeing, cross-country skiing and ice skating. Summer invites families with visits to Devils Postpile National Monument, nearby saline Mono Lake with its unusual tufa formations, crystal-clear Lake Mary, or Mammoth Mountain Bike Park. The Mammoth Lakes Visitor Center has information on all of these activities and more. And make sure to save a day for the Little Lakes Trail.
Another town in the area geared to visitors is Bishop, a few miles south of Rock Creek Road on US 395. Besides vacationer-geared attractions and services, Bishop offers a choice of lodgings including hotels, guest cottages and bed-and-breakfasts. Private rentals for ski holidays can be found near both Bishop and Mammoth Lakes. Real estate usually is found in the form of existing housing as little private land is available within the national forest . A few days visiting this area of the High Sierras will convince many visitors that they want to put down roots in this area of pristine wilderness and myriad outdoor activities. Little Lakes Trail will no doubt be a part of the vision that forms. So put on the hiking boots, pack up the fishing tackle and reserve a week's vacation near Little Lakes Trail.
Things to do at Little Lakes Valley Trail Chain of Lakes
Vacation Rentals
Fishing
Camping
Campground
Hiking
Ice Skating
Snowboarding
Cross-Country Skiing
Dog Sledding
Wildlife Viewing
Birding
National Forest
Fish species found at Little Lakes Valley Trail Chain of Lakes
Brook Trout
Brown Trout
Rainbow Trout
Trout
---
Little Lakes Valley Trail Chain of Lakes Photo Gallery
Little Lakes Valley Trail Chain of Lakes Statistics & Helpful Links
At LakeLubbers.com, we strive to keep our information as accurate and up-to-date as possible, but if you've found something in this article that needs updating, we'd certainly love to hear from you!
Please let us know about it on our Content Correction form.
Spread the word! Share our Little Lakes Valley Trail Chain of Lakes article with your fellow Lake Lubbers!