Lakes Basin Recreation Area, California, USA
Also known as:  Gold Lake, Bear Lake, Round Lake, Salmon Lake, Sardine Lake, Long Lake
Welcome to the ultimate guide for history, statistics, local fun facts and the best things to do at Lakes Basin Recreation Area.
If you're considering Lakes Basin Recreation Area vacation rentals, we've made it super easy to explore accommodations and nearby hotels using the interactive map below. Simply click on a listing to compare similar properties, best rates and availability for your dates. Or keep scrolling to read our Lakes Basin Recreation Area guide!
Lakes Basin Recreation Area visitor and community guide
The many small lakes in the Lakes Basin Recreation Area of California's Gold Country never fail to please. The 20+ named lakes draw outdoor adventurers on a regular basis, often as repeat visitors. The Lakes Basin Recreation Area occupies a spot within the million-acre Plumas National Forest about an hour and a half north of Lake Tahoe. Plumas National Forest is bordered by Lassen Volcanic National Park and Lassen National Forest on the north and El Dorado National Forest on the south, so the area offers millions of acres of public lands protected within the northern Sierra Nevada Mountains.
Within the Lakes Basin Recreation Area, many small lakes draw campers, hikers and fishermen. Among them are Big Bear Lake, Little Bear Lake, Cub Lake, Gold lake, Deer Lake, Round Lake, Helgramite Lake, Hidden Lake, Salmon Lake, Sardine Lake, Veronica Lake, Long Lake, Glacier Lake, Squaw Lake, Haven Lake, Rock Lake, Jamison Lake, Silver Lake, Grassy Lake and Mud Lake. Among the largest are Gold Lake, Bear Lake, Round Lake, Salmon Lake, Sardine Lake and Long Lake, although no size statistics are given for any of them. Many are accessible only on foot. The area averages around 6,000 feet in elevation.
The Lakes Basin Recreation Area provides a variety of outdoor activities. Trout fishing is available in nearly all of the lakes, although only Gold Lake is currently stocked. Gold Lake also has a boat dock and launch, and motorized boating is allowed. Most other lakes appear to be no-motors lakes and require boats that can be carried in. Float tubes are likely the best option. Four of the six campgrounds in the Lakes Basin Recreation Area have fishing and swimming available. One of the campgrounds is designated for 4 X 4 camping, and plenty of riding trails will keep the family riders happy. The only campground with drinking water available is Lakes Basin Campground. Most offer vault toilets and few other amenities. The area is available year-round for bicycling, horseback riding, snowmobiling, snow-shoeing and cross-country-skiing. Nearby Sierra Buttes is a popular, scenic cross-country skiing area.
Over 30 miles of hiking trails are available within the Lakes Basin Recreation Area. In addition, the Pacific Crest Trail can be reached from some of the trails, so hiking opportunities are almost endless. The mountainous terrain allows for easy and strenuous hikes from some of the trailheads. The terrain includes dry rocky ledges and wetland meadows that are covered with wildflowers in the spring and much of the summer. Self-guided wildflower hiking tours can be accomplished without much difficulty. Local botanists recommend the Grassy Lake Trail, starting at the Lakes Basin Campground parking lot as a good slow-walking tour through wildflower meadows in June and July.
Two spectacular waterfalls can be viewed from other trails, including Halsey Falls and Frazier Falls. The trail to Halsey Falls is a bit hard to find, so visitors may want to head to the Grey Eagle Lodge and ask for directions. One of the tallest waterfalls in California, Frazier Falls drops 176 feet with the best water flow in the spring. Located on Frazier Creek five miles downstream from Gold Lake, the signed trailhead is off Gold Lake Road. Several former fire tower sites are accessible via trails and offer spectacular views of the area.
Lest visitors think they will have to 'rough it' on any visit to Lakes Basin Recreation Area, they will be pleasantly surprised to find the surrounding area well supplied with all sorts of lodges and resort facilities. A few are within the recreation area itself, including one at Gold Lake. Several of these lodges have been in existence since early in the 20th century, when interest in enjoying remote natural areas became popular. The area itself was first explored in conjunction with the Gold Rush expeditions which actively prospected the basin, often based on rumors and speculative stories. Several collections of gold mining stories have been complied, and most include the tale of the lost miner who swore he had found a lake lined with gold nuggets available for the taking. If Gold Lake was the subject of the expeditions, the prospectors didn't find what they were looking for but left some very colorful tales and folk stories behind for posterity. All sorts of remnants of that early exploration remain in the area and can be viewed at several local museums.
One of the better-known locations for gold rush artifacts is at Plumas Eureka State Park, less than 20 miles from the Lakes Basin Recreation Area. The historic site preserves a blacksmith shop, stamping mills, a stable and a miner's home named Moriarty House. A museum and visitors center put the exhibits in context and provide information on the area's history. The Plumas County Museum in Quincy is about 30 miles from the recreation area and holds a great collection of logging, mining, agriculture and railroad history, pioneer weaponry, a collection of Maidu Indian baskets and examples of miners' cabins and tools. The Coburn-Variel Home, a three-story Victorian next door, is furnished from the museum's collections. Twenty miles from Lakes Basin Recreation Area, the town of Portola holds the Portola Railroad Museum. The Feather River Rail Society exhibits photographs, rail equipment and artifacts from the days of rail travel. Train rides are offered in summer.
The little town of Graeagle is the closest village to the Lakes Basin Recreation Area and becomes the home base for supplies and information clearinghouse for lodgings in the area. Some private properties still exist within the Plumas National Forest, including guest cabins, vacation lodges, private rentals and commercial campgrounds. Interesting eating establishments and unique craft shops can be found tucked away on the roads in the area and in nearby towns. Some real estate can usually be found in a wide range of prices. There are many reasons why many visitors return to the Lakes Basin Recreation Area time and time again. Come and discover the reasons you want to return.
Custom Lakes Basin Recreation Area house decor
Read our full review of these personalized lake house signs.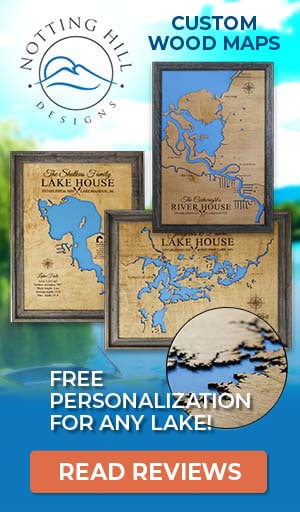 Things to do at Lakes Basin Recreation Area
Vacation Rentals
Fishing
Boating
Swimming
Tubing
Camping
Campground
Cabin Rentals
Hiking
Biking
Cross-Country Skiing
Snowmobiling
Horseback Riding
Waterfall
Wildlife Viewing
Birding
State Park
National Park
National Forest
Museum
Fish species found at Lakes Basin Recreation Area
---
Best hotels and vacation rentals at Lakes Basin Recreation Area
The Lakes Basin Recreation Area map shown above is a simple and stress-free way to search for trip accommodations. But if you want to take a deeper dive to find the ideal waterfront home, cabin, condo, hotel or resort, visit our favorite lodging partners by clicking the buttons below.
Note: These are affiliate links so we may earn a small commission if you book through them. While there is no extra cost to you, it helps provide resources to keep our site running (thank you)! You can read our full disclosure policy here.
---
Lakes Basin Recreation Area photo gallery
New photos coming soon!
Lakes Basin Recreation Area statistics & helpful links
Lake Type: Natural Freshwater Lake, Not Dammed
We strive to keep the information on LakeLubbers as accurate as possible. However, if you've found something in this article that needs updating, we'd certainly love to hear from you! Please fill out our Content Correction form.
Advertise your Lakes Basin Recreation Area vacation rental
LakeLubbers will soon offer homeowners and property managers the opportunity to to showcase their vacation rentals to the thousands of lake lovers searching our site daily for accommodations. If you'd like additional details, please contact our advertising team here.
Looking for the Lakes Basin Recreation Area forum?
LakeLubbers previously offered visitors the ability to create accounts and participate in lake forums. When we overhauled the site's content management system in 2021 we had to disable those features. We're evaluating options and welcome your comments and feedback here.
We also encourage you to join our lake-lovin' community on Facebook and Instagram!
Spread the word! Share our Lakes Basin Recreation Area article with your fellow Lake Lubbers!