Lake Wildwood, California, USA
Lake Locations:
USA - West - California - Gold Country -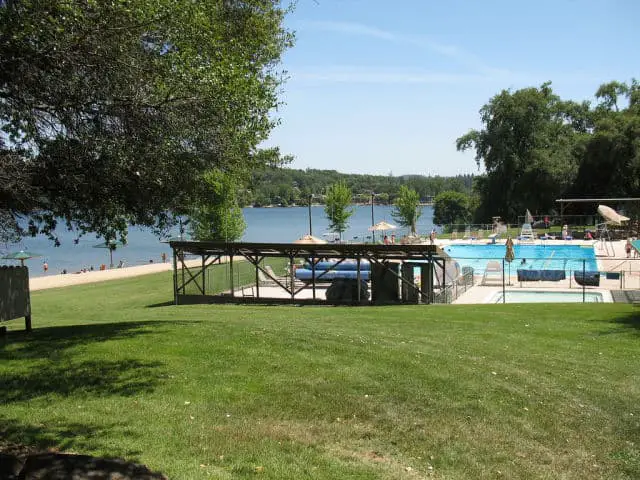 A delightful private lake in California's Gold Country, Lake Wildwood is ideally placed to furnish variety and enjoyment. The 290-acre man-made lake in the Sierra foothills is the centerpiece of an upscale housing development geared toward recreation. The lake and its nearby golf course provide a serene setting for family fun only 50 miles northeast of Sacramento. The lake is the latest in a series of changes for this corner of historic Nevada County and likely to be the last for quite some time. Originally the land was the territory of the Maidu Native Americans. When gold was discovered in the area, the throngs of eager miners settled in small towns all over Penn and Grass Valleys, effectively uprooting the native tribes.
The little settlement of Rough and Ready near the future Lake Wildwood holds the distinction of actually seceding from the United States. On April 7, 1850, local residents, dissatisfied due to a new mining tax, voted to secede and form their own nation. For three months, the Great Republic of Rough and Ready was a sovereign territory with its own constitution, president and cabinet. However, the story relates that the citizens of the new Republic were overcome with patriotic fervor when other local settlements began planning Fourth of July celebrations and quickly rejoined the United States. The miners simply couldn't stand to pass up a good party! The often fruitless search for gold soon led to settlers pursuing ranching and farming. The area that is now Lake Wildwood was once a meadow on the Van Tagger Ranch.
In the mid 1960s, the Boise Cascade Company, anticipating the housing explosion to come, bought up large tracts of land to develop. Several thousand acres were purchased in the Penn Valley along Deer Creek, and the creek was dammed to form Lake Wildwood. The development consists of over 3,000 acres around Lake Wildwood and includes an 18-hole golf course. The clubhouse and public areas of the development include tennis courts with pro shop and patio, swimming pool, children's wading pool, marina with fuel, boat slips for property owners, lifeguard at the swimming beach, and five parks for residents – four with sand beach, restaurant, bar and meeting rooms. The tightly-knit community now hosts over 40 special interest clubs to keep property owners occupied and engaged in their favorite activities. Picnic facilities are provided at all parks.
Lake Wildwood is an all-sports lake and is popular with water-skiers. Here, residents and their guests enjoy tubing, pontooning, power boating, canoeing and kayaking. The lake is reputed to be an excellent bass lake, offering largemouth bass, bluegill and catfish. There is no public access to the lakeshore; fishing and boating on Lake Wildwood are restricted to residents and their guests. The quiet streets in this gated community are safe for bicycling and walking, and other activities are just a short trip away.
Just three miles south of Lake Wildwood, a part of the property purchased by Boise Cascade was donated to Penn Valley for a park. Western Gateway Park has a highly-rated disk golf course, rustic amphitheater, age-appropriate playgrounds, fitness trails, jogging, wildlife observation, dog park, horseshoe pits and swimming holes, along with a historic Buttermaker's Cottage. The town of Penn Valley offers small-town shopping, groceries, hardware, services, churches and restaurants. Just ten miles east on Highway 20, Grass Valley and its twin, Nevada City offer a wide variety of cultural venues, historic buildings and specialty shops. Just south of Grass Valley, the Empire Mine State Historic Park offers living history exhibits and tours of portions of the famed mine that produced more gold than any other in California. The hundreds of acres of back country holds miles of trails for hiking and horseback riding. Local festivals are common in the small towns surrounding Lake Wildwood, including Secession Days at Rough and Ready on the last Sunday in June.
Lake Wildwood is located just 10 minutes away from Lake Englebright, a great swimming and hiking destination along the Yuba River. A variety of ski areas are about an hour away, including the Donner and Tahoe areas. Thousands of acres of Tahoe National Forest offers unlimited areas for canoeing, hiking and camping. And for those desiring the amenities only a large city can offer, Sacramento is only 50 miles away. Sacramento possesses a variety of historical and cultural activities ranging from the Sacramento Opera to the Golden State Museum, casinos, amusement parks, professional sports and every form of nightlife and fine dining.
Lake Wildwood is within easy reach of Sacramento, Tahoe and Reno. Finding vacation rentals at Lake Wildwood is usually not difficult; some private residences rent by the week or month, often with lakefront decks and every possible amenity. Although there is no camping at the lake itself, there are several campgrounds within a ten mile radius. Real estate is also available, either existing homes or building lots. Only 20 miles from Beale Air Force Base, Lake Wildwood makes the perfect business-and-pleasure destination for those doing business with the military. So come see for yourself all Lake Wildwood has to offer. And bring the fishing tackle – the bass are reported to be huge, and hungry!
Things to do at Lake Wildwood CA
Vacation Rentals
Fishing
Boating
Swimming
Swimming Pool
Beach
Canoeing
Kayaking
Tubing
Golf
Tennis
Campground
Picnicking
Hiking
Biking
Horseback Riding
Wildlife Viewing
National Forest
Museum
Playground
Amusement Park
Shopping
Casino Gambling
Fish species found at Lake Wildwood CA
Bass
Black Bass
Bluegill
Catfish
Largemouth Bass
Sunfish
---
Lake Wildwood CA Photo Gallery
Lake Wildwood CA Statistics & Helpful Links
Spread the word! Share our Lake Wildwood CA article with your fellow Lake Lubbers!