Lake Wenatchee, Washington, USA
Lake Locations:
USA - West - Washington - North Central Washington -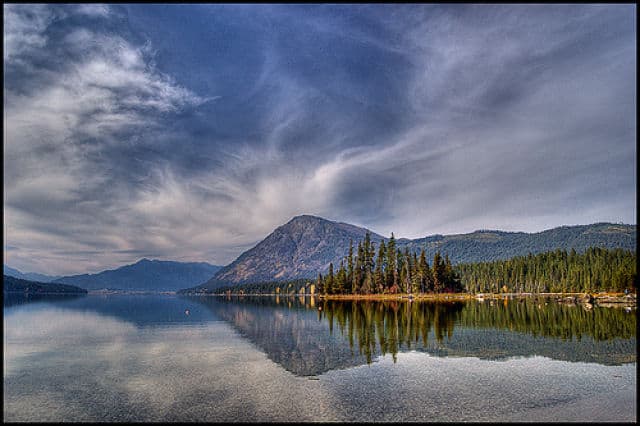 Lake Wenatchee is a high mountain lake located in the Wenatchee National Forest in the Cascade Mountains of Washington state. Fed by the Little Wenatchee River, White River, and snow runoff from the surrounding mountains, Lake Wenatchee drains into the Wenatchee River. Wenatchee is derived from a local Indian tribe, Wenatchi, which means "river which comes from canyons."
Native American tribes camped at Lake Wenatchee during their hunting and trading trips west with coastal tribes. The tribes hunted, fished, picked berries and rested to prepare for the rest of their journey. History states that while visiting a camp at Lake Wenatchee, a Native American hunter bragged that he and another had killed two white men and it is believed that this event is what triggered the Yakima Indian War.
The southern and southwestern shores of Lake Wenatchee are managed by the United States Forest Service. The eastern end is the mouth of the Wenatchee River and the location of Lake Wenatchee State Park. There is a YMCA camp located on the north side of the lake. The north shore of Lake Wenatchee is most popular for residential development because it faces south and gets more sunshine during the shorter days of winter. The Wenatchee Valley Chamber of Commerce states that the lake is "now being noticed as the ideal place to relocate and do business because their residents enjoy a lower cost of living due to low cost utility charges, minimum commutes to great jobs and shopping which reduces gasoline consumption, and a beautiful year round location for many recreational activities."
Geographically, Lake Wenatchee is located in a transition zone between the drier pine and fir trees of the eastern Cascades of Washington and the wet western Washington woodlands. Covered with cedar, Douglas fir, hemlocks, maple, Ponderosa pine and mixed with the colorful daisies, orchids, wild roses, and foxgloves, spring and summer offer a beautiful setting of vibrant shades. With an average snowfall of over 150 inches, this same view changes dramatically to pristine whiteness during the winter months.
Lake Wenatchee State Park has more than 12,000 feet of waterfront activities, and is divided by the Wenatchee River into a north and south section. The South Park offers areas for camping, a beach with roped-off swimming area, and a public boat dock. The North Park is a less developed forested section for those wanting more primitive accommodations. Summertime visitors enjoy boating, jet skiing, canoeing, fishing, swimming, waterskiing, windsurfing, hiking, horseback riding, camping, and picnicking. The South Park allows winter camping from November 15 to April 1 with heated restrooms and hot showers available. During the snowy months, cross-country skiing, dog sledding, snowmobiling, and ice climbing are available at the park. The entire Lake Wenatchee State Park is a natural wildlife area, and visitors should always be alert for the presence of bears and other natural dangers.
Glacier View Campground is operated by the National Forest Service and is located on the south shore of Lake Wenatchee. Facilities for the campsites and RV sites include drinking water, pit toilets, garbage service and the only other public boat launch besides Lake Wenatchee State Park. Glacier View Campground also offers easy access to many hiking trails around the lake.
Lake Wenatchee is gaining popularity for windsurfing during April through October. Because Lake Wenatchee is not dammed and mountain snow runoff is occurring during the period of April through June, enthusiasts warn that the water can get high, creating a serious current in the water combined with the windy conditions that are typical for Lake Wenatchee.
The Washington Department of Fish and Wildlife (WDFW) manages the sockeye salmon fishery. Spawning sockeye travel up fish ladders along the Columbia River to Lake Wenatchee, their final destination. WDFW opens the lake as a harvest fishery when sockeye numbers exceed the 25,000 to 28,000 necessary to sustain the fishery, so anglers eagerly anticipate the sockeyes' journey up-river.
Lake Wenatchee boasts to have it all! Why not come for a visit today?
Things to do at Lake Wenatchee
Vacation Rentals
Fishing
Boating
Swimming
Beach
Canoeing
Jet Skiing
Water Skiing
Camping
Campground
Picnicking
Hiking
Ice Climbing
Cross-Country Skiing
Snowmobiling
Dog Sledding
Horseback Riding
Hunting
Wildlife Viewing
State Park
National Forest
Shopping
Fish species found at Lake Wenatchee
---
Lake Wenatchee Photo Gallery
Lake Wenatchee Statistics & Helpful Links
Spread the word! Share our Lake Wenatchee article with your fellow Lake Lubbers!