Kachess Lake, Washington, USA
Lake Locations:
USA - West - Washington - North Central Washington -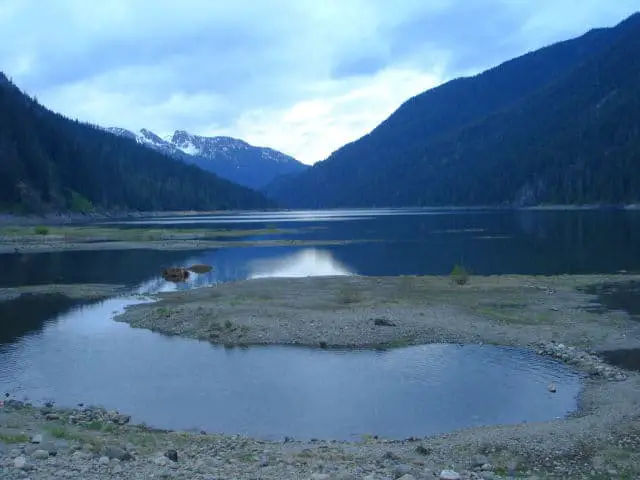 "Kachess" means "more fish," a name that aptly describes Lake Kachess in North Central region of Washington. The lake is full of fish, and anglers can pit themselves against the rainbow and cutthroat trout and wrestle the landlocked kokanee salmon. The fishing, however, is not the only thing that brings people to this beautiful Kittitas County lake. Nestled in the Wenatchee National forest, Lake Kachess offers year round recreation.
The lake, also known as Kachess Lake, is part of the US Bureau of Reclamation's Yakima Project. The Yakima Project is a collection of storage reservoirs designed to provide irrigation water for 464,000 acres of land. As a result Yakima County, which receives water from the project, has become some of the most fertile farm land in the country. In fact, of all the counties in the United States, Yakima County is number one in the production of mint, apples, and hops. Kachess Lake runs north and south following the path of the Kachess River which makes up both its inflow and outflow. It is a natural lake, but in 1902 the Cascade Canal Company built a dam on the lake. The US government took control of that dam in 1907, and in 1910 the US Bureau of Reclamation started construction on a new dam. The Kachess Dam was completed in 1912 and still controls the lake's water level today. Lake levels drop slightly in late summer.
With over 6,500 acres of water there is plenty of room to boat, water ski, and jet ski. Public access to Lake Kachess is from a National Forest Service (NFS) boat ramp. The boat ramp is in a NFS campground which is located at the narrows south of what is known as Little Kachess Lake. The campground has places to picnic, and some lakeside campsites. The Little Kachess Lake Trail starts in the campground and is used for both hiking and mountain biking. In early spring the trail is surrounded by wildflowers as it winds around Little Kachess Lake. Hikers can scramble up moss covered boulders to look down on the lake or look back over calypso and rattlesnake orchids and Indian paintbrush. Little Kachess Lake gets less power boat traffic so it is a great place to canoe and kayak.
Kachess Lake is in the Wenatchee portion of the Okanogan – Wenatchee National Forest. The over four million acres forest runs from the Canadian border to the north to the Goat Rocks Wilderness in the south. Established in 1908, the Wenatchee National Forest offers both a wide range of recreation activities and a very diverse landscape. There are glaciated peaks for climbing and hiking along with old growth forests and valleys for hunting and exploring.
Lake Kachess is a few miles from Easton and about an hour from Seattle. There are restaurants and shops within an easy drive. In the winter, visitors can cross country ski and snowmobile near Lake Kachess. Mount Rainier National Park is a fantastic day trip from Lake Kachess. Mount Rainier stands 14,410 feet high and is an active volcano. Its snow covered peak is a spectacular backdrop to the rest of the park. Visitors can hike through fields of alpine wildflowers as they climb higher and higher towards the top. There are routes for beginning hikers and experienced mountaineers, all with the breath taking views that draw two million visitors a year.
After a day spent hiking in Washington's beautiful snow capped mountains or playing on the water, there are plenty of vacation rentals available including some right on Lake Kachess. For visitors who fall in love with the area and want to extend their stay, there is real estate for sale both on the lake and in nearby Easton. With its majestic setting, fish-filled water and proximity to Seattle, it's easy to see why someone would fall in love with Kachess Lake either for the day or for a lifetime.
Things to do at Kachess Lake
Vacation Rentals
Fishing
Boating
Canoeing
Kayaking
Jet Skiing
Water Skiing
Camping
Campground
Picnicking
Hiking
Biking
Snowmobiling
Hunting
National Park
National Forest
Fish species found at Kachess Lake
Cutthroat Trout
Kokanee Salmon
Salmon
Trout
---
Kachess Lake Photo Gallery
Kachess Lake Statistics & Helpful Links
At LakeLubbers.com, we strive to keep our information as accurate and up-to-date as possible, but if you've found something in this article that needs updating, we'd certainly love to hear from you!
Please let us know about it on our Content Correction form.
Spread the word! Share our Kachess Lake article with your fellow Lake Lubbers!