Banks Lake, Washington, USA
Lake Locations:
USA - West - Washington - North Central Washington -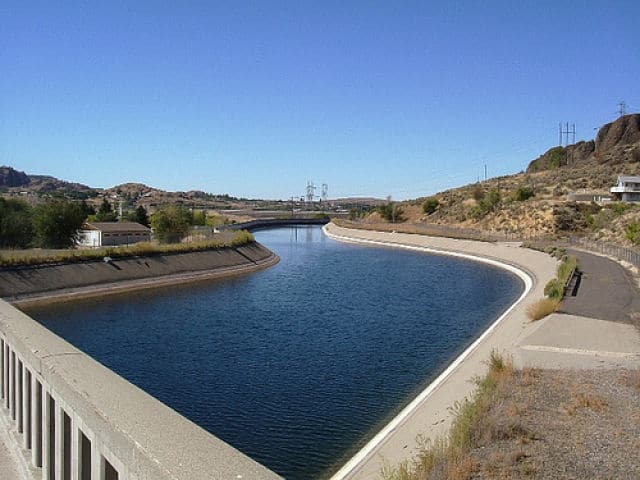 Banks Lake is a 27 mile equalizing reservoir and part of the Columbia Basin Project, a major water resource project to provide irrigation water to fertile but arid land in central Washington. It was created when two rock-faced, earthfill dams were built at the ends of a large channel sculpted during the Ice Age. Banks Lake was named after Frank A. Banks, chief construction engineer of the Grand Coulee Dam, the main feature of the Columbia Basin Project.
Water for Banks Lake is pumped from Lake Roosevelt through the Banks Lake Feeder Canal and then into Banks Lake. Water is held in Banks Lake until needed for irrigation but the active storage can be replaced seven or eight times a year depending on demand for irrigation. Water is typically pumped into Banks Lake from May to September during the typical growing seasons on area farms. The final weeks of pumping build a reserve in Banks Lake that may be held until needed in late fall or early spring before pumping begins again next May.
Although the water in Banks Lake is drawn down several times, the minimum water surface elevation is 1560 feet. Fishing at Banks Lake offers the avid angler opportunities for small and large mouth bass, yellow perch, rainbow trout, walleye, kokanee, black crappie, bullhead, and whitefish.
For recreational opportunities at Banks Lake, visit Steamboat Rock State Park which offers a 3,522 acre camping facility with 50,000 feet of waterfront access for swimming, fishing, boating, and other water activities. There are seven boat ramps at three different sites along Banks Lake with 320 feet of dock reserved for boat handling only. In addition to typical water sports, rock climbing is also offered at the park. During the winter, skiing is permitted on the many trails throughout the park.
The Banks Lake area is uncrowded with much of the land used for farming. Located at the north end of Banks Lake is the city of Grand Coulee with a reported population of 897 in the 2000 census. On the south end of Banks Lake is the town of Coulee City with a population of 600 in the 2000 census.
Although Banks Lake was originally formed for irrigation, it has become an oasis in the desert for those seeking recreation and relaxation.
Things to do at Banks Lake
Vacation Rentals
Fishing
Boating
Swimming
Camping
Hiking
Rock Climbing
State Park
Fish species found at Banks Lake
Bass
Black Crappie
Crappie
Kokanee Salmon
Largemouth Bass
Perch
Rainbow Trout
Trout
Walleye
Whitefish
Yellow Perch
---
Banks Lake Statistics & Helpful Links
Spread the word! Share our Banks Lake article with your fellow Lake Lubbers!