Lake Sacajawea, Washington, USA
Lake Locations:
USA - West - Washington - South Central Washington -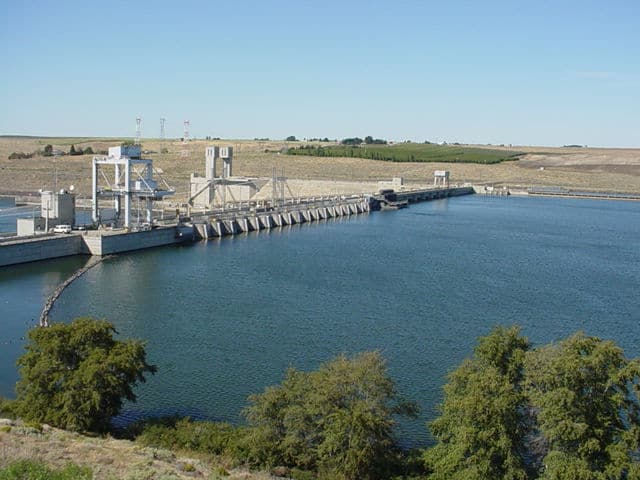 Named after the Shoshone woman, Sacajawea, who was a member of the Lewis and Clark expedition, Lake Sacajawea is located in south-central Washington. Lake Sacajawea, a 32 mile long reservoir behind Ice Harbor Dam, began filling on November 28, 1961 and was completed in April 1962.
The Ice Harbor Dam area is a multi-purpose facility dedicated on May, 9, 1962 by Vice President Lyndon Johnson. There is one lock to aid in navigational progress along the Snake River, as well as two fish ladders to provide easier access for migratory fish. In addition, with a ten gate spillway that is 590 feet long, Ice Harbor can produce approximately 603 megawatts of hydroelectric power.
Lake Sacajawea contains two ports, Windust and Sheffler, which are both used for grain. Also, water from Lake Sacajawea is used to irrigate approximately 37,000 acres of land that produces a variety of agricultural crops including potatoes and corn.
Lake Sacajawea, with a surface area of 9,200 acres of cool sparkling waters, offers many popular recreational activities for public use like boating, camping, swimming, water skiing, and fishing. With seven developed recreational areas adjacent to Lake Sacajawea, there is easy access to the water. The amenities in these areas include multiple boat ramps, public swimming areas, as well as campgrounds that offer rustic camp sites to sites that have electrical and water hookups. If you can only stay a day, then visit one of the day use picnic areas.
With wide open vistas surrounding Lake Sacajawea, the natural beauty is displayed everywhere you choose to wander. The land surrounding Lake Sacajawea is federally owned and managed by the Army Corps of engineers which includes a wildlife habitat. Hunting is allowed around the lake with appropriate permits and licenses.
At the Ice Harbor Dam Visitor Center, which is open daily from April 1 through October 31 from 9:00am to 5:00pm, you can enjoy self-guided tours with interpretive displays and programs. You may also be able to watch passing boats transport through the lock or watch migrating fish utilizing the fish ladders in the special fish viewing room.
Whether it is for a day, a weekend, or extended stay, Lake Sacajawea's arid climate and wide array of facilities will make it a memorable trip.
Things to do at Lake Sacajawea
Vacation Rentals
Fishing
Boating
Swimming
Water Skiing
Camping
Campground
Picnicking
Hunting
Wildlife Viewing
---
Lake Sacajawea Photo Gallery
Lake Sacajawea Statistics & Helpful Links
Spread the word! Share our Lake Sacajawea article with your fellow Lake Lubbers!