Lake Wawasee, Indiana, USA
Lake Locations:
USA - Midwest - Indiana - North -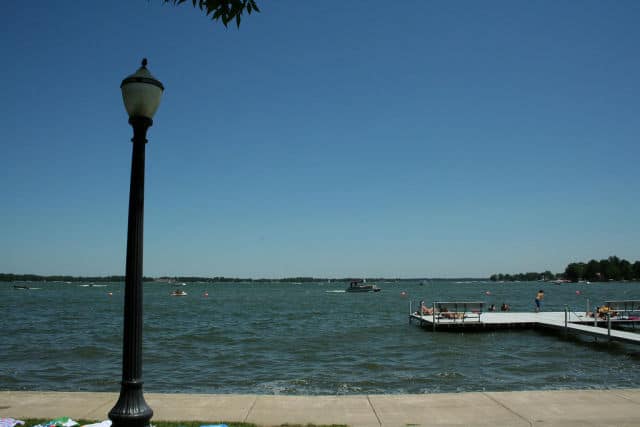 Among the gently rolling hills of Amish country you will find Lake Wawasee, Indiana's largest natural lake. Whether you come for the scenery or recreation, the 3000 plus acres of glistening blue-green water will draw you in. Attracting visitors from Chicago to Indianapolis, Lake Wawasee has long been a popular site for family recreation, retirement or year-round living.
Located in Kosciusko County, the area has a varied and colorful history. Originally settled by Native Americans, the lake was named for Miami chieftain Wawasee. In 1826 the first white settlers arrived in what would become the town of Syracuse. Today this community of approximately 3,000 residents rests along the western shore of Lake Syracuse and the northwest shore of Lake Wawasee. With over 11 acres of parks, a planetarium, museums, antique shops and fine dining, Syracuse provides a welcoming place to start your visit to Lake Wawasee.
Carved during America's last glacial period, Lake Wawasee's surrounding green hills can reach an elevation of 1,000 feet. The same glaciation is responsible for carving the varying depths of the lake. Today Lake Wawasee is fed by Turkey and Dillon Creeks. An Indiana Department of Natural Resources dam maintains the lake's elevation at 859 feet and provides a maximum depth of 77 feet with an average depth of 22 feet.
With 90% of Lake Wawasee's 25-mile shoreline developed, care is now being taken to protect watershed habitat where heron, eagles and hawks can be found. 240 acres of wetland around Conklin Bay and Johnson's Bay are being protected by idle speed zones. The Tri-County Fish and Wildlife Area was established to protect 3,486 acres of the watershed from further development and agriculture. The many efforts of state agencies, Wawasee Area Conservancy Foundation, and local organizations have also resulted in water quality excellent for fishing and lakeside living.
A 2005 fishery survey of Lake Wawasee collected 28 species of fish. Ranked in order of abundance were bluegill, largemouth bass, yellow bullhead catfish (some at 15+ inches), northern pike, yellow perch, redear sunfish, and black crappie. For those who enjoy competition, a number of day and night bass fishing tournaments are held at Lake Wawasee and surrounding lakes. All your fishing needs can be met by area bait and tackle shops, boat rental facilities, and boat repair shops. Lakeside Park and Henry Ward Park provide public access to the lake from the town of Syracuse. Additional ramps and marinas are found along the shoreline.
Many wet and wonderful activities are found on Lake Wawasee. For those with a "need for speed," no daytime speed limit makes this large expanse of shimmering water irresistible to boaters and waterskiers. Area yacht clubs are the attraction for those who prefer smooth sailing. "The Sandbar" is a shallow feature of the lake where boats can anchor and families can enjoy swimming in the 3-to-4 foot water depths. The state-run Wawasee Family Fishing Area provides a 10-acre park with ADA-accessible features. End the week on a quiet Sunday relaxing and listening to the lapping of waves while you enjoy one of several boat-in worship services.
Today, over 1000 homes, condominiums and vacation rentals line the waterfront to make Lake Wawasee a community you will love to call home for a day, a week or a lifetime. Plan to stay for the summer and enjoy exhibits, shows, music in the park, and Fourth of July celebrations; stay for the fall and enjoy nature's colors as you canoe down Turkey Creek; stay for the winter and enjoy ice fishing, snowmobiling and "Christmas in the Park;" stay for the spring and you will see the lake and farmland return to life; stay any time of the year and Lake Wawasee will welcome you.
Things to do at Lake Wawasee
Vacation Rentals
Fishing
Fishing Tournaments
Ice Fishing
Boating
Sailing
Swimming
Canoeing
Water Skiing
Snowmobiling
Wildlife Viewing
Birding
Museum
Antiquing
Fish species found at Lake Wawasee
Bass
Black Bass
Black Crappie
Bluegill
Bullhead Catfish
Catfish
Crappie
Largemouth Bass
Northern Pike
Perch
Pike
Redear Sunfish (Shellcracker)
Sunfish
Yellow Bullhead
Yellow Perch
---
Lake Wawasee Photo Gallery
Lake Wawasee Statistics & Helpful Links
Spread the word! Share our Lake Wawasee article with your fellow Lake Lubbers!