Lake Morton, Washington, USA
Lake Locations:
USA - West - Washington - Seattle & Puget Sound -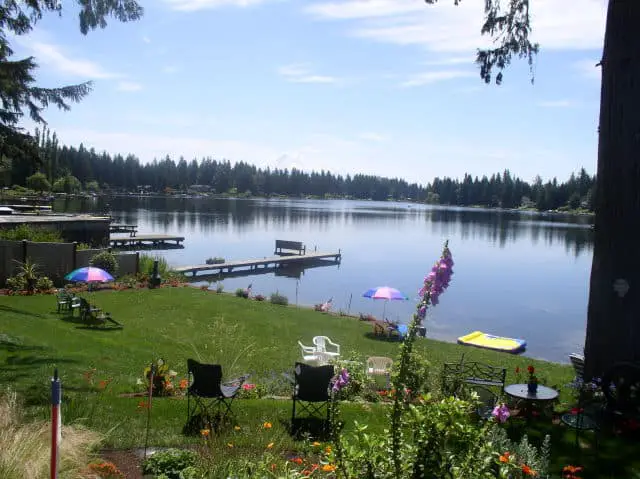 Lake Morton is a small wilderness haven with city amenities nearby, located about 30 miles southeast of Seattle in King County. With snow-capped Mt. Rainier set in the backdrop, Lake Morton looks like the perfect subject for an artist's canvass. Although a small lake, with 66 acres of water, visitors will find ample room for canoeing, kayaking, swimming, and fishing. A public boat launch provides lake access to visitors. Lake Morton's shoreline is encircled with pine trees and has an occasional lake home or vacation rental offering warm greetings to their lodgers. Additional real estate and overnight lodgings can be found in the nearby cities of Lake Morton-Berrydale and Covington, Washington.
Anglers will enjoy excellent fishing in the cold waters of Lake Morton. Each year the lake is stocked with rainbow trout, while largemouth bass are found living naturally in the lake. Golfers will find a few first-class golf courses close by where they can play a round or two of golf. Lake Morton seems like a secluded wilderness; however, less than ten minutes away are restaurants, shopping centers and a coffee shop.
Lake Morton is a portal to some of the best sights in Washington. Lake visitors and residents enjoy day trips to see some of the most exciting places in Washington state. Seattle and the Puget Sound are easily accessible; visitors can explore the arts and culture of this large metropolitan city. Sightseers can sample superb wines, entice their palettes with fine dining, tour art galleries and museums, and watch excellent theatre performances. While in Seattle, visitors may want to include a spot on their itinerary for a tour of the Space Needle that was built in 1962 for the World's Fair. The Space Needle has an observation deck 520 feet in the air. From this vista, visitors get a spectacular view of the Puget Sound area.
Traveling a little southeast of Lake Morton is the tallest peak in the Cascades, Mount Rainier. Serious hikers can climb to the summit at 14,410 feet, and are rewarded with panoramic views of Mount St. Helens, Mount Adams, Mount Baker, and Glacier Peaks. On clear days visitors may even catch a glimpse of the tip of Mt. Hood located in Oregon. For visitors who prefer less arduous activities, Mount Rainier National Park provides about 260 miles of maintained trails and 147 miles of roads across its expansive 235,626 acres.
Continuing south of Mount Rainier is 1,312,000-acre Gifford Pinchot National Forest. The National Forest also includes 110,000 acres of the Mount St. Helens National Volcanic Monument, which was established by Congress in 1982. The Gifford Pinchot National Forest is an outdoor recreational wonderland and is one of the oldest national forests in the United States. Hiking, camping and nature observation are just a few of the activities permitted there.
East of Lake Morton is the massive 4 million-acre Okanogan-Wenatchee National Forest which stretches from the Canadian border south past Mount Rainier. With so much land, recreational opportunities are numerous, while also providing a safe habitat for the natural resources found in the forest. Nature observers will be able to spot a wide variety of flora and fauna while hiking on designated trails.
After some time spent sightseeing, it is time to unwind on the shores of Lake Morton. Visitors and residents alike enjoy lake views as they sip their coffee by a warm fire. The breathtaking beauty will help relax the mind and soul of all who take time to enjoy the peaceful atmosphere of Lake Morton.
Things to do at Lake Morton
Vacation Rentals
Fishing
Boating
Swimming
Canoeing
Kayaking
Golf
Camping
Hiking
National Park
National Forest
Museum
Shopping
Fish species found at Lake Morton
Bass
Black Bass
Largemouth Bass
Rainbow Trout
Trout
---
Lake Morton Photo Gallery
Lake Morton Statistics & Helpful Links
Spread the word! Share our Lake Morton article with your fellow Lake Lubbers!