Lake Oroville, California, USA
Lake Locations:
USA - West - California - Shasta Cascade -
Also known as:  Oroville Reservoir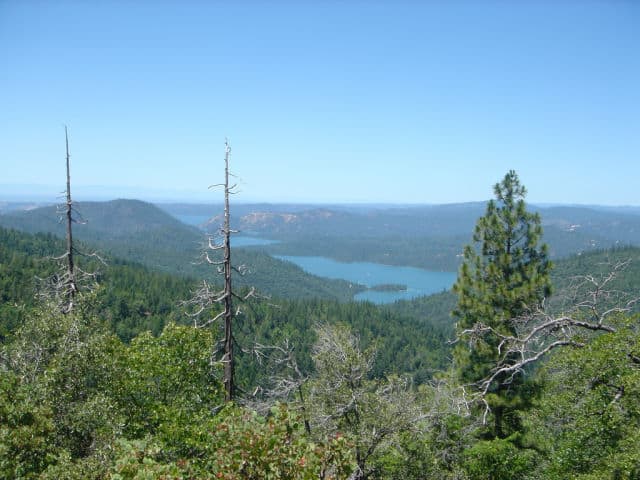 Lake Oroville, snuggled into the Sierra Nevada Foothills about 75 miles north of Sacramento, is one of northern California's favorite playgrounds. Boasting the tallest earthen dam in the United States — 770 feet — the reservoir was built by the California Department of Water Resources on the Feather River as part of the California State Water Project. Since its completion in 1967, Lake Oroville has provided water to millions of Californians, irrigation water for agriculture, flood control, hydroelectric power, fish and water quality protection, and many recreational opportunities for visitors and residents alike.
Because Lake Oroville provides flood control in the Feather River basin, the water level is drawn down in the fall to winter pool level, allowing winter and spring rains to fill the reservoir instead of flooding the surrounding land. The maximum summer pool elevation of the lake is 900 feet above sea level, with an average elevation of 793 feet. The minimum level since the project began in 1967 was 645 feet above sea level.
Lake Oroville's electricity generation is a pump-back system, where water is released over the dam during peak demand for electricity, then pumped back during off-peak hours. This pump-back operation can cause the water levels to fluctuate 1 to 2 feet daily and up to 9 to 11 feet over a several week period.
On warm summer days, you'll find Lake Oroville dotted with outdoor enthusiasts indulging in some of their favorite activities: picnicking beside rippling water, horseback riding along groomed trails, taking a splash-filled dip in the inviting and refreshing water, or pitching a tent for a night's rest under the stars. If you're looking for peace and relaxation, Lake Oroville delivers.
Begin your trip with a hike through the area's diverse wilderness. Take a meandering walk through ancient oaks that sprinkle the valley, catch a glimpse of history looking at Chinese laborer-made lava rock walls, and gaze in wonder at the scenery that mountain hiking will afford you. Bikers are also welcome explorers, and the Freeman Bicycle Trail offers over 44 miles of off-road terrain for eager mountain bikes and their riders. And if you're not an advanced rider, don't fret: about 30 of those miles are flat, sometimes gently rolling, so you can enjoy a biking adventure, too. Whether you're hiking or biking, take a camera along and keep your eyes open for Northern California wildlife, like wild turkeys, raccoons, ring-tailed cats, and deer.
Head to the Lake Oroville State Recreation Park for some of the best offerings at the lake. Before you get comfortable in the sun, check out the park's visitor center, perched atop Kelly Ridge. Learn about the dam's creation, take a look at any of the on-request videos, or enjoy the spectacular vantage point from the 47-foot overlook tower.
After your visit to the Visitors' Center, head for the comfortable, cozy picnic areas that await you, offering the perfect spot to grab a bite in the shade before beginning your aquatic antics. The only two officially designated swimming areas at Lake Oroville are also located within the state park, so feel free to take a dip at both the Loafer Creek Area and North Forebay.
Oroville Lake is divided into several different areas: North Forebay is reserved for the exclusive use of non-motorized boats, so if small wake and quiet surroundings are your fancy, head to this tranquil wedge of the reservoir. Get out in a canoe, kayak, or sailboat and take advantage of the wake-free lake surface. Make use of the day-use areas, with covered shade ramadas for picnic groups, barbecue stoves, and a 200-foot sandy beach that's perfect for building sandcastles and digging your toes into. Nearby South Forebay is a bit more active, providing launch ramps for power boats and some truly spectacular fishing. Loafer Creek Area is mostly for lounging and swimming, providing a 100-food beach and green area perfect for spreading out a blanket.
If fishing is your game, Lake Oroville offers wonderful German brown, catfish, largemouth bass, rainbow trout, salmon, and smallmouth bass opportunities. Everyone over 16 will need a valid California state fishing permit. In addition to the lake's offerings, the Feather River Fish Hatchery, located just across the river from Oroville city, raises salmon and steelhead trout. If you're interested in going behind-the-scenes, underwater windows at the hatchery allow you to watch things happen during spawning season.
Of course, one of nature lovers' favorite activities is camping, and Oroville Lake has one of the most unique camping options available. In addition to traditional camping, offering both hookup and primitive sites on land, the Lake Oroville State Recreation Area offers the opportunity to camp on the water. You'll need your own boat (any kind will do) to get to the on-water floating campsites, but once you're there, you'll be treated to a fantastic, one-of-a-kind camping experience. Each floating campsite is 20′ x 24′, sleeping up to 15 people, and offers a propane grill, a food locker, a lockable closet, a handicap-accessible bathroom, a covered living area, and an upper party deck/sleeping area for daytime sunbaths and nighttime tents. Make sure to take your own drinking water before embarking on this adventure.
Lake Oroville offers many wonderful opportunities, assuring that everyone in your group will have a great time at this scenic lake in Northern California.
Things to do at Lake Oroville
Vacation Rentals
Fishing
Boating
Sailing
Swimming
Beach
Canoeing
Kayaking
Camping
Picnicking
Hiking
Biking
Horseback Riding
Wildlife Viewing
Birding
State Park
Playground
Fish species found at Lake Oroville
Bass
Black Bass
Catfish
Largemouth Bass
Rainbow Trout
Salmon
Smallmouth Bass
Steelhead Trout
Trout
---
Lake Oroville Photo Gallery
Lake Oroville Statistics & Helpful Links
Spread the word! Share our Lake Oroville article with your fellow Lake Lubbers!