Lake Nacimiento, California, USA
Lake Locations:
USA - West - California - Central Coast -
Also known as:  Dragon Lake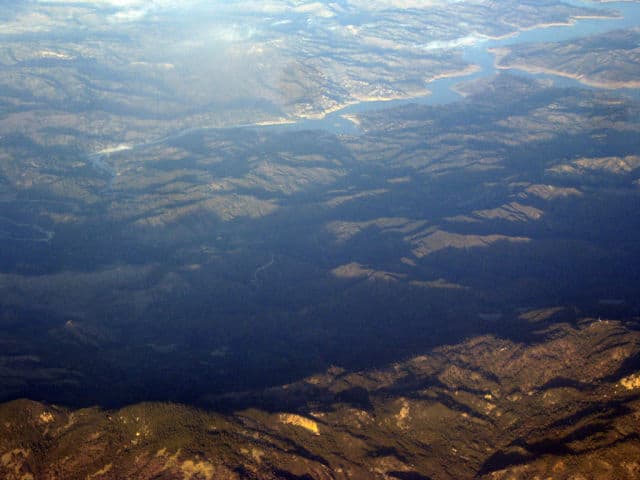 Located in central California in northern San Luis Obispo County, Lake Nacimiento is truly a sight to see. This 18.6 mile long beauty received the nickname "Dragon Lake" because of its many arms which include Snake Creek, Dip Creek, Las Tablas Creek, and Franklin Creek. With 5,727 water acres, 163 miles of scenic shoreline, and grassy slopes scattered with pine and oak forests, Lake Nacimiento is abundant in wildlife, river canyons, mountains, and spring waterfalls. Private residential communities dot the shoreline.
Started in the 1950's and completed in 1961 by the Monterey County Water Resources Authority (MCWRA), Nacimiento Dam, a 210-foot earth fill dam, forms Lake Nacimiento by impounding the Nacimiento River. The lake provides irrigation water, flood control, hydropower, and recreation. Lake levels are lowered in the winter to make room for heavy rains and snowmelt upstream, refilling to capacity around May 1. Construction of the Nacimiento Dam Spillway Modification Component, scheduled from Spring of 2008 to Fall of 2009, will help to stop seawater intrusion into the lake and increase flood protection at the dam. Without these improvements, MCWRA would have to lower lake levels an additional 17 feet (to 765 feet elevation) in winter for increased flood protection.
Lake Nacimiento is almost 200 feet deep at the dam's spillway. Its clean waters maintain an average temperature of 72 degrees. Anglers flock to Lake Nacimiento, since it is the only lake in California containing white bass. In addition to the exclusive white bass, the lake is also home to largemouth bass, smallmouth bass, crappie, catfish, and bluegill. As always, make sure to get a California fishing license before you get here, as you can't fish without it. Anglers should follow the California Sport Fish Consumption Advisories (see link below).
Lake Nacimiento attracts visitors throughout the whole year for recreational boating and water sports such as water skiing and wakeboarding. Two public boat launches and a full-service marina are available. Boat rentals range from leisurely paddle boats and pontoon boats to bass boats for anglers. Accommodations range from lodge rentals to camping and RV facilities.
With its fantastic long open water ski areas, slalom course, and over 400 campsites, visitors are sure to be satisfied with all the natural attractions "Dragon Lake" holds. From its unspoiled wilderness to its beautiful accommodations for guests, Lake Nacimeiento is surely a must-see.
Fees:
Day use is $7.00.
After April 1st $10.00.
Annual day use is $125.00.
The LAKE USE fee is $5.00 per day.
Annual LAKE USE fee is $75.00 and is good for both Nacimiento and Lake San Antonio.
Feel free to contact these phone numbers for more information:
Main Phone (805) 238-3256
Marina (805) 238-1056
Lake Patrol (805) 238-2376.
Lake Nacimiento-Monterey County Parks Department (805) 238-2376 or (805) 472-2311.
Things to do at Lake Nacimiento
Vacation Rentals
Fishing
Boating
Water Skiing
Wakeboarding
Camping
Waterfall
Wildlife Viewing
Fish species found at Lake Nacimiento
Bass
Black Bass
Bluegill
Catfish
Crappie
Largemouth Bass
Smallmouth Bass
Sunfish
White Bass
---
Lake Nacimiento Photo Gallery
Lake Nacimiento Statistics & Helpful Links
Spread the word! Share our Lake Nacimiento article with your fellow Lake Lubbers!