Lake of the Pines, California, USA
Also known as:  Main Lake, Entrance Pond, Huck Finn Pond, Hazel Lake
Welcome to the ultimate guide for history, statistics, local fun facts and the best things to do at Lake of the Pines.
If you're considering Lake of the Pines vacation rentals, we've made it super easy to explore accommodations and nearby hotels using the interactive map below. Simply click on a listing to compare similar properties, best rates and availability for your dates. Or keep scrolling to read our Lake of the Pines guide!
Lake of the Pines visitor and community guide
Located in the foothills of northeastern California's Sierra Nevada Mountains, Lake of the Pines is a 232-acre private lake surrounded by a gated community. Opened in 1967, the community also includes four-acre Hazel Lake, three-acre Huck Finn Pond and the half-acre Entrance Pond. Of the 1,999 homesites in Lake of the Pines, nearly 15 percent have direct waterfront access to a lake or pond. Surrounding homes have lake and pond access through seven parks offering five beaches, a boat launch ramp and a marina. All residents have access to their clubhouse, golf course, tennis courts, fishing, waterskiing, swimming, boating and beautiful country setting of California's Gold Country.
Lake of the Pines' four lakes are the shared property of Lake of the Pines (LOP) residents managed by the LOP Association. Each water body is impounded by earthen dams, technically making them reservoirs. The Entrance Pond, or Gate Pond, sits on association land near the community's main gate. This one-half acre pond is an impoundment of Ragsdale Creek and has a maximum depth of eight feet. The two-acre-feet of water have been stocked with redear, largemouth bass and bluegill sunfish creating an ideal location for young anglers to develop their fishing skills.
Huck Finn Pond is located inside the main entrance of Lake of the Pines. This three-acre pond is a remnant of the ranch that first occupied the land. Originally used as a stock tank, Huck Finn Pond is also an impoundment of Ragsdale Creek. The pond has a shoreline of .4 miles and a maximum depth of eight-feet. The eastern and southern shore accommodates 12 homesites. Acreage along the western shore provides a common area where residents may launch float tubes and pedal boats. The LOP Association has built a fishing pier on Huck Finn Pond dam where anglers may hook a largemouth bass or bluegill sunfish.
Hazel Lake's four-acres lie on the north side of a dam that separates Hazel Lake from Lake of the Pines Main Lake. Constructed as another early livestock water supply, Hazel Lake has a maximum depth of 17 feet and is fed by winter precipitation and water from the Main Lake. The north shore is home to family-friendly Hazel Lake Park. Here you will find all the amenities for family and friends to enjoy a day at the park. Within the park you will find a restroom, drinking fountain, lawn area and picnic tables. For entertainment the park offers a sand volleyball court, half-court basketball, horseshoe pits and parcourse fitness trail. Non-motorized boats and float tubes may be launched from the park shore for a day of fun on the water or fishing largemouth bass and bluegill sunfish.
The Main Lake, or Lake of the Pines, is an impoundment of Magnolia Creek. Magnolia Dam was built by Boise Cascade Corporation in 1967 when the company was interested in real estate speculation and recreational land development. Today Magnolia Dam and 232-acre Lake of the Pines is the property of Lake of the Pines Association. During the winter, Main Lake's 60-foot maximum depth is maintained by Magnolia Creek and tributaries entering along the eastern shore. From mid-April to mid-October Lake of the Pines maintains its 4,150 acre-foot volume by receiving water from nearby Lake Combie owned by Nevada Irrigation District. Water leaves the Main Lake through the golf course irrigation system and siphoning to maintain water levels in the other three lakes and to irrigate the community golf course and common areas and parks.
With Lake of the Pines maintaining four lakes, water sports are naturally the focus of activity in this popular community. Main Lake is open to swimming with community access found in five surrounding parks. The main beach is near the Lake of the Pines clubhouse at the northern shore. Beachgoers will find a lawn area, restrooms, outside beach shower, vending machines and parking nearby. A slalom ski course is maintained for residents and members of the community's water-ski club. A swimming pool with children's wading pool is open to residents and guests.
If you don't find residents in the water, you will likely find them on the water. At the north end of Lake of the Pines paddlers will find a public pier and rental slips for kayaks and canoes. A marina with rented boat slips is open nearby. The demand for slips exceeds availability, leaving residents facing a five-year waiting list before a slip may become available. For those towing a boat, a launch is available at South Shore Park. No boat fuel is available on the lake so boats must be towed to service stations or hand filled. All boats must be inspected and registered with Lake of the Pines Administration. The peace and tranquility of the lake is maintained through observance of "quiet time." Discussions are under way to extend the time that power boats cannot exceed 5 mph giving sailboats, windsurfers, kayaks, canoes and pontoon boats more time to sail calm waters.
Whether you access Lake of the Pines in a float tube or sailboat, Main Lake is a haven for fishing enthusiasts. Warm water game fish found within the lake include largemouth bass, smallmouth bass, redear, bluegill sunfish, black crappie and catfish. Before casting a line into the water residents and guests over 16 must purchase a state fishing license. Bass anglers willingly practice "catch-and-release" but the policy is not part of the rules which limit largemouth bass to a minimum of 14 inches and daily catch of two; bluegill and redear sunfish have no size limit but have a daily catch limit of 10 total; catfish also have no size limit but are restricted to a daily catch limit of 10. With over 250 private properties located along Lake of the Pines' five-mile shore, anglers will want to become familiar with designated fishing areas scattered around the shore.
When residents and guests of Lake of the Pines are ready for more challenging outdoor activities, they need only drive about 15 miles southeast to the Auburn State Recreation Area. Covering 40 miles of land along the North and Middle forks of the American River, rafters will enjoy the challenge of Class II, III and IV whitewater runs. Additional activities include trails for hiking, mountain biking and horseback riding through the Sierra Nevada foothills. Space is provided for off-highway motorcycle riding and there is always swimming, boating, fishing, gold panning and camping along the rivers.
Drive approximately 15 miles south of Lake of the Pines on Interstate 80 and you will enter the lovely community of Auburn. Once considered the crossroads of the Mother Lode, Auburn is steeped in mining history. A walk through Old Town will take you past historic architecture; a delightful selection of antique stores, restaurants and gift shops; or a refreshing break at the soda fountain at the Auburn Drug Company in operation since 1896. If you stay through the change of seasons Auburn offers local fare at the Wild West Stampede in April and Gold Country Fair in September.
With a population estimated at 5,000, Lake of the Pines has become a well established rural community set in scenic Nevada County. Designed to provide a relaxed recreational environment where neighbors co-exist with river otters, muskrats, turtles, egrets and eagles, life at Lake of the Pines is to be experienced and enjoyed. With a wonderful selection of Lake of the Pines vacation rentals and available real estate properties, you too can come home to your own vacation spot every day.
Custom Lake of the Pines house decor
Read our full review of these personalized lake house signs.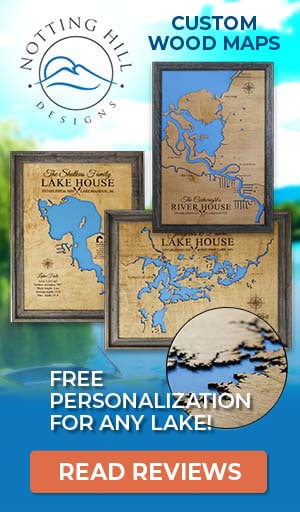 Things to do at Lake of the Pines
Vacation Rentals
Fishing
Boating
Sailing
Swimming
Swimming Pool
Beach
Canoeing
Kayaking
Water Skiing
Tubing
Golf
Tennis
Picnicking
Hiking
Biking
Horseback Riding
Wildlife Viewing
Birding
Antiquing
Fish species found at Lake of the Pines
Bass
Black Bass
Black Crappie
Bluegill
Catfish
Crappie
Largemouth Bass
Redear Sunfish (Shellcracker)
Smallmouth Bass
Sunfish
---
Best hotels and vacation rentals at Lake of the Pines
The Lake of the Pines map shown above is a simple and stress-free way to search for trip accommodations. But if you want to take a deeper dive to find the ideal waterfront home, cabin, condo, hotel or resort, visit our favorite lodging partners by clicking the buttons below.
Note: These are affiliate links so we may earn a small commission if you book through them. While there is no extra cost to you, it helps provide resources to keep our site running (thank you)! You can read our full disclosure policy here.
---
Lake of the Pines photo gallery
New photos coming soon!
Lake of the Pines statistics & helpful links
We strive to keep the information on LakeLubbers as accurate as possible. However, if you've found something in this article that needs updating, we'd certainly love to hear from you! Please fill out our Content Correction form.
Advertise your Lake of the Pines vacation rental
LakeLubbers will soon offer homeowners and property managers the opportunity to to showcase their vacation rentals to the thousands of lake lovers searching our site daily for accommodations. If you'd like additional details, please contact our advertising team here.
Looking for the Lake of the Pines forum?
LakeLubbers previously offered visitors the ability to create accounts and participate in lake forums. When we overhauled the site's content management system in 2021 we had to disable those features. We're evaluating options and welcome your comments and feedback here.
We also encourage you to join our lake-lovin' community on Facebook and Instagram!
Spread the word! Share our Lake of the Pines article with your fellow Lake Lubbers!