Lake Pillsbury, California, USA
Lake Locations:
USA - West - California - North Coast -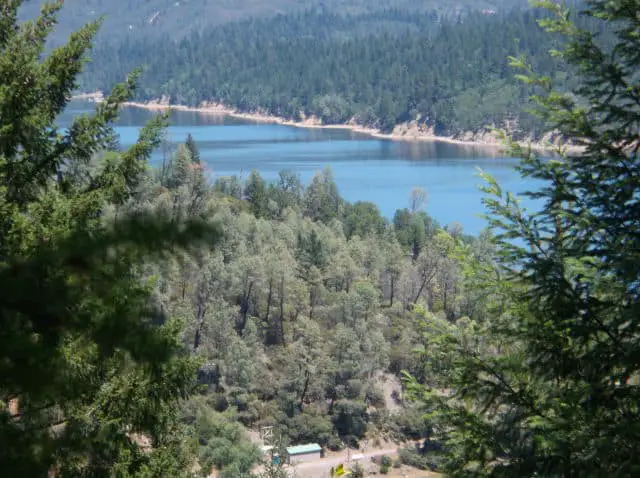 Surrounded by the Mendocino National Forest and approachable only by gravel roads, Lake Pillsbury in Lake County, California is an exciting destination offering a tranquil get away and back to nature location. Completed in 1923 when Scott Dam was built on the Eel River, this reservoir is used for electrical power generation, but is best known as a secluded recreational area in the gorgeous mountains two hours north of San Francisco.
The National Forestry Service operates the recreational area at Lake Pillsbury. Several launch ramps and a marina are located on the lake which is surrounded by several campgrounds. Visitors to the area can also enjoy picnicking, photography, off road vehicle travel, hiking, backpacking, as well as opportunities for sailing, sailboarding, kayaking, canoeing, and swimming. Hunting is allowed in the Mendocino National Forest with appropriate permits and licenses. With just a short trip from the lake to Hull Mountain, you can even try hang gliding. Vacation rentals at the lake and surrounding forest include camping, cabins, and a resort.
Floating on Lake Pillsbury with your line in the water can be quite mesmerizing as you gaze into forests and watch the animals frolicking along the shore, the shadows dancing on the water surface, until you feel that big tug that says you have a caught a big one. The California Department of Fish and Game stock the lake annually with trout. Other fish that may be tugging on your line are black bass, largemouth bass, steelhead, pikeminnow, rainbow trout, and sunfish. Fishing is always great at Lake Pillsbury but the lake undergoes extreme water fluctuations as a result of hot dry summers, cool wet winters, and the demand downstream for irrigation and power generation. As always, make sure to get a California fishing license before you get here, as you can't fish without it. Anglers should follow the California Sport Fish Consumption Advisories (see link below).
Lake Pillsbury is located in the North Coast Tourism area of California. This area is self named "Authentic California" and boasts that it is a place where small towns still preserve their past and enjoy the good life. With a range of landscapes from the rugged coastline to towering forests and clean clear lakes and rivers, there is an adventure for everyone no matter where their interests may lie including hiking, kayaking, river rafting, mountain biking, rock climbing, fishing, camping, and jumping the waves of the Pacific. California Wine Country is also located in this region and ample opportunities for wine tasting abound as you travel through here. Vacation rentals for accommodations include bed and breakfast inns, campgrounds, RV parks, wide range of motels, hotels, and resorts, and well as opportunities for vacation rental houses and cabins. Should you decide to stay permanently, real estate is bountiful but you must choose which exciting locale is right for you.
With just a short two hour drive from San Francisco, Lake Pillsbury is a getaway with privacy but close enough for the big city life. Towering trees, clear water, and water fun are waiting for you at Lake Pillsbury – start packing.
Things to do at Lake Pillsbury
Vacation Rentals
Fishing
Boating
Sailing
Swimming
Canoeing
Kayaking
Camping
Campground
Picnicking
Cabin Rentals
Hiking
Rock Climbing
Biking
Hunting
National Forest
Fish species found at Lake Pillsbury
Bass
Black Bass
Eel
Largemouth Bass
Rainbow Trout
Steelhead Trout
Sunfish
Trout
---
Lake Pillsbury Photo Gallery
Lake Pillsbury Statistics & Helpful Links
Spread the word! Share our Lake Pillsbury article with your fellow Lake Lubbers!