Lake James, Indiana, USA
Lake Locations:
USA - Midwest - Indiana - North -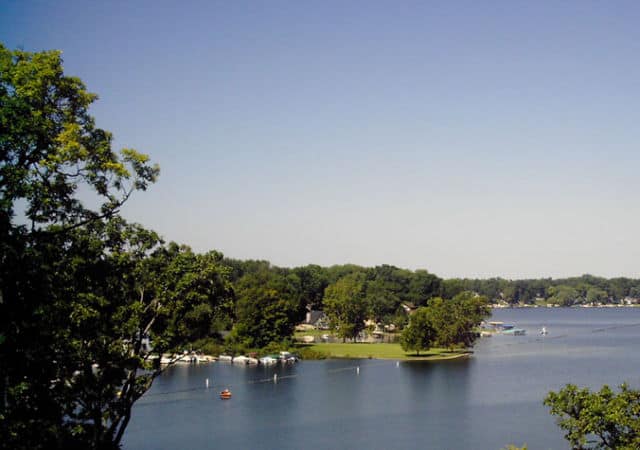 Roughly 10,000 years ago the same receding glaciers that filled the Great Lakes created kettle holes in Northeast Indiana that resulted in a chain of lakes, bogs, and other morainal features. Lake James is the crown jewel in Northeast Indiana's Chain of Lakes. The entire chain is fed by Follet Creek, Crooked Creek, Croxton Ditch, and Walter's Lake Drain. As the largest of the five lakes in Steuben County, Lake James stands out not only for its size, but also for its beautiful shoreline and fantastic State Park offering year-round recreational opportunities.
Nearly the entire Eastern shore of Lake James is home to Pokagon State Park, one of the top parks in the state. The park was founded in 1925 when local Steuben County residents bought and donated the land. The state more than doubled the size of the park two years later after the famed Potawatomi Inn was opened and began operation. In addition to the Inn, the park boasts many three-season activities including horseback riding, a wooded campground, a clean beach for swimming, roughly 11 miles of walking trails, a bike trail, picnicking, fishing and a Nature Center. And the Park doesn't go dormant in the winter either. The Park offers a toboggan slide, cross country skiing on groomed trails, ice skating, and ice fishing. In addition, the Lake James Association hosts many community and visitor-friendly events, including the 4th of July Fireworks and Flotilla, the Lake James Fly-In, and the Ft. Wayne Philharmonic's Patriotic Pops on Lake James. Other nearby attractions include an amusement park, an outlet mall, and Trine University.
Lake James is really a "Lakelubbers" paradise. The 1229-acre lake allows for boating, water skiing, fishing, or just trolling along the shore to check out the beautiful houses. Lake James boasts the highest price for shoreline homes in Steuben County. Since fishing is one love of nearly every Lakelubber, it's only fair to list the species that anglers find in Lake James. Bass, catfish and panfish abound, while a concerted effort is being made to make walleye one of the top catches in the lake.
There is a wide variety of wildlife readily available for your viewing pleasure as well; deer, Canada geese, Mute Swan and Sand-hill Crane live on the shores and surrounding farms. In fact, this summer a Sand-hill Crane actually nested and produced a family on Lake James for the first time in over 100 years! The Canada Geese population has become such a nuisance around the lake and the entirety of Northeast Indiana that landowners have been given the opportunity to obtain permission to destroy eggs and remove nests from their property.
Lake James is a beautiful lake that deserves your attention. If you are in Northeast Indiana, make this your first, and maybe last stop – you won't be sorry you did.
Things to do at Lake James IN
Vacation Rentals
Fishing
Ice Fishing
Boating
Swimming
Beach
Water Skiing
Camping
Campground
Picnicking
Hiking
Ice Skating
Cross-Country Skiing
Tobogganing
Horseback Riding
Wildlife Viewing
State Park
Amusement Park
Fish species found at Lake James IN
---
Lake James IN Photo Gallery
Lake James IN Statistics & Helpful Links
Spread the word! Share our Lake James IN article with your fellow Lake Lubbers!