Hamilton Lake, Indiana, USA
Lake Locations:
USA - Midwest - Indiana - North -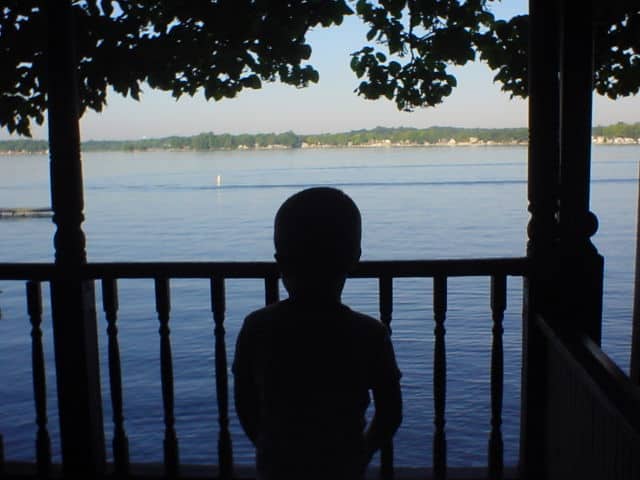 Located in Northeast Indiana's beautiful Steuben County, Hamilton Lake is the fourth largest lake in the state. In 1832, several small lakes were dammed to create the current lake. Most sources consider Hamilton Lake to be a natural lake, even though it does have two dams. The lake's primary purpose is for recreational use. In the last decade, Crystal Cove, a man-made addition, was created and connected to the lake proper. The current lake is about 802 acres, and has plenty of room for jet skis, boats, and more. The water level is controlled by the Indiana Department of Resources by using a north and south dam.
Anglers will find the bass tournaments delightful, and will be pleased to find out that they occur every weekend from Memorial Day to Labor Day. Many species of fish can be found here, including small and largemouth bass, perch, crappie, bluegill and northern pike.
All manner of water sports are acceptable on Hamilton Lake, and two free public launches make it very accessible. There are two fueling stations available for boats and jet skis, and several restaurants offer docks for patrons. Restaurants abound, and dining choices are diverse. There is also a public beach near the south dam.
Over the last twenty years, residents have been complaining about the increasing murkiness of the water and constant debris following rain storms. The IDNR has found that the stream entering the lake, Black Creek, is depositing large amounts of sediment every time a heavy rain causes the creek to rise. Additionally, Fish Creek, the outlet stream for Hamilton Lake, allows some small amounts of sediment to leak into the lake as well. Steps are being taken by the IDNR to curb sediment deposit and erosion of the surrounding land.
Every spring, the Hamilton Lake Association and the IDNR have a battle with the local flora. Weeds, specifically Curly Leaf Pond Weed & Eurasian Mil Foil, abound in the lake, and each May a chemical called SONAR is applied to the lake to kill them. At this time, the Association asks that swimmers not enter the lake, and boaters avoid areas that contain weeds, lest they cause the weeds to drop seeds, thus increasing the problem.
The land surrounding the lake is about 85% developed as of July 2008. Developments include homes, cottages, and local businesses. The only undeveloped portion remaining of the land surrounding the lake is a 106 acre farm consisting of wetlands, rolling hills, forest and a lake front cottage. This land is currently up for sale.
Visiting Hamilton Lake is almost like taking a trip back to a simpler time. The majority of the cottages lining the shore have been there for over fifty years, and the same families still own them. Newer, more elaborate year-round homes are becoming more and more plentiful, and are peppered amongst the vintage seasonal cottages. A leisurely ride around the lake by boat offers plenty of opportunity for people and bird watching. Blue herons and crane abound, and can often be found fishing along the shore. Summer weekends are quite busy, and the constant hum of watercraft can be heard from sun-up to sun-down. If you enjoy the lake, but prefer it to be quieter, weekdays are an ideal time.
Hamilton Lake is a gem in Northeast Indiana's lake country. If you've only got time to visit one lake in Indiana, Hamilton is a great choice. You will not be disappointed.
Things to do at Hamilton Lake
Vacation Rentals
Fishing
Fishing Tournaments
Boating
Swimming
Beach
Jet Skiing
Birding
Fish species found at Hamilton Lake
Bass
Black Bass
Bluegill
Crappie
Largemouth Bass
Northern Pike
Perch
Pike
Sunfish
---
Hamilton Lake Photo Gallery
Hamilton Lake Statistics & Helpful Links
Spread the word! Share our Hamilton Lake article with your fellow Lake Lubbers!