Koontz Lake, Indiana, USA
Also known as:  Woodworth's Lake
Welcome to the ultimate guide for history, statistics, local fun facts and the best things to do at Koontz Lake.
If you're considering Koontz Lake vacation rentals, we've made it super easy to explore accommodations and nearby hotels using the interactive map below. Simply click on a listing to compare similar properties, best rates and availability for your dates. Or keep scrolling to read our Koontz Lake guide!
Koontz Lake visitor and community guide
A jewel among the rolling fields of the Indiana prairie, Koontz Lake is a much-loved destination for generations of visitors. Located in Indiana's Northern Region, Koontz Lake has been delighting residents and visitors alike since the mid-1800s. Originally a smaller kettle lake (some say two lakes) scraped into the earth by retreating glaciers, the small outlet stream was dammed in 1848; a local settler, Samuel Koontz constructed the dam to power a sawmill. The rising water connected the two lakes into one. What used to be called Woodworth's Lake became 346-acre Koontz Lake. By 1915, there were a large number of cottages being built at the west end of the lake. Natural huckleberry marshes lined the north shore and, during berry season, people brought their tents and camped out. Apparently, the tent encampments became increasingly rowdy in later years until the marsh burned under suspicious circumstances – ending the huckleberry camps.
Originally spring-fed, Koontz Lake now gains most of its water from two ditches constructed to drain surrounding farmland. The northern Indiana area was originally about 25% wetlands, but extensive ditching to reclaim farmland has severely reduced these wetlands. The run-off from the new fields has also degraded water quality in Koontz Lake over the years. Residents have worked tirelessly with environmentalists and the State of Indiana to rectify problems affecting lake water quality, with marked success. A 58-acre wetland along the north shore is open to visitors and best toured by canoe. It contains one of northwest Indiana's largest tamarack bogs – unusual deciduous conifers that are more typical of Canada than Indiana. The Koontz Lake Wetland Conservation Area has inspired lake residents to work actively to restore water quality. The Conservation area is open for hunting during selected seasons also.
Koontz Lake is an all-sports lake; residents and visitors engage in boating, pontooning, waterskiing, jet-skiing, tubing, canoeing, kayaking and wakeboarding. There is a public swimming beach and public boat launch with handicapped access. A marina provides boating necessities and gas. The Koontz Lake community is accustomed to visitors booking vacation rentals at the lake and has worked to assure their comfort. A park with picnic shelters and ball field, library and restaurants provide off-water services. Only four miles south of Walkerton, Koontz Lake is near critical amenities yet self-contained enough for day-to-day comfort. The Koontz Lake Association sponsors activities such as the annual Float-A-Rama over the 4th of July weekend, with decorated rafts and paddleboat races for the children.
Koontz Lake is well-known as a fishing lake. The primary species caught are bluegill and largemouth bass but crappie, perch, catfish, redear and the occasional northern pike are also taken. Bass tournaments are held here annually, and ice fishing is popular in winter. Indiana Department of Natural Resources selectively plants fingerlings based upon on-going fish surveys. Several golf courses are located within a ten-mile radius. Horseback riding stables are located nearby, and the country roads lend themselves to hiking, mountain biking and nature enjoyment.
Potato Creek State Park is located about 15 miles northeast of Koontz Lake. This popular camping area offers hiking, mountain biking, horseback riding trails and wildlife viewing areas. The lake within the park offers fishing and rents fishing equipment, boats, canoes and kayaks. About 25 miles from the lake, South Bend offers a variety of cultural activities centered around the University of Notre Dame. A perennial favorite among sports fans, the College Football Hall of Fame is filled with pictures, clips of famous plays and trivia about college games. Video monitors replay historical plays and games. Interactive exhibits allow visitors to test their punting, passing, agility and blocking skills. And what Notre Dame fan could resist rooting for the Fighting Irish on their home turf? Also in the campus area, Snite Museum of Art presents collections of art and art education activities for visitors. Also in South Bend, the Studebaker National Museum has a collection of these legendary automobiles and maintains the records of both the defunct Studebaker and Packard companies. The preserved advertising, art, films and memorabilia will delight the automotive fan.
Forty-five miles northwest of Koontz Lake, Indiana Dunes National Lakeshore encompasses 15 miles of Lake Michigan Beach. Over 350 species of birds have been sighted in the park. The park contains sand dunes, rivers, prairies, oak savannas, woodland forests, bogs, fens, marshes, swamps and over 90 threatened of endangered species of plants. The park is known for its 'singing sands'; a particular type of sand that emits sound in response to wind under certain circumstances.
Koontz Lake has a variety of private vacation rentals. Reservations are recommended well in advance of holiday week-ends as many people return year after year for their summer vacation. Real estate is often available around the lake. Some properties have lake frontage or gorgeous lake views. So, make the trip to Koontz Lake for your next holiday. Enjoy a sleepy, lake-centered vacation in a community where the main mode of transportation is the golf cart and the main focus of conversation is whether the fish are biting. Within a week, it's like you've always lived here. And you'll be planning your next escape to Koontz Lake.
Custom Koontz Lake house decor
Read our full review of these personalized lake house signs.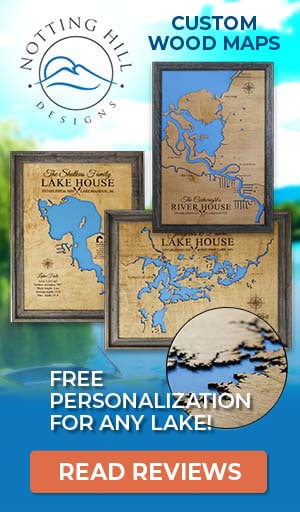 Things to do at Koontz Lake
Vacation Rentals
Fishing
Fishing Tournaments
Ice Fishing
Boating
Swimming
Beach
Canoeing
Kayaking
Jet Skiing
Water Skiing
Wakeboarding
Tubing
Golf
Camping
Picnicking
Hiking
Biking
Horseback Riding
Hunting
Wildlife Viewing
Birding
State Park
Museum
Fish species found at Koontz Lake
Bass
Black Bass
Bluegill
Catfish
Crappie
Largemouth Bass
Northern Pike
Perch
Pike
Redear Sunfish (Shellcracker)
Sunfish
---
Best hotels and vacation rentals at Koontz Lake
The Koontz Lake map shown above is a simple and stress-free way to search for trip accommodations. But if you want to take a deeper dive to find the ideal waterfront home, cabin, condo, hotel or resort, visit our favorite lodging partners by clicking the buttons below.
Note: These are affiliate links so we may earn a small commission if you book through them. While there is no extra cost to you, it helps provide resources to keep our site running (thank you)! You can read our full disclosure policy here.
---
Koontz Lake photo gallery
New photos coming soon!
Koontz Lake statistics & helpful links
We strive to keep the information on LakeLubbers as accurate as possible. However, if you've found something in this article that needs updating, we'd certainly love to hear from you! Please fill out our Content Correction form.
Advertise your Koontz Lake vacation rental
LakeLubbers will soon offer homeowners and property managers the opportunity to to showcase their vacation rentals to the thousands of lake lovers searching our site daily for accommodations. If you'd like additional details, please contact our advertising team here.
Looking for the Koontz Lake forum?
LakeLubbers previously offered visitors the ability to create accounts and participate in lake forums. When we overhauled the site's content management system in 2021 we had to disable those features. We're evaluating options and welcome your comments and feedback here.
We also encourage you to join our lake-lovin' community on Facebook and Instagram!
Spread the word! Share our Koontz Lake article with your fellow Lake Lubbers!