Lake Hiwassee, North Carolina, USA
Lake Locations:
USA - South - North Carolina - Mountains -
Also known as:  Hiwassee Reservoir or Hiwassee Lake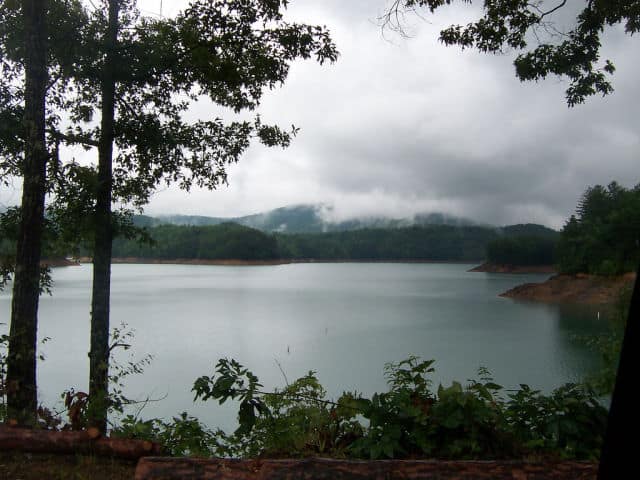 Lake Hiwassee is located in the mountainous region of North Carolina's southwestern Cherokee County. Sitting in the Nantahala National Forest, it is almost completely surrounded by wilderness and is fed by six major tributaries. "Hiwassee" means "savannah" or "meadow" and is derived from the Cherokee word, "Ayuhwasi." The Cherokee lived in the area for thousands of years before being forcibly removed by government troops in the early 1800s.
Formed by the Tennessee Valley Authority's construction of the concrete gravity Hiwassee Dam on Hiwassee River in 1940, Hiwassee Lake covers 6,275 acres with 163 miles of wild forest shoreline. The dam, which took four years to complete, is an impressive 307 feet high, and stretches 1,376 feet across the river. In the implementation of the massive dam project, 261 families, 462 gravesites and 25 miles of roads were relocated.
Hiwassee Reservoir, four miles from the city of Murphy, was created primarily for hydroelectric energy and flood control but naturally serves recreational purposes as well. Its water level varies about 38 feet in an ordinary year and it has a maximum depth of 308 feet. To prevent and control flooding, TVA drops the water level up to 60 feet during the winter to facilitate increased power generation and expected precipitation from snowfalls and spring rains. The lake does not freeze in the winter. But the deep water flow of the lake is always chilly.
Lake Hiwassee's shoreline is largely undeveloped and is managed by the National Forest Service. The only residential development on the lake is Bear Paw community with resort amenities such as a full service marina, tennis court, community swimming pool, clubhouse, children's playground and fishing pond.
Anglers flock to Hiwassee Reservoir for catches of black, spotted and striped bass; smallmouth and largemouth bass; and walleye, yellow perch, bluegill and muskie fish. The nearby Hiwassee River is prized for its trout and is a designated Trophy Trout Stream. Appalachia Lake is just next door, and Lake Chatuge is located upstream. White-tailed deer, wild turkey, black bear, and other animals along with thousands of native plant species make the area of Lake Hiwassee their home.
You can enjoy any water sport on Lake Hiwassee's waters. The lake is open to canoeing, rafting, boating, swimming, kayaking and water skiing. There are a few marinas, boat ramps, campgrounds, and access areas scattered around the reservoir that feature varying amenities including trailer and tent campsites, restrooms, water, picnic and swimming areas and hiking trails. There are also numerous primitive campsites. There is a boat ramp, picnic area and Visitor's Overlook at the Hiwassee Dam Reservation.
Cherokee County serves two main cities, Murphy and Andrews, and is comprised of other smaller townships. The county borders both Georgia and Tennessee and is conveniently within 2 hours driving distance of four major cities: Asheville, NC; Chattanooga, TN; Atlanta, GA and Knoxville, TN. Although encircled by a national forest, Hiwassee Lake is still next to all the excitement of the cities.
In the mountains and forests, visitors may take advantage of a wide range of adventures and activities including backpacking, hiking, camping, rafting, horseback riding, and golfing. Murphy and Andrews both host holiday festivities throughout the year that highlight these activities. There are many historic sites to explore. For architectural interests, visit the Cherokee County Courthouse built of unpolished blue marble, or the 19th century Robert Lafayette Cooper House built in a Queen Anne architectural style – both sites are in Murphy. The Cherokee County Historical Museum, also in Murphy, offers museum collections of Native American artifacts, early American tools and housewares and exhibits of old mountain life. The first floor of the museum has several exhibits of the Trail of Tears, highlighting the event when the Cherokee people were forced from their lands in this part of the country. The John C. Campbell Folk School in Brasstown offers a wealth of music, dance, folklore, crafts and storytelling experiences year-round, and there is an old-fashioned 4th of July Celebration in Andrews featuring America's oldest wagon train.
Cherokee County and the Lake Hiwassee area are rich with an abundance of experiences not limited to theaters, flea markets, festivals, restaurants and antique shopping. There are charming places to stay: bed and breakfasts that are on the National Register of Historic Places; rooms with antique furnishing; rustic cabins in the mountains or by the river; lakefront vacation rentals, and a host of primitive camping facilities for a full outdoor experience. You will find a combination of rich history and tradition, outdoors recreation, and entertainment, all conveniently close to Hiwassee Reservoir.
Things to do at Lake Hiwassee
Vacation Rentals
Fishing
Boating
Swimming
Swimming Pool
Canoeing
Kayaking
Water Skiing
Golf
Tennis
Camping
Campground
Picnicking
Cabin Rentals
Hiking
Horseback Riding
Wildlife Viewing
Birding
National Forest
Museum
Playground
Antiquing
Shopping
Fish species found at Lake Hiwassee
Bass
Black Bass
Bluegill
Largemouth Bass
Muskellunge
Perch
Pike
Smallmouth Bass
Striped Bass
Sunfish
Trout
Walleye
Yellow Perch
---
Lake Hiwassee Photo Gallery
Lake Hiwassee Statistics & Helpful Links
Spread the word! Share our Lake Hiwassee article with your fellow Lake Lubbers!