Lake Chatuge, Georgia & North Carolina, USA
Lake Locations:
USA - South - Georgia - Northeast Georgia Mountains - North Carolina - Mountains -
Also known as:  Chatuge Lake, Chatuge Reservoir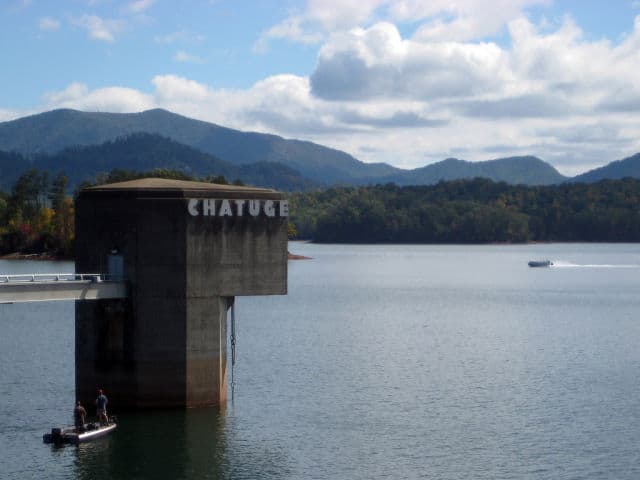 Beautiful Lake Chatuge (pronounced "sha-toog") spans 7200 acres and two states, stretching 13 miles from Hayesville, North Carolina, to Hiawassee, Georgia. From the Cherokee for "land where the waters meet," Lake Chatuge offers spectacular views of both the Tusquitee Mountains and the Blue Ridge Mountains. Its picturesque location has earned it the nickname "Jewel of the Mountains."
Lake Chatuge was constructed by the Tennessee Valley Authority by damming a portion of the Hiawassee River. The Chatuge Dam was completed in 1942. At the time, it was the highest earthen dam ever built, rising 144 feet in the air and measuring 2,850 feet across. Although its original purpose was to provide flood control and water storage for the area, a hydropower generating unit was added in 1954. Today, the dam generates 10,000 kilowatts of electricity. At its deepest, Chatuge Reservoir measures 144 feet. The average depth of the reservoir is 30 feet, although the water level can fluctuate as much as 9 feet over the course of a year.
Many visitors are drawn to Chatuge Reservoir for its fishing, and thirty-two species of fish can be found in the lake. Tournament fishing is common, and several state-record fish have been pulled from the lake's waters. Bass is predominant, with varieties including spotted bass, smallmouth bass, largemouth bass, hybrid striped bass, and white bass being found in the lake. In addition, Lake Chatuge is home to crappie, sunfish, and channel catfish. Wade fishing for trout is also popular in the Hiawassee River just below Chatuge Dam. Concrete weirs, installed to increase oxygen levels and water flow, provide the trout with an ideal habitat.
If the fish aren't biting, try exploring the Chatuge Lake by boat. The meandering shoreline creates hidden coves and islands that beckon boaters. Spend a lazy day canoeing or kayaking the lake, or bring your power boat or jet ski and feel the wind in your hair! The lake is accessible by boat via three public boat ramps on the North Carolina side of the lake. There are also several commercial marinas that provide boat and jet ski rentals.
Camping, hiking, and swimming opportunities abound. Nearby Jackrabbit Mountain Recreation Area is a hiker's dream, with breathtaking views of Chatuge Lake and 2.4 miles of easy trail. After a long hike, enjoy a picnic at one of the many shaded picnic tables, or take a dip in the lake at the public swimming beach. Showers and restrooms are conveniently available for visitors. At night, campers can relax under the stars at the lake-side campground, lulled to sleep by the sound of the water lapping the shore. Clay County Recreation Park is another popular family destination. The park boasts a swimming area and beach, fenced-in playground, ballpark, pavilions, and, of course, beautiful lake views.
The area surrounding Chatuge Lake provides even more opportunities for adventure. The Weir, located north of Chatuge Dam, is a launch site for canoes and tube rides down the Hiawassee River. The nearby Ocoee River is also popular with white water rafters. Other popular activities include golfing at the local lake-side course, horseback riding in the neighboring mountain trails, and mountain biking.
Despite the many amenities adjacent to Lake Chatuge, about seventy-five percent of the 132 miles of shoreline surrounding the lake itself is protected from development by virtue of its ownership by the Tennessee Valley Authority, U.S. Forest Service, and local townships. Because of this, the lake's mainly undisturbed beauty makes it ideal for those seeking serenity and seclusion in a natural setting. It is easy to see why this "Jewel of the Mountains" is truly a hidden gem.
Things to do at Lake Chatuge
Vacation Rentals
Fishing
Boating
Swimming
Beach
Canoeing
Kayaking
Jet Skiing
Tubing
Golf
Camping
Campground
Picnicking
Hiking
Biking
Horseback Riding
Playground
Fish species found at Lake Chatuge
Bass
Black Bass
Catfish
Channel Catfish
Crappie
Largemouth Bass
Smallmouth Bass
Spotted Bass
Striped Bass
Sunfish
Trout
White Bass
---
Lake Chatuge Photo Gallery
Lake Chatuge Statistics & Helpful Links
Spread the word! Share our Lake Chatuge article with your fellow Lake Lubbers!