Lake Glenville, North Carolina, USA
Lake Locations:
USA - South - North Carolina - Mountains -
Also known as:  Thorpe Reservoir, Glenville Lake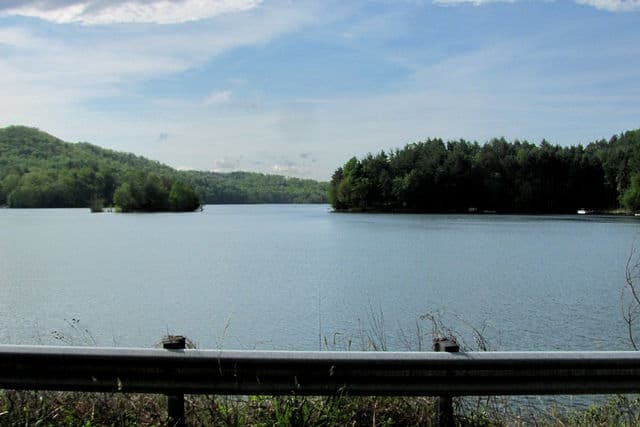 Nestled among the forests and mountain peaks of southwestern North Carolina lies the highest lake east of the Mississippi, Lake Glenville (aka Thorpe Reservoir) at 3,492 feet. Lake Glenville, popular for its unspoiled beauty, sandy beaches, coves, waterfalls and luxurious lakefront properties covers 1,470 acres and boasts 26 miles of shoreline.
Glenville Lake was formed when World War II war efforts increased a demand for aluminum, and the Aluminum Company of America (ALCOA) in the area needed more energy to meet that demand. Nantahala Power and Light Company (then owned by ALCOA and purchased by Duke Power in 1988) began construction of an earth and rock diversion dam next to the West Fork of the Tuckasegee River in a wide valley.
In that valley, there existed the town of Glenville which consisted of homes, businesses, a school, cemetery, churches; Nantahala Power and Light Company (NP&L) had to remove and relocate all of these structures to flood the farm valley 300 feet deep. The created lake was originally given the name Lake Glenville after the flooded town, but was renamed Thorpe Reservoir as a tribute to NP&L's first president, J.E.S. Thorpe. Residents still called the area Glenville, however, and soon the lake's name was changed back to Lake Glenville at the community's request. The dam too officially took the name Glenville Dam, though it is still known as Thorpe Dam. The dam is 900 feet long and 150 feet high and has a companion saddle dam 410 feet in length and 122 feet high.
Lake Glenville, fed by creeks such as Hurricane, Norton, Mill, Cedar and Pine, is fully recreational. Residents and visitors take advantage of boating, pontooning, jet skiing, sailing, swimming and just about every other kind of water sport in the lake's popularly clean waters. Anglers fish for walleye, pike, smallmouth and largemouth bass in depths reaching 125 feet. Signal Ridge Marina is the only marina on Lake Glenville and offers boats for rent and sale, boat and motor service, boat storage, live bait and all kinds of fishing accessories. Ralph J. Andrews Park Campgrounds is also right in the town of Glenville and has 47 campsites, full RV hook-ups, tent sites, primitive campsites, picnic areas, fishing areas, hot showers, bathrooms and a dump station. All of these facilities are available for use from April 15th through to October 31st, with a camping limit of two weeks.
As part of Duke Energy-Nantahala Area's relicensing initiative, Lake Glenville and Thorpe Dam will receive a few enhancements. The agreements promise new day-use and camping facilities; improved communication about flow releases and water levels; enhanced water level management; new sanitary facilities for recreational purposes; and a public swimming area with a beach and gravel parking. Duke Energy lowers lake levels during the winter by an average of 10 feet to provide storage for heavy spring rain runoff and protect lives and property downstream.
Glenville Lake has several wonderful islands and coves to explore. Three waterfalls (Hurricane Falls to the south, Norton Falls in the center and Mills Creek Falls to the north) flow into the lake that add a delight to any peaceful boating cruise.
Lake Glenville's shoreline is a mixture of forest, mountain and lake houses. In fact, there are many homes, subdivisions and communities on Lake Glenville and plenty of opportunities for those looking for a vacation home or a place to settle. Real estate options run the gamut from cozy lakefront homes and cabins, townhouses, luxury million-dollar estates, and gated communities. Lake Glenville is known for its lavish and upscale residences and amenities. Cottages, cabins and lakefront houses for rent, bed and breakfasts, motels, hotel chains, resorts and campgrounds are some of the available vacationing options in nearby Jackson County cities of Cashiers, Highlands, Tuckasegee, Sapphire, Balsam, Sylva and Dillsboro.
The area offers a range of activities and entertainment to complement a satisfying mountain lake experience. You can learn the art of fly fishing on the Tuckasegee River, attend a summer art and craft show or museum exhibit, kick back at an outdoor movie, or take a trip to the Great Smoky Mountains National Park or Nantahala National Forest. Challenge yourself with white water rafting, casinos, or horseback riding, and explore the abundance of hiking and cycling trails near Lake Glenville. For dining, grab quick bites at various mountain cafes throughout the region, or go for pizza, a steakhouse, or for gourmet cuisine.
If you are looking for a North Carolina mountain vacation that is peaceful and rejuvenating but also allows you to tailor your travels to your tastes for adventure and entertainment, Lake Glenville should be one of the top on your list.
Things to do at Lake Glenville
Vacation Rentals
Fishing
Boating
Sailing
Swimming
Beach
Whitewater Rafting
Jet Skiing
Camping
Campground
Picnicking
Cabin Rentals
Hiking
Biking
Horseback Riding
Waterfall
National Park
National Forest
Museum
Casino Gambling
Fish species found at Lake Glenville
Bass
Black Bass
Largemouth Bass
Perch
Pike
Smallmouth Bass
Walleye
---
Lake Glenville Photo Gallery
Lake Glenville Statistics & Helpful Links
Spread the word! Share our Lake Glenville article with your fellow Lake Lubbers!