Fontana Lake, North Carolina, USA
Lake Locations:
USA - South - North Carolina - Mountains -
Also known as:  Fontana Reservoir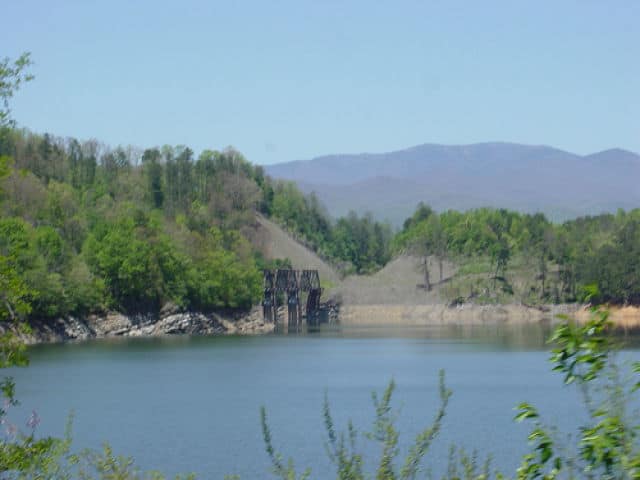 Fontana Lake, nestled in western North Carolina's Smoky Mountains, was built by the Tennessee Valley Authority (TVA) to provide hydroelectric power to the surrounding area. It includes the tallest dam in the TVA system and the tallest dam in the eastern United Sates. Fontana Lake is often called one of the most beautiful mountain lakes on earth.
It's impossible to talk about Fontana Lake without mentioning Fontana Dam's unique properties. An engineering marvel, the dam reaches skyward 480 feet and unlike many other dams, no water spills over the top. As the reservoir fills and nears capacity, water is let out through spillways at the base of the dam. Fontana Dam was built as the United States entered World War II, and served to generate power and produce aluminum that the country needed during the war. The dam stretches 2365 feet across the Little Tennessee River.
Clocking in at an impressive 10,230 acres, Fontana Lake offers visitors many recreational activities. With over 39 miles of winding hiking trails, this mountain lake provides you with stunning vistas and incredible photo opportunities. Additionally, the Appalachian Trail, extending more than 2,000 miles north-south from Georgia to Maine, passes over the top of Fontana Dam, so if you'd like to say you've walked the Appalachian Trail, Fontana Lake is the place to do it. The TVA maintains a trail shelter with hot showers, earning it the moniker Fontana Hilton by grateful hikers.
Fishing and hunting are two of Fontana Lake's popular activities. Fontana Dam's deep, cold waters provide an ideal habitat for many of the most-desirable fish species. The reservoir reaches a maximum depth of 440 feet with an average depth of 135 feet. As if to prove a point, the lake has produced several record-winning muskie and walleye from beneath its surface. In addition to that tempting information, many anglers say that Fontana Lake is one of the best smallmouth bass fishing lakes in the entire nation. The Fisherman's Bass Tournament Circuit agrees: in 2001, they held their annual Hall of Fame Classic at Fontana Lake.
One of the lake's unique boasting points is its unparalleled natural beauty. Surrounded by 238 miles of tree-dotted shoreline, Fontana Lake is protected from overdevelopment, as more than 90 percent of its shoreline is publicly owned by the National Park Service and U.S. Forest Service. This ensures wildlife protection, water quality, and provides visitors with the opportunity to truly get back to nature.
If you are lucky enough to be at Fontana Lake and Dam, you must take a dip in the cool, clean waters. Swimming, tubing, boating, and water skiing are all enjoyable pastimes. Several private boat docks and marinas exist, where one can rent anything from a kayak to a large houseboat for the duration of your stay. If you've brought your own boat to the lake, take advantage of TVA's public boat launch areas.
The TVA draws down lake levels in winter in preparation for heavy spring rains. The normal summer pool level is 1710 feet above sea level. Winter pool drawdown is about 50 feet. Water levels can decrease even further during drought. Because marinas and boat launch areas may close when water levels are low, it is best to check the water level before your visit.
Tsali Recreational Area, located along the southeastern shore of the lake, is known as a haven for nature lovers. Indulge your love of hiking, mountain biking, nature observation, bird watching, and horseback riding at this beautiful park. Named for the Cherokee leader who lost his life in an altercation with federal soldiers, Tsali Recreational Area is a must-visit during your Fontana Lake vacation.
If outdoor exertion isn't your style, head north of the lake to the Great Smoky Mountain National Park. 800 square miles of national biological preserve await you, and offers some of the most spectacular scenic driving trails you will ever experience. Furthermore, this areas is also home to the Tail of the Dragon, an 11-mile stretch of winding highway well-known to be one of the best sports car and motorcycling roads in the country.
Fontana Lake is so full of natural beauty and fun activities that all family members will love a vacation there, so pack your bags and get going!
Things to do at Fontana Lake
Vacation Rentals
Fishing
Fishing Tournaments
Boating
Swimming
Kayaking
Water Skiing
Tubing
Hiking
Biking
Horseback Riding
Hunting
Wildlife Viewing
Birding
National Park
Fish species found at Fontana Lake
Bass
Black Bass
Muskellunge
Perch
Pike
Smallmouth Bass
Walleye
---
Fontana Lake Photo Gallery
Fontana Lake Statistics & Helpful Links
Spread the word! Share our Fontana Lake article with your fellow Lake Lubbers!