Jordan Lake, North Carolina, USA
Lake Locations:
USA - South - North Carolina - Piedmont -
Also known as:  B. Everett Jordan Reservoir, New Hope Lake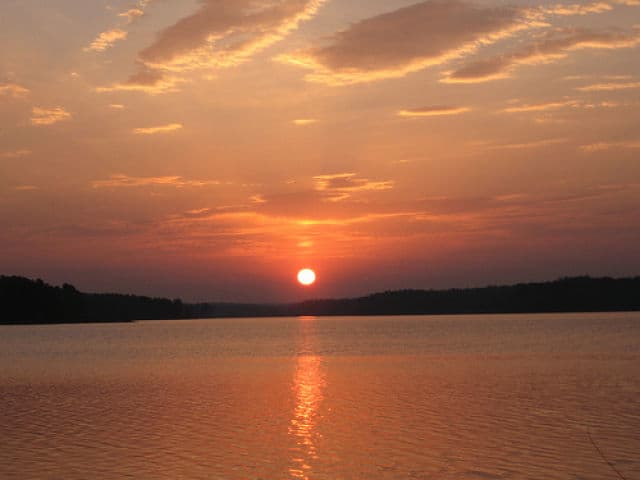 Jordan Lake, initially called New Hope Lake, is a 13,940-acre reservoir in central North Carolina's Piedmont region, part of the Upper Cape Fear River Basin. The lake was created by the U.S. Army Corps of Engineers for flood control, water supply and water quality, recreation, and fish and wildlife management.
Senator B. Everett Jordan proposed the lake project to Congress in 1963. The dam was built in 1974 at the intersection of the Haw and New Hope Rivers. However, litigation delayed flooding of the surrounding lands until 1981. Jordan Lake reached full conservation pool level of 216 feet above sea level in 1982. The lake extends 18 miles up the New Hope River and 5 miles up the Haw River. The shoreline of about 200 miles is protected by public ownership.
In 1981, North Carolina leased 45,478 acres of water and land for 50 years for recreational use and management of natural resources. The Jordan State Recreation Area operates eight recreation sites: Crosswinds Boat Ramp and Campground, Ebenezer Church, New Hope Overlook, Parkers Creek, Poplar Point, Robeson Creek, Seaforth, and Vista Point. Truly a natural playground, the lake and recreation center are a haven for families, singles, and couples.
The lake area is known as one of the largest summertime homes of the threatened bald eagle, and visitors delight in watching for a glimpse of our awe-inspiring national bird. If you're interested in seeing a bald eagle, your best bet is to head over to the NC 751 bridge over Northeast Creek or to go to the NC Wildlife Resources Commission's Wildlife Observation Deck. Jordan Lake is also a stopover for numerous migratory bird species.
On a lake as large and beautiful as Jordan Lake, boating reigns as king at the top of your To Do list. Each of the recreation area's eight sites has boat ramps that will allow you to launch your boat. If you don't take your own boat, you can rent one from the lake's marinas. Fishing boats, powerboats, and pontoon boats are all readily available and will enable you to experience the lake as you choose. Rest assured, nothing beats seeing the lake from the center of the sparking waters, blue skies reaching out to infinity above your head.
Jordan Lake also offers fishing opportunities for novice to seasoned anglers. Game fish include largemouth bass, crappie, striper, hybrids, bream, catfish, and white perch. There is a 16-inch size limit on bass. A North Carolina fishing license is required.
Walking trails are available at all but the Robeson Creek recreational area and range from beginner level to moderate. The hiking trails, though not long in distance, are long on views, as they present hikers with incredible views of the lake stretching out into the distance.
After a hike, what could be better than cooling down in the cool waters of Jordan Lake? Public-access sandy beaches are found at Ebenezer Church, Seaforth, and Parkers Creek recreation sites. Designated swimming areas are roped off, and swimming is only permitted in these areas. Lucky campers at Crosswinds Campground, Poplar Point, and Vista Point have additional access to the sandy beaches located there.
Five of Jordan Lake Recreation Center's sites have campgrounds. They are all well-maintained and developed, providing restrooms, showers, and RV hookups. Not only does camping at the lake allow you to view nature from the inside out, but your camper status allows you access to certain campground facilities not available to the general public, such as boat ramps, beaches, and walking trails.
Jordan Lake's 13,940 acres welcome you with open arms to enjoy nature's rich bounty. Embrace it, and you will walk away with many unforgettable memories.
Things to do at Jordan Lake NC
Vacation Rentals
Fishing
Boating
Swimming
Beach
Camping
Campground
Hiking
Wildlife Viewing
Birding
Playground
Fish species found at Jordan Lake NC
Bass
Black Bass
Catfish
Crappie
Largemouth Bass
Perch
White Perch
---
Jordan Lake NC Photo Gallery
Jordan Lake NC Statistics & Helpful Links
Spread the word! Share our Jordan Lake NC article with your fellow Lake Lubbers!