Cle Elum Lake, Washington, USA
Also known as:  Lake Cle Elum
Welcome to the ultimate guide for history, statistics, local fun facts and the best things to do at Cle Elum Lake.
If you're considering Cle Elum Lake vacation rentals, we've made it super easy to explore accommodations and nearby hotels using the interactive map below. Simply click on a listing to compare similar properties, best rates and availability for your dates. Or keep scrolling to read our Cle Elum Lake guide!
Cle Elum Lake visitor and community guide
Providing much needed water to the dry, fertile soil of north-central Washington, Cle Elum Lake is the largest of four irrigation storage reservoirs in the Yakima River Basin. Originally a small glacial lake, Cle Elum Lake lies seven miles northwest of the community of Cle Elum in Kittitas County. An 80-mile drive through Interstate 90's Snoqualmie Pass — the lowest east-west pass through the Cascade Mountain range — delivers visitors from Seattle to Cle Elum. The spectacular mountain scenery continues around Lake Cle Elum, which lies at the southern end of Washington's North Central tourism region. Viewers of the 1990s television series "Northern Exposure," will recognize the scenery, and neighboring community of Roslyn (known as Cicely), as the filming location for the series.
Lake Cle Elum's 4,812 acres run along the Cle Elum River in a steep, rocky glacial valley. Cle Elum draws its name from the Kittitas word Clealum, meaning "swift water." Ancestors of the Kittitas people were early residents of Lake Cle Elum and the Yakima River Valley. Now part of the Yakama Nation, many Kittitas descendants reside on the Yakama Reservation. Drawn to vast grassland and clear rivers, white settlers arrived in the valley in the 1860s and established cattle ranches. Over the decades, farming, mining and logging industries grew up around Lake Cle Elum. Beautiful ranch land, hay and wheat fields can be seen throughout Kittitas County today.
In an effort to irrigate expanding farmland along the Yakima River, the Department of the Interior's Bureau of Reclamation developed the Yakima Project. Storage dams and reservoirs included in the project are "Bumping Lake, Clear Creek, Tieton, Cle Elum, Kachess, and Keechelus." Construction of Lake Cle Elum's dam and four dikes ran from 1931-1933. Yakima River water is now diverted into Cle Elum Lake, providing an average depth of 145 feet and maximum depth of 333 feet. Today, this reservoir irrigates the Yakima River Valley with well over 20 billion cubic feet of water. Cle Elum Dam is located at the south end of the lake, on the Cle Elum River, and operates under the control of the Bureau of Reclamation.
When the Yakima Project was designed, little, or no, consideration was made for the preservation of salmon runs. Over the decades, salmon disappeared from Lake Cle Elum and much of the Yakima basin. Yakama Nation people have fought to reintroduce the species and protect salmon runs. They are having success at Lake Cle Elum where coho salmon were added to surrounding streams in 2008. July 2009 marks the beginning of restocking sockeye salmon in Cle Elum Lake. In the years ahead, steelhead, spring chinook and bull trout will also be added to Cle Elum Lake.
Pine-covered slopes surrounding Lake Cle Elum offer spectacular scenery but rough, rocky shorelines reduce accessibility. An unpaved boat launch, with parking, is available along SR 903 on the southeastern shore of the lake. When irrigation demands increase in mid-summer, water levels drop, making boat-launching facilities unusable. Cutthroat trout, rainbow trout, burbot and kokanee salmon can be found in Lake Cle Elum. Catch-and-release policies may apply, so it is important to review Washington's fishing regulations before your visit.
A good portion of Lake Cle Elum and Cle Elum River lies within Wenatchee Mountains National Forest. The Forest is managed in combination with the Okanogan National Forest. In total, the two forests provide over 3,000 miles of trails for hiking, horseback riding, mountain bikes and motorcycles. Some trails lie in lowlands and vary in level of ability as well as "barrier-free" accessibility. Access to the Pacific-Crest Hiking Trail, which runs from Mexico to Canada, is located within the forests. Campgrounds in the Cle Elum Lake area have been designed to accommodate tents, campers, trailers, horseback riders, and mountain bikers. Activities include picnicking, photography, berry picking, fishing, rafting, kayaking, hunting, hiking, birding and wildlife viewing.
Salmon la Sac campground, located 19 miles north of Lake Cle Elum, is the site of a popular four-mile kayaking run. An annual event for more than 40 years, the Washington Kayak Club's "Bottoms Up" competition attracts kayakers from across the nation to Salmon la Sac and Cle Elum.
Another site well worth exploring, Iron Horse State Park lies four miles south of Lake Cle Elum. Park activities include camping, mountain climbing, fishing, mountain biking and winter snowmobiling. The 100-mile John Wayne Pioneer Trail passes through the park, following a railroad bed from the western slopes of the Cascade Mountains to the mighty Columbia River. The trail is open to "hikers, bikers, equestrians and horse-drawn wagons in summer, and to snowmobiles, dog sleds and cross-country skiers in winter."
Mount Rainier National Park is a 70-mile drive southwest of Cle Elum Lake. At 14,410 feet, Mt. Rainier is the highest peak in the Cascade Mountain Range. With mountain views guaranteed to impress, the park offers scenic drives, camping, hiking, mountain climbing, ice climbing, fishing, boating and bicycling. During the winter, Mt. Rainier is one of many sites for skiing, snowshoeing, snowboarding, and sledding and snowmobiling in designated areas.
Beautiful resorts and new developments include vacation rentals and real estate properties within minutes of Lake Cle Elum. Mountain and riverside accommodations offer a bit of pampering after a day of wilderness hiking, shooting rapids or fishing Cle Elum Lake. Whether you choose to sit by the fire in a cozy cabin or immerse yourself in the amenities of a luxury rental, fine dining, spa treatments, golf courses, and fitness centers are just around the corner. Come to Lake Cle Elum for the wild adventures and stay for the peaceful solitude.
Custom Cle Elum Lake house decor
Read our full review of these personalized lake house signs.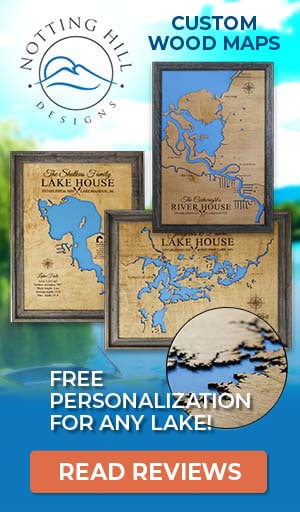 Things to do at Cle Elum Lake
Vacation Rentals
Fishing
Boating
Kayaking
Golf
Camping
Campground
Picnicking
Cabin Rentals
Hiking
Mountain Climbing
Ice Climbing
Biking
Snowboarding
Cross-Country Skiing
Snowmobiling
Dog Sledding
Horseback Riding
Hunting
Wildlife Viewing
Birding
State Park
National Park
National Forest
Fish species found at Cle Elum Lake
Bull Trout
Burbot
Chinook Salmon
Coho Salmon
Cutthroat Trout
Kokanee Salmon
Rainbow Trout
Salmon
Sockeye Salmon
Steelhead Trout
Trout
---
Best hotels and vacation rentals at Cle Elum Lake
The Cle Elum Lake map shown above is a simple and stress-free way to search for trip accommodations. But if you want to take a deeper dive to find the ideal waterfront home, cabin, condo, hotel or resort, visit our favorite lodging partners by clicking the buttons below.
Note: These are affiliate links so we may earn a small commission if you book through them. While there is no extra cost to you, it helps provide resources to keep our site running (thank you)! You can read our full disclosure policy here.
---
Cle Elum Lake photo gallery
New photos coming soon!
Cle Elum Lake statistics & helpful links
We strive to keep the information on LakeLubbers as accurate as possible. However, if you've found something in this article that needs updating, we'd certainly love to hear from you! Please fill out our Content Correction form.
Advertise your Cle Elum Lake vacation rental
LakeLubbers will soon offer homeowners and property managers the opportunity to to showcase their vacation rentals to the thousands of lake lovers searching our site daily for accommodations. If you'd like additional details, please contact our advertising team here.
Looking for the Cle Elum Lake forum?
LakeLubbers previously offered visitors the ability to create accounts and participate in lake forums. When we overhauled the site's content management system in 2021 we had to disable those features. We're evaluating options and welcome your comments and feedback here.
We also encourage you to join our lake-lovin' community on Facebook and Instagram!
Spread the word! Share our Cle Elum Lake article with your fellow Lake Lubbers!