J. Strom Thurmond Lake, Georgia & South Carolina, USA
Lake Locations:
USA - South - Georgia - Classic South - South Carolina - Old 96 District -
Also known as:  Lake Strom Thurmond, J. Strom Thurmond Reservoir, Clarks Hill Lake, Thurmond Lake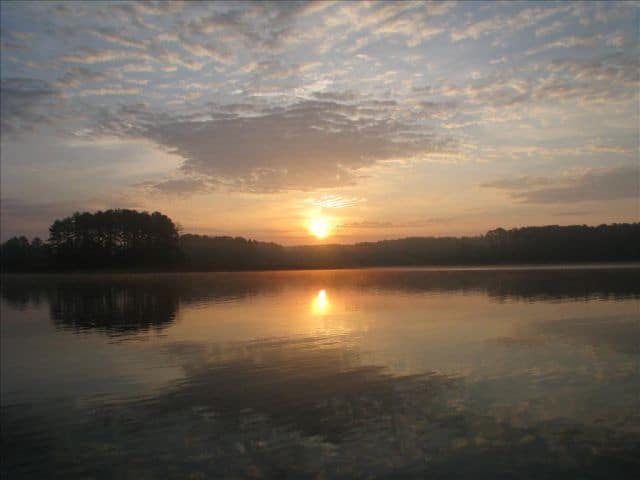 J. Strom Thurmond Lake, aka Clarks Hill Lake, holds the title of second largest artificial lake east of the Mississippi River. Straddling the Georgia-South Carolina border, the lake encompasses a mind-boggling surface area of 71,000 acres, and welcomes millions of visitors per year. This enormous body of water touches seven counties and the Savannah, Broad, and Little Rivers. With such stunning natural beauty and a wide variety of things to do, it comes as no surprise that this has been one of the top ten most visited US Army Corps of Engineers lakes in the country for decades.
Constructed between 1946 and 1954, Lake J. Strom Thurmond's original use was for hydroelectric power, flood control, and water navigation. Originally, the lake was to be called "Clarks Hill Dam;" however, the "s" was omitted (a clerical error), and it was christened "Clark Hill Dam." This name was corrected and then controversially changed once again in 1987, in honor of Senator Strom Thurmond – a man notorious for vehemently opposing civil rights and anti-segregation legislation in the 1950s and 60's.
Today, J. Strom Thurmond Lake's functions have been expanded to include water storage, wildlife management and recreation. Clarks Hill Lake also boasts an incredible 1,200 miles of shoreline. Beautiful houses and recreational areas accent these imposing woodland landscapes. More than 250 islands sprinkle the lake's glassy waters, thanks to the Thurmond Dam – a concrete and earth embankment 2,282 feet long and 200 feet high with an impressive 23-gate spillway.
Canoeing, kayaking, and boating are the best ways to explore all of the hidden nooks and crannies that Clarks Hill Lake has to offer. Fishing is a breeze because of the various fish attractors throughout the lake – the most interesting being recycled Christmas trees that were purposefully sunk to this end. Crappie, bream, catfish and striped, hybrid and largemouth bass are prevalent. Hunting is permitted on over 55,000 acres of adjacent land. Three of the area's most popular hiking trails consist of the eight-mile Bartram Trail, the 12.4- mile Bussey Point Horse Trail, and the 3.5-mile Shriver Creek Trail; numerous short interpretive trails are also prevalent, and real estate properties and vacation rentals are available. Facilities at Clarks Hill Lake include fishing piers, picnic areas and a visitor center.
Aside from Thurmond Lake, two other bodies on the Savannah River are managed by the US Army Corps of Engineers – Hartwell and Richard B. Russell Lakes. Among them, challenging hiking trails reward adventurers with unparalleled views from atop lush, rolling hilltops. Camping grounds offer convenient places to pitch a tent and cook up a hearty evening meal. Numerous playgrounds are widely available, providing ideal distractions and social hangouts for children.
Astoundingly, nine day use facilities and six national parks also surround Lake Strom Thurmond. South Carolina's Sumpter National Forest is comprised of 371,000 acres run by the USDA Forest Service; white water rafting down the Chattooga River and camping throughout the Ellicott Rock Wilderness areas are the forest's claims to fame. Three primary South Carolina State Parks are contiguous with the lake – Baker Creek, Hamilton Branch, and Hickory Knob. Across the border, Georgia's Mistletoe State Park offers rustic log cabins, challenging mountain biking trails, and fantastic bass fishing opportunities. Bobby Brown and Elijah Clark State Parks can also be found close by.
Whether you call it Clarks Hill Lake, J. Strom Thurmond Reservoir or Thurmond Lake, you'll never find a dull moment in this part of the South. If you wonder why this sparkling body of water is so immensely popular – come discover the fishing, hiking and other outdoor activities that this immaculate lake has to offer.
Things to do at J. Strom Thurmond Lake
Vacation Rentals
Fishing
Boating
Canoeing
Kayaking
Whitewater Rafting
Camping
Picnicking
Cabin Rentals
Hiking
Biking
Horseback Riding
Hunting
Wildlife Viewing
State Park
National Park
National Forest
Playground
Fish species found at J. Strom Thurmond Lake
Bass
Black Bass
Catfish
Crappie
Largemouth Bass
---
J. Strom Thurmond Lake Photo Gallery
J. Strom Thurmond Lake Statistics & Helpful Links
At LakeLubbers.com, we strive to keep our information as accurate and up-to-date as possible, but if you've found something in this article that needs updating, we'd certainly love to hear from you!
Please let us know about it on our Content Correction form.
Spread the word! Share our J. Strom Thurmond Lake article with your fellow Lake Lubbers!