Lake Oconee, Georgia, USA
Lake Locations:
USA - South - Georgia - Classic South - Historic Heartland -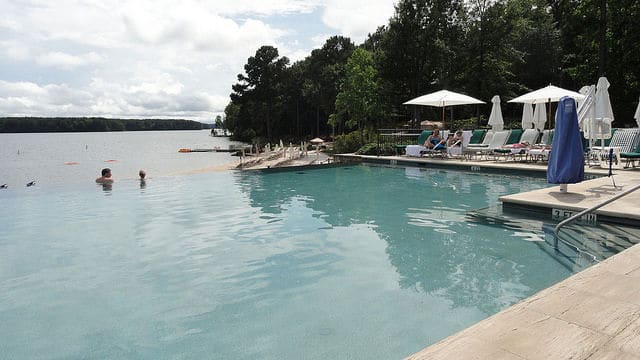 Lake Oconee takes its name from a group of Creek Indians that long ago lived close to Georgia's Oconee River basin. "Oconee" is purported to mean "great waters." It is an apt name to describe the vast water body with a surface area of about 18,971 acres. Lake Oconee is Georgia's second largest lake (the largest is Lake Lanier) and is fed by the Oconee River, the Appalachee River, and numerous other significant creeks merging into the lake at various points throughout its span.
The lake, just 70 miles east of Atlanta, spreads fissure-like through historically-rich Morgan, Greene, Hancock and Putnam counties, twisting and turning and extending into little inlets making it a treasure of discovery for the adventurous explorer. River and creek waterways, bushy woodland areas on the banks, and standing timber in the water help to structure the man-made reservoir and provide endless options for water fun.
Lake Oconee's shoreline runs for about 374 miles around the reservoir. The lake sprawls a 20-mile stretch from the north where it is met by the Oconee River, all the way south to the Wallace Dam which impounds the lake. The dam separates Lake Oconee from its "sister" Lake Sinclair, lying quietly to the south. On average the lake is 21 feet deep reaching greater depths closer to the dam. It stretches no more than a mile across at its widest point.
Wallace Dam was completed by the Georgia Power Company in 1980 after 9 years of construction. It is the youngest and largest of the company's hydroelectric projects. Wallace Dam is also Georgia Power's first pumped storage project. Water is released from the dam to generate power during peak demand; water below the dam is then pumped back into the reservoir during off-peak periods. As such, lake levels fluctuate on average about two feet a day.
Nature lovers will find pure happiness in Lake Oconee and its environs. The lake has various destination spots that provide convenient access to the lake's natural environment, creating great opportunities for hiking, biking, bird-watching and even equestrian activities. Georgia Power has created three large 85-acre campgrounds (Lawrence Shoals, Old Salem, Parks Ferry) that are fully equipped with picnic areas, playgrounds, tent sites, beaches, boat ramps, restrooms and parking. Patrons enjoy swimming, water skiing, boating and fishing.
The lake's "great waters" is a paradise for fishing enthusiasts – particularly largemouth bass lovers. The largemouth is Georgia's state freshwater fish and has earned a reputation among anglers. The lake has multitudes of brush pile and timber plots serving to provide areas to shelter teams of fish. The Georgia Department of Natural Resources is responsible for protecting the largemouth population and restricts fishing brood largemouth between 10 and 14 inches. Other fish include white bass, bluegill sunfish, redear sunfish, black crappie, white catfish, and channel catfish. Current statistics for Lake Oconee are estimated at about 355 lbs of fish per acre, more than the average ratio for a lake of its kind in the southeast.
For the less-rugged type, have no fear, Lake Oconee's shoreline has seen massive development in the last decade. Stay in a cabin or villa on one of the lake's lavish resorts. Hotels on the lake offer endless choices for leisure. Oconee's golf attractions have acquired due prestige over the years and are of the nation's best.
It's hard not to fall in love with Lake Oconee. For the permanently smitten, new housing developments are available. The lake boasts some of the most up-scale lakefront properties in the southeast. Talk to one of the many real estate agents in the area.
Whatever your intention, you will enjoy your time at Lake Oconee.
Things to do at Lake Oconee
Vacation Rentals
Fishing
Boating
Swimming
Beach
Water Skiing
Golf
Camping
Campground
Picnicking
Cabin Rentals
Hiking
Biking
Horseback Riding
Birding
Playground
Fish species found at Lake Oconee
Bass
Black Bass
Black Crappie
Bluegill
Catfish
Channel Catfish
Crappie
Largemouth Bass
Redear Sunfish (Shellcracker)
Sunfish
White Bass
White Catfish
---
Lake Oconee Photo Gallery
Lake Oconee Statistics & Helpful Links
At LakeLubbers.com, we strive to keep our information as accurate and up-to-date as possible, but if you've found something in this article that needs updating, we'd certainly love to hear from you!
Please let us know about it on our Content Correction form.
Spread the word! Share our Lake Oconee article with your fellow Lake Lubbers!