Iliamna Lake, Alaska, USA
Lake Locations:
USA - West - Alaska - Southwest -
Also known as:  Lake Iliamna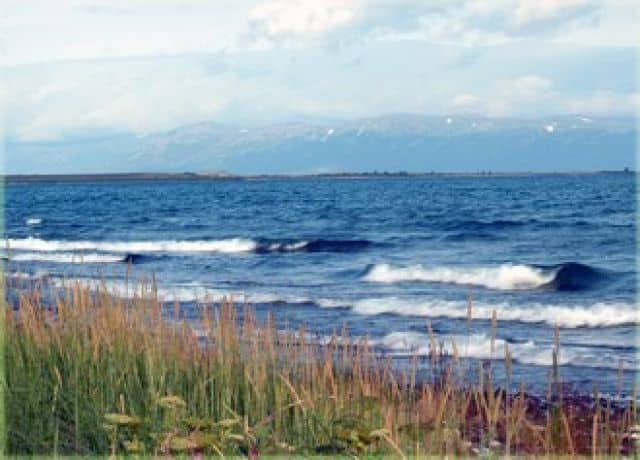 Iliamna Lake, also known as Lake Iliamna, is the largest lake in Alaska and the second largest freshwater lake contained wholly within the United States (after Lake Michigan). This glacial lake in southwest Alaska is often referred to as an inland sea, stretching out about 80 miles long, 25 miles wide, and covering a surface area of approximately 640,000 acres. Iliamna Lake is sandwiched between Lake Clark National Park and Preserve to the north, Katmai National Park and Preserve to the south, and Cook Inlet (Gulf of Alaska) to the east. Several uninhabited islands dot the lake's surface, including Porcupine, Flat, Triangle, and Seal Islands.
Iliamna Lake was named by the Tanaina Indians, who believed that the lake was inhabited by a giant blackfish that could bite holes in canoes. Other beasts alleged to live in Iliamna Lake, referred to as Illies, look like giant fish up to 30 feet long. Iliamna's creatures gained wider circulation in the 1940s when pilots began sighting monsters from the air. Unlike these mythical creatures, however, the lake is distinguished for its resident population of freshwater seals, one of only two colonies of freshwater seals in the world.
Small communities dot the Iliamna Lake shoreline, including Iliamna, Newhalen, Pedro Bay, Pile Bay Village, Kokhanok, and Igiugig. The population around the lake totals about 600 residents. The development of hunting and fishing lodges, beginning in the 1930s, brought tourism to the area. Since then, the lake has become a recreational and tourist attraction due primarily to the excellent fishing. Most access to Iliamna Lake is by air and water. Scheduled air service provides transportation to the region's hubs in Iliamna and King Solomon. Air taxis and charter service provide transportation from the hubs to the local communities. Cargo is shipped in by boat.
The communities of Iliamna and Newhalen on Iliamna Lake's northern shore are connected by an 8-mile gravel road. A new 22-mile road connects Iliamna to the community of Nondalton and Lake Clark National Park and Preserve to the north. The Williamsport-Pile Bay Road connects the community of Pile Bay on the lake's northeast shore to Iliamna Bay on the Gulf of Alaska. Recreational boaters can travel from Ilaimna Bay and the Gulf of Alaska to the east to Bristol Bay and the Bering Sea to the west by driving the Williamsport-Pile Bay Road, cruising across Iliamna Lake through the exit at the Kvichak River to Bristol Bay. This route saves a 1,200-mile trip over open waters around the Aleutian Chain.
Iliamna Lake is a renowned trophy fishing region. The lake is teeming with arctic grayling, rainbow trout, lake trout, dolly varden trout (char), sockeye (red) salmon, Coho (silver) salmon, Chinook (king) salmon, and northern pike. The Kvichak River, the primary outflow of Lake Iliamna, is home to the world's largest sockeye salmon run. The area is also home to the world's largest brown bear population, which feed on the tasty river salmon. Tour guides are available to visitors interested in viewing and photographing the enormous brown bears. Other area wildlife include freshwater seals, caribou, moose, wolverines, and eagles. After you have reeled in your record catches, take some time to view this pristine wilderness on foot, by water, or by air.
June through September are prime months for visiting the national parks and preserves to the north and south of Iliamna Lake. Lake Clark National Park and Preserve was established in 1980 to protect the area's scenic beauty, fish and wildlife, the watershed necessary for red salmon, and the lifestyle of local residents. The park and preserve cover almost 6,300 square miles. Lake Clark is a glacial lake more than 40 miles long at the rim of the Chigmit Mountains, in which there are two active volcanoes, Iliamna and Redoubt, both rising more than 10,000 feet above sea level. In addition to volcanoes, the park's geologic diversity includes dozens of glaciers, hundreds of waterfalls, and jagged mountain peaks. Caribou, Dall sheep, brown and black bears, bald eagles, and peregrine falcons make their home in the park. Access the Lake Clark National Park and Preserve is by air.
The Katmai National Park and Preserve to the south of Iliamna Lake covers almost 6,400 square miles of Alaskan wilderness. Designated as a national park and preserve in 1980, the area was originally established as a national monument in 1918 to preserve the Valley of Ten Thousand Smokes, a massive ash flow deposited on June 6, 1912 by eruptions of Mt. Katmai and Novarupta volcano. The ash flow covers 40 square miles and is 100 to 700 feet deep! The park is also known for its rugged Gulf of Alaska coastline, brown bear population, and pristine rivers and lakes with abundant fish.
Just 15 miles from Lake Iliamna lies the Pebble Deposit, North America's biggest deposits of gold and copper. The Pebble Deposit is on state-owned land, and Alaska's Department of Natural Resources will make key decisions about whether to allow mining of the precious metals. Some claim that mining would provide jobs to an impoverished local economy for 50 to 80 years. Others claim that mining will destroy Bristol Bay's fisheries, dry up spawning streams, contaminate lakes and rivers with acid runoff, and kill off wildlife dependent on the area's clean waters. Read up on this controversy to learn more about the future of this Alaskan wilderness.
Things to do at Iliamna Lake
Vacation Rentals
Fishing
Boating
Canoeing
Hunting
Waterfall
Wildlife Viewing
Birding
National Park
Fish species found at Iliamna Lake
Char
Chinook Salmon
Dolly Varden Trout
Grayling
Lake Trout
Northern Pike
Pike
Rainbow Trout
Salmon
Sockeye Salmon
Trout
---
Iliamna Lake Photo Gallery
Iliamna Lake Statistics & Helpful Links
Spread the word! Share our Iliamna Lake article with your fellow Lake Lubbers!