Encelewski Lake, Alaska, USA
Welcome to the ultimate guide for history, statistics, local fun facts and the best things to do at Encelewski Lake.
If you're considering Encelewski Lake vacation rentals, we've made it super easy to explore accommodations and nearby hotels using the interactive map below. Simply click on a listing to compare similar properties, best rates and availability for your dates. Or keep scrolling to read our Encelewski Lake guide!
Encelewski Lake visitor and community guide
Encelewski Lake, in Alaska's Southcentral Region, is a wilderness adventurer's dream. Neatly tucked away on the Kenai Peninsula, Encelewski Lake is less than three miles inland from Cook Inlet. The 101-acre lake is sparsely inhabited except by the thousands of rainbow trout Alaska Fish and Game stocks in the relatively small lake each year. The spring-fed glacial pothole lake is one of several on the Peninsula that has no real inlet or outlet and therefore gets no infusion of new fish populations due to migration. The number of residences along the lakeshore can be counted on the fingers of one hand, although lots with access to power and telephone are being actively marketed. A short distance off Alaska's A-1 Highway, Encelewski Lake is both accessible and remote. The lake is home to a seaplane base owned by the Alaska Dept of Natural Resources and a great jumping off point for fishing and hunting trips father into the interior.
Encelewski Lake was apparently named for an early settler in the area; Encelewski is a relatively common name on the Kenai Peninsula and there have been Encelewskis in the area since before the turn of the last century. Except for the occasional cabin, most residents of the Kenai have lived along the coast and larger rivers; Cook Inlet has been a famed commercial fishing region for many years. Tourists and visitors often come to the larger villages, such as Homer, for a taste of rugged Alaska living. The Kenai hardly meets the Alaskan definition of rugged, however. It's climate is moderated by the warmer maritime air, making it a haven for birds and surprising number of spring flowering hardy plants. Winters are cold and snow is common. But summers produce warm sunny days and the extended length of the day creates some very productive gardening. The residents around Encelewski brag about their excellent vegetable gardens – as long as they can keep deer and moose out of them!
Fishing is the main lake sport engaged in here: Encelewski Lake is a bit too cold for comfortable swimming. There is no public boat ramp, although there is a walk-in public access located on the east side of the lake. The favored method of fishing is therefore via portage-able canoe or kayak. The lake is a bit too small for powered boats or waterskiing anyway, and paddling will get you anywhere you want to go in short order. Because the lake is float-plane accessible, Fishermen using seaplanes sometimes appear to fish awhile before heading to bigger lakes or hunting grounds. Encelewski Lake is very accessible by snowmobile in winter and snowmobile trails pass very close to the lake. Local snowmobile clubs gather all winter long to travel the many miles of trails in the nearby Caribou Hills.
Visitors to the Encelewski Lake area usually find vacation lodgings in one of the smaller villages along Cook Inlet. The closest town is Clam Gulch, a small village sitting near a world-famous clam digging beach. Clam Gulch State Recreation Area provides a campground and a section of beach designated for digging razor clams. Many of the residences here are occupied only seasonally and vacation rentals shouldn't be hard to find. Ninilchik, a few miles down the coast, holds an interesting and somewhat primitive Russian Orthodox Church as a reminder that this area once belonged to Russia. A few primarily Russian villages still exist in the area. North of Clam Gulch, Kasilof maintains a small gravel airstrip to accommodate the many Alaskans that master inland travel via small plane. A short distance up the highway, Soldotna on the Kenai River is famed for its record-breaking salmon fishing. One of the larger towns in the area, Soldotna is geared to visiting sports fishermen and hunters. Besides vacation rentals, there are campgrounds nearby along with shopping, medical services and community festivals and events. The Kenai National Wildlife Refuge is headquartered in Soldotna.
East of Encelewski Lake, the Kenai National Wildlife Refuge, formerly known as the Kenai National Moose Range, is home to 6500 moose, along with brown and black bears, caribou, Dall sheep, mountain goats, wolves, lynx, wolverines, eagles and thousands of shorebirds and waterfowl. The expanded Refuge extends south to the 800-square mile Harding Ice Field and the Kenai Fjords National Park. Anglers can pursue chinook, sockeye, coho and pink salmon; as well as Dolly Varden char, rainbow trout, and arctic grayling along the rivers and shorelines of this massive wildlife refuge.
South of Encelewski Lake, the shoreline towns of Anchor Point and Homer grace the Cook Inlet. Both are well-known tourist destinations and attract artists, fishermen and adventurers of all types. Commercial fishing is a serious business here, with a good-sized commercial fleet and a large fleet of summer pleasure boats. Here, charter fishing expeditions can be arranged for halibut, king and silver salmon. On the water, seals, otter and waterfowl are common sights, while whale watching charter tours take visitors out to waters where several species of whales are often found. Bald eagles, bears and moose are a common sight in the area. The narrow Homer Spit, extending into Kachemak Bay, offers specialty arts and craftsmen's shops along with excellent shorebird watching and fishing. Across the bay, Kachemak State Park and State Wilderness Park offers excellent hiking, wildlife watching and camping in some of Alaska's most productive wildlife areas. Accessible by air, water taxi and some boats, the parks extend across the Kenai mountains and abut the Kenai Fjords National Park on the Gulf of Alaska. Here visitors may observe Exit glacier and the Harding Ice Fields.
The visitor to the Encelewski Lake area will thus find a variety of vacation rentals to suit every need and budget. Hunting and fishing lodges, bed-and-breakfasts, cabins, cottages, hotels, private home rentals and other lodgings are common in the towns within fifty miles of Encelewski Lake. Real estate still exists at reasonable prices on the southern Kenai Peninsula. The wise adventurer need not leave the creature comforts of modern living too far behind to enjoy the pristine unspoiled wilderness of Southcentral Alaska. Come to the Encelewski Lake area and find out what the attraction is. You may decide one of those lots is the place to build your dream cabin. The rainbow trout are hungry – bring plenty of bait!
Custom Encelewski Lake house decor
Read our full review of these personalized lake house signs.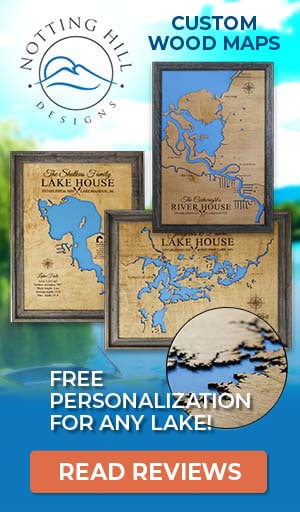 Things to do at Encelewski Lake
Fishing
Boating
Swimming
Beach
Canoeing
Kayaking
Water Skiing
Camping
Campground
Cabin Rentals
Hiking
Snowmobiling
Hunting
Wildlife Viewing
Birding
National Wildlife Refuge
State Park
National Park
Shopping
Fish species found at Encelewski Lake
Char
Chinook Salmon
Coho Salmon
Dolly Varden Trout
Grayling
Pink Salmon
Rainbow Trout
Salmon
Trout
---
Best hotels and vacation rentals at Encelewski Lake
The Encelewski Lake map shown above is a simple and stress-free way to search for trip accommodations. But if you want to take a deeper dive to find the ideal waterfront home, cabin, condo, hotel or resort, visit our favorite lodging partners by clicking the buttons below.
Note: These are affiliate links so we may earn a small commission if you book through them. While there is no extra cost to you, it helps provide resources to keep our site running (thank you)! You can read our full disclosure policy here.
---
Encelewski Lake photo gallery
New photos coming soon!
Encelewski Lake statistics & helpful links
We strive to keep the information on LakeLubbers as accurate as possible. However, if you've found something in this article that needs updating, we'd certainly love to hear from you! Please fill out our Content Correction form.
Advertise your Encelewski Lake vacation rental
LakeLubbers will soon offer homeowners and property managers the opportunity to to showcase their vacation rentals to the thousands of lake lovers searching our site daily for accommodations. If you'd like additional details, please contact our advertising team here.
Looking for the Encelewski Lake forum?
LakeLubbers previously offered visitors the ability to create accounts and participate in lake forums. When we overhauled the site's content management system in 2021 we had to disable those features. We're evaluating options and welcome your comments and feedback here.
We also encourage you to join our lake-lovin' community on Facebook and Instagram!
Spread the word! Share our Encelewski Lake article with your fellow Lake Lubbers!