Fort Peck Lake, Montana, USA
Lake Locations:
USA - West - Montana - Missouri River Country -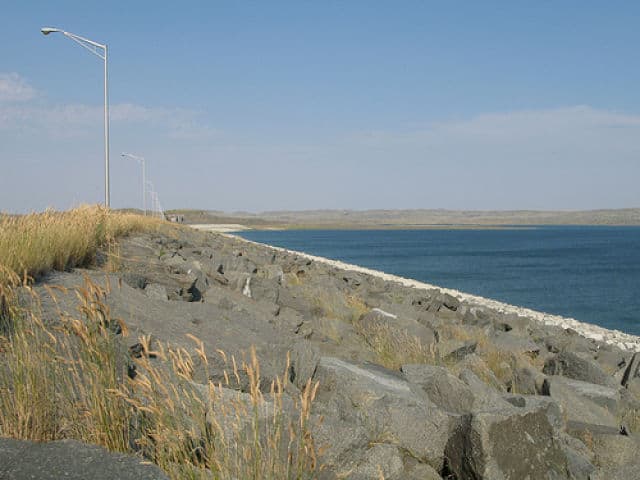 Fort Peck Lake, located 20 miles southeast of Glasgow, Montana on Montana Highway 24, is the 5th-largest man-made reservoir by volume in the United States and is Montana's largest lake. Named after an old trading post, Fort Peck Lake is one of six lakes on the Missouri River. The other five lakes are Lake Sakakawea, Lake Oahe, Lake Sharpe, Lake Francis Case, and Lewis and Clark Lake. Although sometimes drought may reduce water levels, Fort Peck Lake always offers many recreational activities, such as camping, boating, fishing, hunting, and wildlife watching.
Construction of Fort Peck Dam began in 1933 as a project of the U.S. Army Corps of Engineers, and was the first dam built in the upper Missouri River. The Fort Peck project was authorized by Franklin D. Roosevelt, and provided over 10,000 jobs for people during the Depression. While working on the dam in 1938 a massive slide slowed progress. Completed in 1940 and measuring 21,026 feet in length and 250 feet high, Fort Peck Dam is the largest hydraulically filled dam in the United States. Originally designed for production of hydroelectric power, Fort Peck Lake is also used for fish and wildlife, recreation, irrigation, navigation, public water supply, flood damage reduction, improved water quality, and recreation.
Fort Peck Lake lies within the Charles M. Russell National Wildlife Refuge — named after a colorful western artist, Charlie Russell. The Refuge completely surrounds the lake and encompasses 1.1 million-acres of pristine land. Wildlife is abundant throughout the lake and includes mule deer, elk, bighorn sheep, buffalo, pronghorns, sage grouse, waterfowl, and bald eagles. Native prairies, forested coulees, river bottoms, and badlands await visitors the at Wildlife Refuge. The Refuge is one of 540 National Wildlife Refuges in the United States, and is managed by the U.S. Fish and Wildlife Service.
Another project of the U.S. Fish and Wildlife Service with cooperative effort from the U.S. Army Corps of Engineers, and Fort Peck Paleontology Incorporated is the fort Peck Dam Interpretive Center and Museum located downstream for the dam. A Cast of a Tyrannosaurus Rex known as Peck's Rex can be seen at the center, as well as the Wildlife of Charles M. Russell National Wildlife Refuge exhibit, and the history of Fort Peck Dam and boomtowns. The center also has interpretive programs, theater presentations, amphitheater programs, and well as two of the largest aquariums in Montana.
Fort Peck Lake is home to a prehistoric graveyard and is recognized by scientists as one of the most fossiliferous localities in the world. Dr. Barnum Brown, a leading authority on dinosaurs, made some very important discoveries at Fort Peck between 1907 and 1914 which are now assembled at the American Museum of Natural History in New York. Visitors may view over 400 specimens in the museum inside the Fort Peck power plant.
With 1,520 miles of nearly treeless shoreline, the grassy hills of Fort Peck Lake offer visitors a spectacular view, as well as 27 different recreational areas. The recreation areas near the dam offer paved roads, electricity, and showers, while the areas around the rest of the lake are more primitive. Visitors should check with the Park Service before travelling around the lake. Some roads may be impassable due to inclement weather.
Other popular activities around Fort Peck Lake include hiking, horseback riding, hunting and fishing. Hunter will enjoy the abundance of deer, elk,big h orn sheep, and upland birds. Anglers across the nation recognize Fort Peck Lake as a hot spot for walleye fishing. Other than walleye, Fort Peck Lake offers excellent fishing for lake trout, sauger, smallmouth bass, Chinook salmon and northern pike. The Fort Peck Lake Area and the Charles M. Russell Wildlife Refuge provide superb hunting of deer, elk, big horn sheep, and prong horn. The Missouri River Breaks are known for producing large elk and other game animals.
The remoteness of Fort Peck Lake offers a great retreat from the demands of life. Visitors can enjoy nature while having a good time doing what they like best. Whither it is boating, fishing, or just taking a leisure swim there is something for everyone at Fort Peck Lake.
Things to do at Fort Peck Lake
Vacation Rentals
Fishing
Boating
Swimming
Camping
Hiking
Horseback Riding
Hunting
Wildlife Viewing
Birding
National Wildlife Refuge
Museum
Fish species found at Fort Peck Lake
Bass
Black Bass
Chinook Salmon
Lake Trout
Northern Pike
Perch
Pike
Salmon
Sauger
Smallmouth Bass
Trout
Walleye
---
Fort Peck Lake Photo Gallery
Fort Peck Lake Statistics & Helpful Links
Spread the word! Share our Fort Peck Lake article with your fellow Lake Lubbers!