Hungry Horse Reservoir, Montana, USA
Lake Locations:
USA - West - Montana - Glacier Country -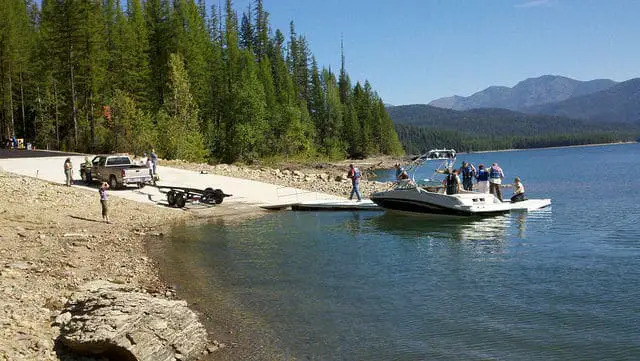 Hungry Horse Reservoir in Montana's Glacier Country offers a wealth of recreational opportunities to northwestern Montana visitors. The nearly 24,000-acre lake provides flood control and hydroelectric power to the area as well as being a focal point for recreation within the Flathead National Forest. Completed in 1953, Hungry Horse Dam corrals the South Fork Flathead River, with the resulting lake filling 33 miles of the narrow Flathead Valley behind it. Long in the planning stages, the dam finally created a solution to periodic flooding downstream while alleviating an electrical power shortage that made winters difficult in this remote area.
Hungry Horse Reservoir got its strange name from an actual event. Two draft horses were lost for a month in the winter of 1900-1901 and, when found, were trapped in belly-deep snow and nearing starvation. With care, the recovered horses regained their strength, and the area near where they were found lent its name to the new dam and power project. The area is remote, with the valley ringed by several peaks of the Flathead Range. Few roads intrude into this wild area, and much of the land east of the reservoir is within the Great Bear Wilderness Area. The reservoir provides 10 boat launch points of varying size and several campgrounds. There are no settlements along the shoreline, and the nearest town is Hungry Horse, a few miles down river. The west entrance to Glacier National Park is only about 15 miles to the northeast, and Kalispell is about 20 miles to the southwest. The landscape is rugged, wild and beautiful.
Despite its remote location, Hungry Horse Reservoir is popular among water skiers. Some launch sites along the western shoreline accommodate larger boats. However, water levels vary considerably according to time of year and water release schedules. Although the lake's average depth is 147 feet, low water levels in late summer can leave boat ramps high and dry. There are no marinas or boaters' conveniences at Hungry Horse Reservoir, so boating visitors need to come prepared with all of the supplies they think they will need. The reservoir is popular for all types of boating, sailing, tubing, jet skiing and even swimming in a few shallow coves where the water warms nicely. Many bays and coves break the shoreline, creating hidden vistas around every bend.
Fourteen small US Forest Service campgrounds are located on or near Hungry Horse Reservoir. The campgrounds are operated by a concessionaire and have varying levels of amenities. Several of the campgrounds contain day-use areas, often with a boat launch. Some of the larger camping areas are: Doris Creek Campground, Emery Bay Campground, Lid Creek Campground, Lost Johnny Campground, Lost Johnny Point Campground, Murray Bay Campground and Riverside Campground. Most are open between mid-May and September, depending on weather conditions. Some of the campgrounds do not have drinking water available, but nearly all have fire rings and picnic tables. Many provide food storage boxes to thwart any hungry bears. Hiking trails extend from several campgrounds, one of which is the mile-long hike from Riverside Campground to a scenic vantage point overlooking the lake. A few cabins are available for rent by the US Forest Service. The entire area has a wealth of hiking trails of varying difficulty. Trail information is best accessed at one of the nearby Ranger Stations. Reservations can be made for some of the campsites through the concessionaire's website; 16 days is the maximum stay.
Fishing is a popular activity at Hungry Horse Reservoir. The waters hold cutthroat trout, mountain whitefish, rainbow trout, hybrid cutthroat trout, westslope cutthroat trout and a few bull trout. Proper license is necessary and all regulations must be observed. Because Hungry Horse Reservoir is primarily a power generation and snow-melt storage reservoir, the lake is not stocked nor is it managed as a major fishery. Water releases are timed to provide downstream spawning levels for fish and to provide for winter power generation and storage of spring melt run-off. There are still plenty of fish worth angling for, but no efforts are made by the state to enhance the fishery. A wide variety of wildlife and waterfowl can be seen at the reservoir, making canoeing or kayaking a popular method of touring the shoreline and the several islands. Off the lake, Great Bear Wilderness area is home to many natural species. Parts of the area is available to hunting in season.
This area is popular with backcountry hikers who utilize the campgrounds for accommodations for day hikes. Others make use of dispersed camping opportunities for multi-day hikes. Several of the peaks in the area are attractive to more rugged trekking, but hikers should seek the advice of Forest Service staff as to local conditions and optimal routes. This is bear country, so all hikers must take adequate precautions with any food supplies.
Most supplies and services can be obtained at the town of Hungry Horse or Martin City just upstream. The area contains several small hotels, motels, guest cottages, resorts and outfitters along with a few restaurants. Billing itself as "Home of The Huckleberry", Hungry Horse has roadside stands that sell a variety of goodies and gifts based on these tasty berries. The area is famous as a snowmobiling destination, with snowmobile outfitters renting snow machines and leading guided tours. The many backcountry roads are great for either mountain biking in summer or cross-country skiing in winter. More sophisticated entertainment and nightlife is reserved for the City of Kalispell. The entire area offers an out-of-the-ordinary base for trips into Glacier National Park. So, if your vacation plans include northwestern Montana, make sure you take time to stop off at Hungry Horse Reservoir for some fishing or hiking. Its scenic beauty will fill your dreams for months to come.
Things to do at Hungry Horse Reservoir
Vacation Rentals
Fishing
Boating
Sailing
Swimming
Canoeing
Kayaking
Jet Skiing
Water Skiing
Tubing
Camping
Campground
Picnicking
Cabin Rentals
Hiking
Biking
Cross-Country Skiing
Snowmobiling
Horseback Riding
Hunting
Wildlife Viewing
National Park
National Forest
Fish species found at Hungry Horse Reservoir
Bull Trout
Cutthroat Trout
Rainbow Trout
Trout
Whitefish
---
Hungry Horse Reservoir Photo Gallery
Hungry Horse Reservoir Statistics & Helpful Links
At LakeLubbers.com, we strive to keep our information as accurate and up-to-date as possible, but if you've found something in this article that needs updating, we'd certainly love to hear from you!
Please let us know about it on our Content Correction form.
Spread the word! Share our Hungry Horse Reservoir article with your fellow Lake Lubbers!