Clear Lake Reservoir, California, USA
Welcome to the ultimate guide for history, statistics, local fun facts and the best things to do at Clear Lake Reservoir.
If you're considering Clear Lake Reservoir vacation rentals, we've made it super easy to explore accommodations and nearby hotels using the interactive map below. Simply click on a listing to compare similar properties, best rates and availability for your dates. Or keep scrolling to read our Clear Lake Reservoir guide!
Clear Lake Reservoir visitor and community guide
Located in Modoc County, California near the Oregon border, Clear Lake Reservoir stands statuesque among the surrounding hills and plains. The original earthfill dam was built across the Lost River in 1910 and replaced with a new concrete dam in 2002. Though the reservoir was first created to reduce water flow into the Tule Lake wetlands and store irrigation water for agricultural land, the area has since become home to one of the most important wildlife refuges in the state. Because of its large surface area (25,760 acres maximum) and relatively shallow depths, the reservoir has a high rate of evaporation during warm weather. Clear Lake Reservoir should not be confused with Clear Lake, a natural lake located in Lake County, California.
Modoc National Forest commands 1,654,392 acres of northeastern California real estate, housing within its boundaries the Warner Mountains, from the Cascade Range, and a forest bed that was covered by lava millions of years ago. In the lower elevations, visitors to the forest will find bitterbrush and curl-leaf mahogany, which slowly give way to a sprinkling of aspen, incense cedar, ponderosa pine, red fir, and white fir in higher elevations. At the forest's highest elevations, you'll find lodgepole and western white pines, as well as some startlingly beautiful vistas from your vantage point on top of the forest's summit.
Wind your way along nature trails that were once traveled by covered wagons and their brave passengers, their wheel ruts still carved into the canyon rock. Take a hike along a section of the famous Oregon Trail, experiencing the forest in almost the same state as those settlers many years ago. Walk the paths of the Native Americans and settlers who trapped, hunted, and fished for their living. Catch a glimpse of early 20th century life in Tom Smith's Cabin, now listed on the National Register of historic places. As you hike through the Modoc National Forest, you'll not only have a front row seat to the area's diverse wildlife, but you'll take a trip back in time.
The 46,460-acre Clear Lake National Wildlife Refuge nuzzles the banks of the reservoir, covered in bunchgrass, low sagebrush, and juniper. The lake's small, rocky islands are flecked with nests for colonial nesting birds, including the double-crested cormorant and American white pelican. In fact, the refuge is one of the only two remaining nesting grounds in California for white pelicans, producing over 1,400 baby pelicans every year.
Clear Lake Wildlife Refuge is devoted to maintaining and protecting a natural habitat for sensitive, threatened, and endangered species, a goal they continue to meet each year. Pronghorn antelope, sage grouse, bald eagles, herons, mule dear, and many other animals make this safe area their home. Because of their special needs and fragile habitat, the refuge is closed to public access between spring and fall, in order to protect their safety. Clear Lake Reservoir is part of the Clear Lake National Wildlife Refuge, so recreational activities are limited to wildlife viewing and waterfowl and antelope hunting during the California State seasons.
Clear Lake Reservoir is truly a place of natural beauty and tranquility, naming indigenous flora and fauna as its number one priority. A better location for exploring nature and enjoying the diverse plants and wildlife likely doesn't exist. Come experience all Clear Lake Reservoir has to offer.
Custom Clear Lake Reservoir house decor
Read our full review of these personalized lake house signs.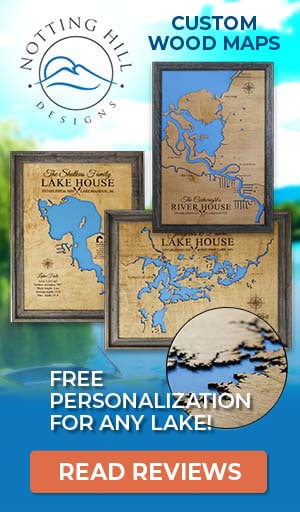 Things to do at Clear Lake Reservoir
Cabin Rentals
Hiking
Hunting
Wildlife Viewing
Birding
National Wildlife Refuge
National Forest
---
Best hotels and vacation rentals at Clear Lake Reservoir
The Clear Lake Reservoir map shown above is a simple and stress-free way to search for trip accommodations. But if you want to take a deeper dive to find the ideal waterfront home, cabin, condo, hotel or resort, visit our favorite lodging partners by clicking the buttons below.
Note: These are affiliate links so we may earn a small commission if you book through them. While there is no extra cost to you, it helps provide resources to keep our site running (thank you)! You can read our full disclosure policy here.
---
Clear Lake Reservoir photo gallery
New photos coming soon!
Clear Lake Reservoir statistics & helpful links
We strive to keep the information on LakeLubbers as accurate as possible. However, if you've found something in this article that needs updating, we'd certainly love to hear from you! Please fill out our Content Correction form.
Advertise your Clear Lake Reservoir vacation rental
LakeLubbers will soon offer homeowners and property managers the opportunity to to showcase their vacation rentals to the thousands of lake lovers searching our site daily for accommodations. If you'd like additional details, please contact our advertising team here.
Looking for the Clear Lake Reservoir forum?
LakeLubbers previously offered visitors the ability to create accounts and participate in lake forums. When we overhauled the site's content management system in 2021 we had to disable those features. We're evaluating options and welcome your comments and feedback here.
We also encourage you to join our lake-lovin' community on Facebook and Instagram!
Spread the word! Share our Clear Lake Reservoir article with your fellow Lake Lubbers!