Castaic Lake, California, USA
Lake Locations:
USA - West - California - Los Angeles County -
Also known as:  Lake Castaic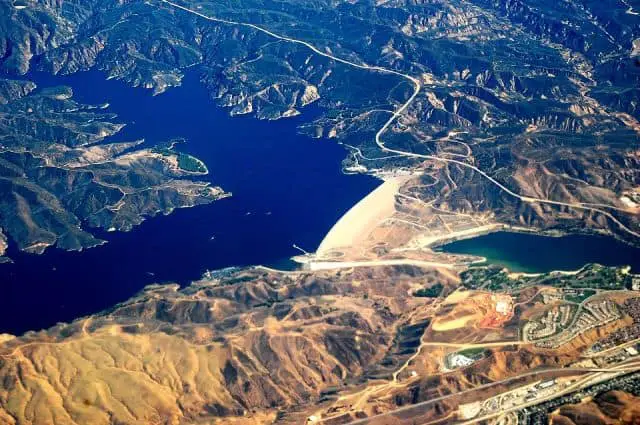 Almost every lake promises something for everyone, but Castaic Lake in Los Angeles County, California delivers. With separate sections of its 2,427 acres of water designated for different uses, there is truly room for everyone. Surrounded by the Castaic Lake State Recreation Area and just 45 minutes north of Los Angeles, Castaic Lake has world class fishing and easy access to world-renowned shopping and museums.
Castaic Lake is the terminal on the west branch of the California Aqueduct Project and one of the largest recreation and water supply lakes in the state's water project. Supplying the western region with irrigation water, the lake was created by the massive 425-foot high Castaic Dam. Started in 1967, construction on the dam was completed in 1972. The resulting reservoir is V-shaped with a lagoon or lower lake on the southside of the dam.
The shape of Lake Castaic plays to it strengths, allowing each section to have a separate use. The main lake measures 2,230 acres, with 29 miles of shoreline and a maximum depth of 330 feet. The west arm of the main lake is used by power boats, jet skis and for water skiing, and the east arm is restricted to sailboats, slow boats and for fishing. Access to the lake is from boat launch ramps on the east and west sides of the dam, and there are picnic areas at both launch sites. A marina and bait and tackle shop have snacks and any amenities a boater or angler might need, including boat rentals. The lower lake or lagoon is 197 acres with three miles of shoreline and a maximum depth of 70 feet. Lower Castaic Lake is only for canoes, kayaks, and boats with electric motors and for fishing. Swimming is also allowed in the lower lake from mid-May through mid-September and there are sand beaches on the west shore.
Fishing in Castaic Lake is spectacular, and the lake holds the state record for largemouth bass – a monster fish weighing 21 pounds 2 ounces. The California Department of Fish and Game stocks the main lake with largemouth bass, rainbow trout and catfish and the lagoon with rainbow trout. Anglers will also find healthy populations of crappie and the striped bass fishery is improving every year. The catfish hang out near the dam and in the coves, and there are really big trout, often in excess of ten pounds, in both lakes. It is the largemouth bass fishing, however, that gives Lake Castaic its world class reputation; anglers come from all over to catch a trophy fish. For years the only scale to weigh catches was at a market near the lagoon. As a result, many large bass were released into the lower lake rather than being taken back to the main lake. Some anglers think lower Castaic Lake holds the next record fish.
Managed by the Los Angeles Department of Parks and Recreation, the Castaic Lake State Recreation Area stretches out over 11,200 acres, with trails for hiking, biking, and horseback riding, including the seven-mile trail overlooking the main lake. Camping and picnic areas are available, including tent and RV sites around the lagoon. Open from sunrise to sunset every day except Christmas, the Castaic Lake State Recreation Area charges a per-car fee for its use. The lower lake, however, is open 24 hours for fishing.
Originally spelled "Kashtuk," Castaic means eyes. The area that became Castaic Lake was settled by the Tataviam Indians and Spanish explorers. Today the city of Castaic is growing and there are lake-view vacation rentals and real estate for sale in the area. Lake Castaic is just north of Santa Clarita and only 15 minutes north of Six Flags Magic Mountain. Add in the City of Los Angeles and there is any amenity a visitor could want, including world-famous dining, shopping and museums.
Castaic Lake is also surrounded by the wilderness of Los Padres National Forest. With nearly two million acres of coastal mountain land in central California, Los Padres National Forest rounds out any visit to Castaic Lake. The natural beauty and easily accessible urban amenities, along with more than enough water for everyone, makes Castaic Lake a lake that delivers on its promises. It is somewhere everyone should see with their own eyes.
Things to do at Castaic Lake
Vacation Rentals
Fishing
Boating
Sailing
Swimming
Beach
Canoeing
Kayaking
Jet Skiing
Water Skiing
Camping
Picnicking
Hiking
Biking
Horseback Riding
National Forest
Museum
Shopping
Fish species found at Castaic Lake
Bass
Black Bass
Catfish
Crappie
Largemouth Bass
Rainbow Trout
Striped Bass
Trout
---
Castaic Lake Photo Gallery
Castaic Lake Statistics & Helpful Links
Spread the word! Share our Castaic Lake article with your fellow Lake Lubbers!