Clear Lake, California, USA
Lake Locations:
USA - West - California - North Coast -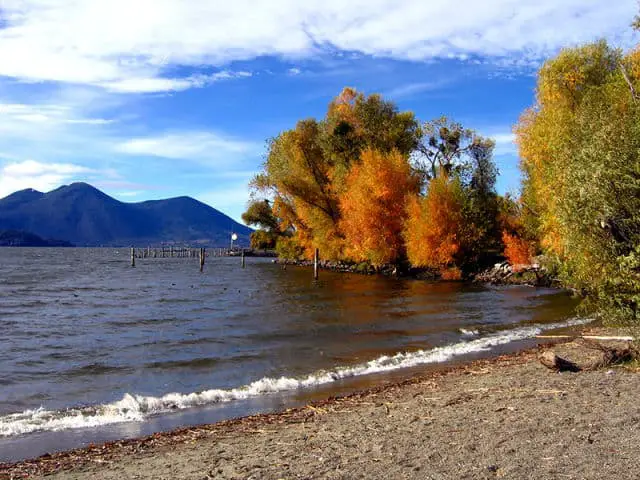 Clear Lake's spectacular 43,785 acres earn it the superlative of largest natural freshwater lake located entirely within the state of California. This unique natural reservoir is also thought to be one of the oldest lakes in North America – at 480,000 years or more – and it contains several underwater volcanoes. Clear Lake's large surface acreage, 127 miles of shoreline, and diverse natural beauty make it a very popular California vacation spot.
The waters of Clear Lake flow into Cache Creek, whose narrow channel has limited discharge capacity during periods of heavy rain. Lake County Water Resources Division operates the Cache Creek Dam, constructed in 1914, to regulate lake levels and control downstream flooding. [Clear Lake should not be confused with Clear Lake Reservoir, located near the Oregon border in Modoc County, California.]
Water lovers will find "seventh heaven" at Clear Lake. Swimming, sailing, water skiing, knee boarding, jet skiing, boating, kayaking, fishing, and nearly anything else you can do on a large lake are popular here. Rent a boat – or bring your own and take advantage of public boat launches scattered around the lake. Boaters can explore all the coves and shoreline, plus many "hidden" spots you can uncover if you have the time.
Anglers flock to the lake, hoping to prove its nickname "Bass Capital of the West." In addition to the crappie, bluegill, yellow and blue channel catfish, and rainbow trout that make their home in the lake's blue depths, the California Department of Fish and Game keeps the Clear Lake largemouth bass population bountiful by farming and stocking them. Plan at least a day or two on the water, pursuing the best bass catch of your life. Be sure to get a California fishing license before you get here; you can't fish without one. Anglers and their families should follow the California Sport Fish Consumption Advisories, available at *** URL REMOVED *** fish/pdf/99broch7.pdf.
Clear Lake State Park is the perfect starting point for your vacation, with previews of the best that the lake has to offer. Begin your day with a trip to the visitors' center to learn a bit about the park and the lake. Next, take a hike to get acquainted with the park, walking along the several miles of well-groomed hiking trails. Follow your hike with a cool dip in the lake, relaxing on the park's beach between swims. And when you've tuckered yourself out, enjoy a picnic under the cottonwoods and oaks, enjoying the gentle lap of the water and the chorus of birds in the trees.
You may notice the sight and smell of algae when visiting Clear Lake, particularly during spring and late summer. An increase in chemical nutrients in the ecosystem, known as eutrophication, sometimes produces blooms of blue-green algae (also known as cyanobacteria). Many authorities believe that cyanobacteria are a natural part of the ecosystem and the lake's food chain. Although swimming in algae blooms is strongly discouraged – for humans and their pets – ongoing water quality monitoring demonstrates that Clear Lake is usually safe for swimming and fishing.
Bird watchers will be delighted by the great variety of birds that make Clear Lake and Lake County their home. Keep your eyes and ears open – and bring your binoculars. Set some time aside to rent a kayak and paddle out into the clear, still waters of Clear Lake's coves to catch a glimpse of belted kingfishers, black-crowned night herons, Clark's grebes, great blue herons, green herons, killdeer, osprey, and western grebes. On land, search the skies and trees for acorn woodpeckers, brown towhees, California quails, California thrashers, common flickers, oak titmice, red-tailed hawks, scrub jays, and white-breasted nuthatches.
After a great day out on the water, you can share a romantic dinner on the Clear Lake Queen, a three-story riverboat. Elegant dining combined with stunning sunsets will help you wind down your day as you appreciate the beauty of the lake at nighttime, with the moon as its only illumination.
Located in the heart of Lake County, just two hours from the San Francisco Bay area, the northern California region is becoming increasingly popular as a wine tasting destination. More than 15 wineries dot the rolling countryside, flanked by green Mt. Konocti and offering opportunities to sip wine, indulge in fine dining, tour vineyards, and learn about the process of making the wine that you will enjoy throughout your vacation.
Clear Lake offers myriad activities for lakelubbers and landlubbers alike, delivering on the promise of a vacation that will satisfy every family. Vacation rentals ranging from cozy cabins to large family homes are available on Clear Lake. Book your rental early to guarantee water-filled days, gorgeous sunsets, and peaceful nights.
Things to do at Clear Lake CA
Vacation Rentals
Fishing
Boating
Sailing
Swimming
Beach
Kayaking
Jet Skiing
Water Skiing
Picnicking
Cabin Rentals
Hiking
Birding
State Park
Fish species found at Clear Lake CA
Bass
Black Bass
Bluegill
Catfish
Channel Catfish
Crappie
Largemouth Bass
Rainbow Trout
Sunfish
Trout
---
Clear Lake CA Photo Gallery
Clear Lake CA Statistics & Helpful Links
Spread the word! Share our Clear Lake CA article with your fellow Lake Lubbers!