Cherry Lake, California, USA
Lake Locations:
USA - West - California - High Sierra -
Also known as:  Cherry Creek Reservoir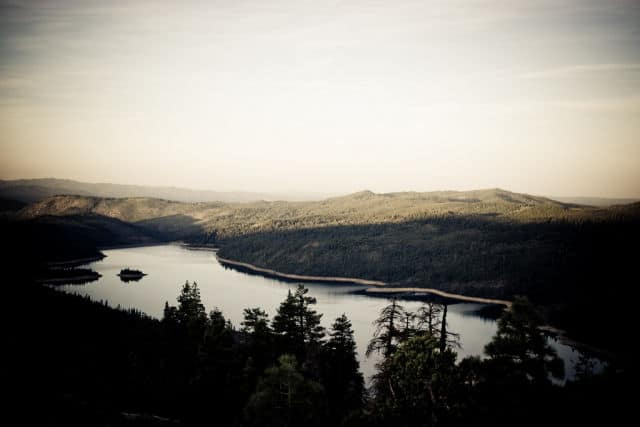 Creation of Cherry Lake and the Tuolumne River watershed was a cooperative effort among the city and county of San Francisco, the Modesto and Turlock Irrigation Districts, and the U.S. Army Corps of Engineers. San Francisco's search for additional water supplies dates back to 1882, when the Hetch Hetchy Valley was considered a possible location for a reservoir. (Hetch Hetchy is a Native American term for a grass with edible seeds that grows in the valley.) During the 1920's, irrigation districts were formed to meet the needs of an irrigation-dependent agricultural economy in the valley. In addition, the Army Corps of Engineers wanted to control valley flooding during heavy rains. Thus, a partnership among local and federal agencies led to a series of reservoirs along the Tuolumne River and its tributaries, including Cherry Creek.
The Cherry Lake project was completed in 1956. Spanning out over almost 1,800 acres, Cherry Lake is located in the Stanislaus National Forest, just outside the northwestern border of Yosemite National Park. Water from the lake, or Cherry Creek Reservoir, produces hydroelectric power, provides drinking water for San Francisco, and supplies irrigation water for the Modesto and Turlock Irrigation Districts. Cherry Lake has since evolved into a recreational destination known for its blue skies, sparkling waters, and a wide variety of activities that include fishing, boating, jet skiing, swimming, waterskiing, sailboarding, camping, and hiking.
Anglers flock to Cherry Lake every year, plotting their next catch of eastern brook trout, German brown trout, Kokanee salmon, and rainbow trout. Launch your boat from the boat launch ramp off Cherry Valley Road and patrol the lake's expansive acres, with your hook baited and your eyes on the lookout for the beauty that surrounds you. As always, make sure you have a valid California fishing license before you arrive. Water levels fluctuate, dropping from mid-July to September as water is drawn for irrigation. The boat launch ramp may be unusable when water levels are low.
Boat traffic on Cherry Lake is lighter than other regional lakes because of the longer driving time to reach the lake, but it is time well spent. Refreshing waters tempt and entice on a warm summer day. Take a leisurely boat ride and explore hidden coves, feel the wind in your hair as you rush along the reservoir's surface, and stop for a picnic in the middle of the lake. Hop into the water behind your boat for an adrenaline-pumping ride on water skis or a quick, cooling swim. Cherry Lake's eastern shoreline, accessible only by boat, provides a sandy stretch that is perfect for swimming. Swimming is also popular near the boat ramp, but the beach is rocky.
The Cherry Valley Campground, open from late April through October, is located near the boat launch ramp. The campground provides drinking water, vault toilets, grills, and tables. Boat-in camping is also permitted on the lake's eastern shoreline. Supplies are available in Groveland. During periods of campfire restrictions, campfires are permitted only in the campground.
Cherry Creek Lake is the largest lake in the Stanislaus National Forest, a 898,099-acre forest snuggled into the Sierra Nevada mountain range. One of the nation's oldest national forests, it holds within its boundaries 78 lakes, 811 miles of rivers and streams, 1100 miles of trails, and 2859 miles of roads. Granite and rock formations grow out of the earth, grazing cattle dot the landscape, and first class whitewater rafting awaits you.
Cherry Lake is also just a few miles from the northwestern border of the famous Yosemite National Park, covering 761,266 acres and hosting an incredible 3.5 million visitors every year. As a World Heritage Site, Yosemite basks in international recognition of its towering Giant Sequoias, intense biodiversity, great tumbling waterfalls, and spectacular, graceful granite cliffs. As you hike the park's trails, drive along scenic parkways, bike a mountain path, or take a guided tour, you'll discover the spectacular natural beauty of Yosemite. The Giant Sequoias are almost too large to be believed, 150 species of birds pass through the park each year, and mountaintop vantage points are breathtaking. A trail at the Cherry Lake dam routes hikers north into the Emigrant Wilderness or east to Lake Eleanor within Yosemite. Visitors should obtain Wilderness Permit before entering Yosemite.
In winter, the Cherry Lake area is alive with activity as snowmobiles roar along trails, snow lovers traipse across the countryside on snow shoes and cross country skis, and the young (and young at heart) launch snowball wars, build snowmen, and create artistic snow angels in the powdery whiteness.
Cherry Lake is a true getaway from the hustle and bustle of everyday life, inviting you to enjoy the tranquility of a mountain lake (elevation 4700 feet above sea level), visit national forests, and catch your supper. The reservoir provides year-round fun for everyone.
Things to do at Cherry Lake
Vacation Rentals
Fishing
Boating
Swimming
Beach
Whitewater Rafting
Jet Skiing
Water Skiing
Camping
Campground
Picnicking
Hiking
Snowmobiling
Waterfall
Birding
National Park
National Forest
Fish species found at Cherry Lake
Brook Trout
Brown Trout
Kokanee Salmon
Rainbow Trout
Salmon
Trout
---
Cherry Lake Photo Gallery
Cherry Lake Statistics & Helpful Links
Spread the word! Share our Cherry Lake article with your fellow Lake Lubbers!