Billy Clapp Lake, Washington, USA
Lake Locations:
USA - West - Washington - North Central Washington -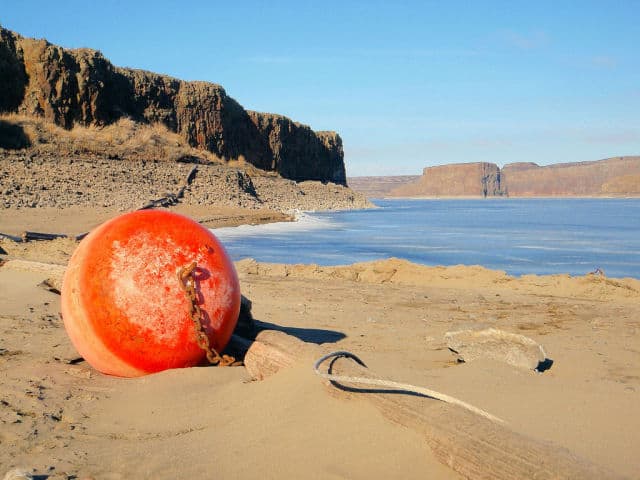 Located in north central Washington, two miles northeast of Stratford, Billy Clapp Lake offers visitors year round access to its deep blue waters. Billy Clapp Lake is a part of the Columbia Basin Project built by the US Bureau of Reclamation to provide flood protection and irrigation capabilities to the thousands of acres in the Columbia River Basin and surrounding areas.
Millions of years ago, Ice Age glaciers carved deep grooves into the land as the glaciers traveled through the area creating a "coulee." Volcanic eruptions filled some the coulees with volcanic basalt. Convinced that whatever nature had done with ice and lava in prehistoric times, William "Billy" Clapp thought that man could duplicate nature with concrete and tools and was the first person to suggest damming the Columbia River. Named for this man of foresight, Billy Clapp Lake is a natural coulee which was dammed on the lower south end by Pinto Dam to create this unique reservoir. The majority of the shoreline is steep and rocky with high basalt walls. Water spills into Billy Clapp Lake from the Main Canal of the Columbia Basin Project, creating the scenic Summer Falls.
Summer Falls State Park, located on the northern end of Billy Clapp Lake, has approximately five miles of shoreline and offers picnicking, fishing, hiking, and great views of Summer Falls. The facilities include picnic sites, comfort station, ample parking and hiking trails. The peaceful sound of the rushing falls can be heard in many areas of the park. Summer Falls State Park is a day use park only and therefore no camping is allowed. Because of a strong undercurrent created by the falls, swimming is not allowed in the park.
Because of the steep rocky banks of Billy Clapp Lake, there is very little foot access so most fishing is done by boat. Access to the lake on the south end is provided by a Department of Wildlife boat ramp which includes a dock and toilets. Northern access is provided by the Bureau of Reclamation. Fishing season is open year round with angling opportunities for sockeye, rainbow trout, walleye, yellow perch and crappie.
The majority of the land surrounding Billy Clapp Lake is the Stratford Game Reserve. This reserve is used by millions of birds as a resting and feeding place on their annual migrations along the Pacific Flyway. Waterfowl use the area for breeding grounds and a natural habitat to raise their young. Canada geese, mallards, canvasbacks, ringneck, ruddy ducks, pintails and wood ducks can be viewed as they visit the Stratford Game Reserve. Shorebirds that can be observed as you float on Billy Clapp Lake include pelicans, sandhill cranes, swans, and Caspian terns as well as ring-billed gulls, yellow-headed blackbirds, meadowlarks, and horned larks. Don't be surprised if you also see elk, deer and other small animals making their way to the lake for a cool drink of water.
With the majestic basalt walls, the sparkling water, and the musical falls, the natural beauty of the Billy Clapp Lake and its bountiful wildlife will satisfy every nature lover.
Things to do at Billy Clapp Lake
Fishing
Boating
Swimming
Camping
Picnicking
Hiking
Wildlife Viewing
Birding
State Park
Fish species found at Billy Clapp Lake
Crappie
Perch
Rainbow Trout
Trout
Walleye
Yellow Perch
---
Billy Clapp Lake Photo Gallery
Billy Clapp Lake Statistics & Helpful Links
Spread the word! Share our Billy Clapp Lake article with your fellow Lake Lubbers!