Lake Zurich, Illinois, USA
Lake Locations:
USA - Midwest - Illinois - Chicagoland -
Also known as:  Cedar Lake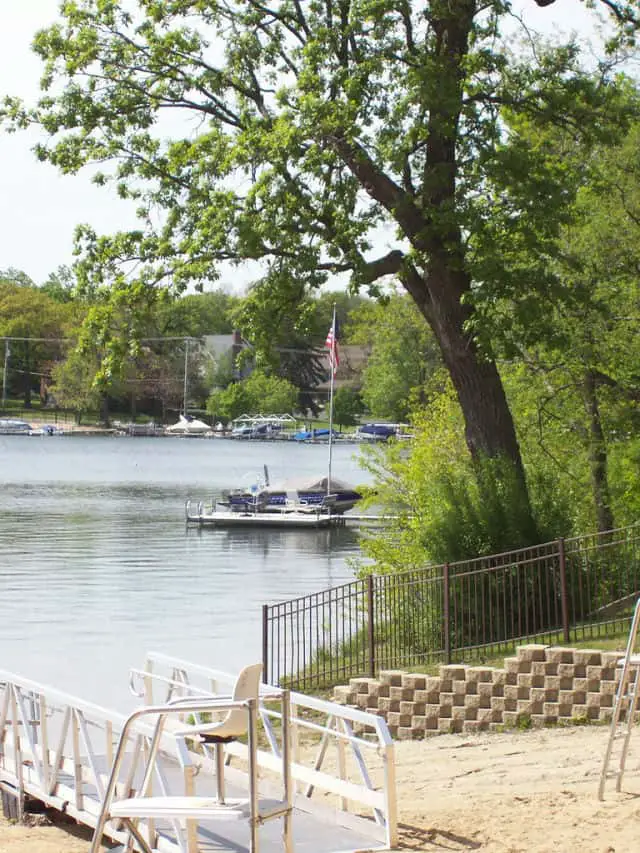 Lake Zurich is a charming private lake conveniently located 35 miles northwest of Chicago, Illinois and approximately 50 miles south of Milwaukee, Wisconsin. Covering 250 acres, this small lake offers all the advantages of lakeside living in the growing urban environment of the Chicagoland region. With parks, beaches, promenade and walking path found around the shore, Lake Zurich offers a quiet retreat for the residents and visitors of the Village of Lake Zurich.
Originally named Cedar Lake, Lake Zurich is found in northeastern Illinois' Lake County, home to more than 10,000 acres of sparkling lake water. According to "The Encyclopedia of Chicago," this glacially carved lake was filled in the 1830s when beavers dammed a nearby stream. By 1836 the freshwater spring-fed lake was renamed Lake Zurich by Seth Paine, an early Cedar Lake settler. Seth Paine is believed to have visited Switzerland's Lake Zurich before founding a small commune near the shores of Cedar Lake.
Today what is said to have started as a commune is now a thriving community ranking among some of America's best small communities. The population, now exceeding 20,000, surrounds the three-mile shoreline of Lake Zurich. The village park system maintains over 225 acres of neighborhood parks, athletic fields, walking paths and lakeside beaches. Located along the southwest shore, Paulus Park offers 41 acres where families can gather for water and land sports. Listed among its amenities are a sand beach, walking path, fishing pier, concession stand, restrooms, sand volleyball court, playground, picnic shelters, skate park and sledding hill. Lake Zurich does not offer a public boat launch but, for a fee, residents may launch non-motorized craft from Paulus Park during the summer months making canoeing and kayaking a popular warm weather activity.
Lake Zurich residents also enjoy pier and shore fishing. Within the 30-foot depths you will find bluegill, largemouth bass, northern pike, grass carp, black crappie and channel catfish. While the fishing gear is out, anglers may cast a line for pickerel, yellow perch and smallmouth bass in nearby Echo Lake, just a short walk north of Lake Zurich.
An additional 30 parks lie within the Village of Lake Zurich adding to the natural setting that makes Lake Zurich so appealing. Breezewald Park lies opposite Paulus Park, offering another sandy beach ideal for swimming and sunbathing. A few blocks north of Lake Zurich you will find the 14-acre natural habitat of Oak Ridge Marsh. A short hiking path through the forest of oaks, cherry and cottonwood trees of Oak Ridge takes you to the southern shore of Echo Lake and a bird observation area. Continue to walk around the Village of Lake Zurich and you will find parks offering sport facilities for baseball, basketball, volleyball and tennis.
If fishing and water sports are your passion, drive approximately 30 miles north of Lake Zurich to Chain O'Lakes State Park. This 2,793-acre park contains 6,500 acres of water and 488 miles of shoreline. Grass Lake, Marie Lake, Nippersink Lake, and Fox River border the state park and connect to the remaining seven lakes found in Illinois' Chain O'Lakes: Bluff, Fox, Pistakee, Channel, Petite, Catherine, and Redhead lakes. Fish species found in the Chain O'Lakes include sunfish, bluegill, largemouth bass, walleye, crappie, muskie, northern pike, bullhead, catfish, yellow and white bass. Fishing requires a permit as does hunting for dove, waterfowl, deer, and pheasant. Park amenities include a picnic area and trail designed for disabled visitors, standard picnic areas, water fountains, restrooms, campsites and hiking and horseback trails used for snowmobiling in the winter.
The community of Wauconda is less than 10 miles north of Lake Zurich, home of the Lake County Discovery Museum. Here visitors will enjoy the history of Lake County told through interactive exhibits. In addition to regularly scheduled classes, events, and changing exhibits, the museum displays "the nation's largest permanent exhibition on the history and significance of postcards." Those interested in nature study will want to stop at the Wauconda Bog Nature Preserve. Seek permission from the Lake County Forest Preserve District before entering the preserve because it does not have developed access. The bog holds over 100 plant species including tamarack, orchids, yellow birch, winterberry holly, and poison sumac. The Forest Preserve District states that this National Natural Landmark is unique in that it provides "a source of relict pollen, preserved in layers of peat, which provides information on plant migration after the retreat of the glaciers."
Less than 25 miles northwest of Lake Zurich, Moraine Hills State Park takes visitors on a trek through glacial history. The park's Lake Defiance remains in a "near-natural state" from its glacial origins. Surrounded by marsh land and bogs, the park is a nature-lover's delight. In addition to the natural features, visitors may observe red fox, coyote, white-tailed deer, eastern cottontail, mink, opossum, and raccoon. Bird watchers will enjoy looking for mallards, teal, wood ducks, and Canada geese. Fishing is available within posted regulations. Shotgun deer hunting is available with permit.
Living within 15 miles of Lake Michigan and 35 miles from Chicago allows residents of Lake Zurich to choose from a never-ending list of opportunities for recreation, shopping, dining, entertainment and services. Those who reside in the Village of Lake Zurich enjoy all the advantages of urban living while surrounding themselves with lakeshores, parks and a nature preserves. Choose from among the homes, condominiums, apartments and vacation rentals on or near Lake Zurich, and at the end of the day you can leave work behind and enjoy Lake Zurich's relaxed way of life.
Things to do at Lake Zurich
Vacation Rentals
Fishing
Boating
Swimming
Beach
Canoeing
Kayaking
Tennis
Camping
Picnicking
Hiking
Snowmobiling
Horseback Riding
Hunting
Wildlife Viewing
State Park
Museum
Playground
Shopping
Fish species found at Lake Zurich
Bass
Black Bass
Black Crappie
Bluegill
Carp
Catfish
Channel Catfish
Crappie
Grass Carp
Largemouth Bass
Muskellunge
Northern Pike
Perch
Pickerel
Pike
Smallmouth Bass
Sunfish
Walleye
White Bass
Yellow Perch
---
Lake Zurich Photo Gallery
Lake Zurich Statistics & Helpful Links
Spread the word! Share our Lake Zurich article with your fellow Lake Lubbers!