Winona Lake, Indiana, USA
Lake Locations:
USA - Midwest - Indiana - North -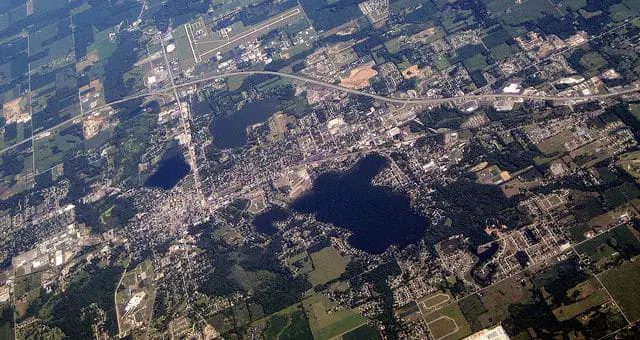 Winona Lake is a 562-acre recreational, natural lake near the towns of Warsaw and Winona Lake in northern Indiana. The 18,730-acre Winona Lake watershed consists of land used for agriculture, forest, and urban development. Originally called Eagle Lake in 1886, the Beyers brothers purchased acreage on the shores of the lake and opened Spring Fountain Park, a summer resort and amusement park. Many of the cottages from that time still remain, creating a summer resort atmosphere even today. The oldest building in the area is the Winona Hotel, which was constructed in 1887 and predates Winona Lake as it is called today.
Summer resort activities, as well as winter sports, are very popular on the lake and include swimming, fishing, sailing, boating, water skiing, jet skiing, tennis, kayaking and canoeing, ice fishing, ice skating, and wildlife viewing. For biking, walking, jogging, and rollerblading, head to the Lake City Greenway, an eight-mile, multi-use trail that connects Warsaw, Winona Lake, and Kosciusko County to the amenities of the area. Winona Lake Park is located in the town of Winona Lake and includes tennis courts, a playground, a beach area for swimming, pavilions, and picnic tables.
For off-the-lake fun, head to the Billy Sunday Museum and the Reneker Museum in the town of Winona Lake. Known for its many small artisan shops, Winona Lake is an ideal shopping spot for those looking for handmade silverware, paintings, pottery, jewelry, or wood carvings. Walkways and viewing areas around the lake offer residents of Winona Lake the opportunity to enjoy the water year-round. Warsaw, which is located on the shores of the lake, is known as the "Orthopedic Manufacturing Capital of the World." Visit Center Park, located on Center Lake in Warsaw, to see gardens, beautiful parks, an amphitheater, and fountains. Both towns offer bike trails, golf, shopping, and good food.
If shopping is not your thing, head back to Winona Lake for a great day fishing or boating. Known as one of the better bass fisheries in northern Indiana, Winona Lake is best fished in the early morning hours before the power boats hit the water. In addition to largemouth bass, anglers should expect to catch walleye and bluegills. There is a handicap-accessible boat ramp in Kiwanis Park at the northeast corner of the lake, as well as a dock and parking area. Shallow water, which extends about 200 feet out into the lake from parts of the shore, is best fished from a kayak with its flat bottom and easy access. Thick vegetation often grows here, creating a bit of problem for motor boats.
Vacation rentals and real estate opportunities are available both on the lake and in the towns of Warsaw and Winona Lake. Some of the cottages built over 100 years ago can be rented for daily, weekly, or month-long vacations. Step back in time and stay in one of these historic homes and watch the sun set over beautiful Winona Lake on a warm summer afternoon.
Things to do at Winona Lake
Vacation Rentals
Fishing
Ice Fishing
Boating
Sailing
Swimming
Beach
Canoeing
Kayaking
Jet Skiing
Water Skiing
Golf
Tennis
Picnicking
Hiking
Ice Skating
Biking
Wildlife Viewing
Birding
Museum
Playground
Amusement Park
Shopping
Fish species found at Winona Lake
Bass
Black Bass
Bluegill
Largemouth Bass
Perch
Walleye
---
Winona Lake Photo Gallery
Winona Lake Statistics & Helpful Links
Spread the word! Share our Winona Lake article with your fellow Lake Lubbers!