Winchester Lake, Connecticut, USA
Lake Locations:
USA - New England - Connecticut - Litchfield Hills -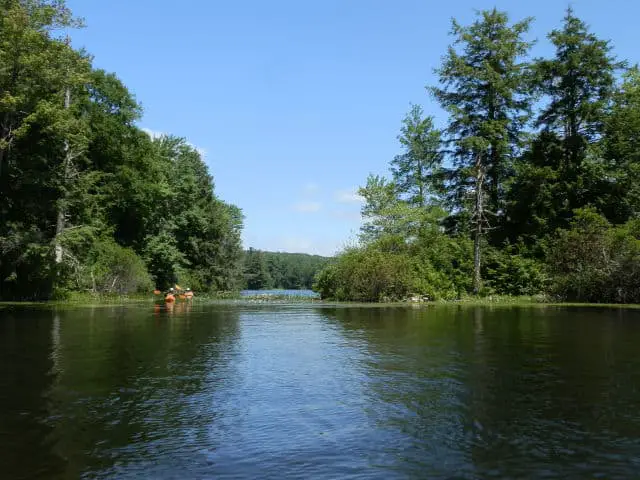 Winchester Lake is nestled in the heart of northwestern Connecticut's elegant Litchfield County. At 229 acres, the inviting water offers visitors and residents plenty of opportunity for fishing and boating. Some private homes are scattered along the forested shoreline. Visitors can gain access to the lake through a public boat launch on the southern shore adjacent to the Winchester Lake dam.
Winchester Lake was created by a dam on the headwaters of the East Branch Naugatuck River, which was completed in the late 1920s. The lake averages nine feet deep with a maximum depth of 17 feet. Most of the deep water is in the southern end of the lake near the dam. The northern end of the lake is fairly shallow. Rather than cut the trees in the area when the dam was first constructed, engineers allowed the forest to flood and later cut the tree tops during winter ice. Today, submerged trees and stumps abound throughout the lake. Although a bit of an obstacle course for boaters, the lake is known for its largemouth bass and northern pike. The Connecticut Department of Environmental Protection began stocking northern pike into the lake in 2005. Anglers are now reporting pike exceeding the state's 26-inch size limit, with many of these fish reaching 36 inches. The dam is a popular spot for fishing, but anglers should use heavy line to deal with the numerous underwater snags. Note: Although most fish taken from Connecticut lakes and streams are safe to eat, refer to the Connecticut Fish Consumption Advisory before eating fish caught from any Connecticut waterway.
Winchester Lake's beautiful setting, varied shoreline and rocky coves make it a favorite destination for boaters and paddlers. An eight MPH limit on motorboats keeps the water calm and peaceful. Due to the abundance of submerged trees, flat bottom boats, canoes and kayaks will have the easiest passage across the lake. For those who would like to spend some time in the area, vacation rentals and private real estate are abundant as well as additional lodging in the nearby city of Winsted.
Campers will find several private campgrounds near Burr Pond State Park, southeast of Winchester Lake. Camping is also available in the American Legion State Forest located east of Winchester Lake.
For additional outdoor recreation, Dennis Hill State Park is located northwest of Winchester Lake. This 240-acre park offers picnic facilities, hiking, and spectacular panoramic views as far away as New Hampshire. The Mad River Reservoir and Rugg Brook Reservoir are located northeast of Highland Lake and offer wildlife viewing and hiking. Southeast of Winchester Lake is Paugnut State Forest and Sunny Brook State Forest. Paugnut State Forest is part of a 2,410-acre, contiguous park and forest complex that includes Burr Pond State Park and Sunny Brook State Park. Popular activities include hiking, mountain biking, hunting, and cross-country skiing. Burr Pond State Park is a great place to spend a summer afternoon. Burr Pond offers fishing, boating and swimming, and the surrounding area is great for hiking.
East of Winchester Lake is the American Legion and Peoples State Forests. These two forests offer camping, mountain biking, hiking, hunting, picnic facilities, cross-country skiing, and snowmobiling trails. The West Branch of the Farmington River, designated as a Wild and Scenic River by the National Park Service, is the focal point of the heavily forested land and offers river-based recreational activities including trout fishing, canoeing, kayaking and tubing. East of Winchester Lake is Crystal Lake, a primary source of drinking water for the town of Winchester. The 145-acre sparking lake is also known for boating and excellent trout fishing. Highland Lake, located just a few miles east of Crystal Lake covers 444 acres and is known for catches of bass, salmon and trout.
The city of Winsted lies east of Winchester Lake. The town is noted for stately Victorian, Greek Revival, Neo-Classical, Ecclesiastical, Queen Anne and Colonial Revival homes. The Main Street area is lined with unique shops and restaurants. Children enjoy a skateboard park, a huge Playscape park, ball fields, and miniature golf with batting cages and go carts. Golfers will find several golf courses in the area. Winsted also provides the area with complete shopping facilities.
Less than a half hour south is the City of Torrington, the largest city in Litchfield County. Visitors to Winchester Lake will find Torrington to be a mix of retail and tourist attractions. The downtown area is a thriving cultural center, boasting the Warner Theatre and the renowned Nutmeg Conservatory. Antique dealers, art galleries, art deco architecture, and small specialty shops make the area appealing for residents and tourists alike. There are also a number of city parks and hiking trails that allow visitors to truly enjoy the beauty of the area.
No matter what your reason for visiting Winchester Lake, you are sure to be treated to scenic views and beautiful inviting water. This paddler's paradise offers a serene place for fishing, boating, exploring, and so much more.
Things to do at Winchester Lake
Vacation Rentals
Fishing
Boating
Swimming
Canoeing
Kayaking
Tubing
Golf
Camping
Campground
Picnicking
Hiking
Biking
Cross-Country Skiing
Snowmobiling
Hunting
Wildlife Viewing
State Park
State Forest
National Park
City Park
Miniature Golf
Antiquing
Shopping
Fish species found at Winchester Lake
Bass
Black Bass
Largemouth Bass
Northern Pike
Pike
Salmon
Trout
---
Winchester Lake Photo Gallery
Winchester Lake Statistics & Helpful Links
Spread the word! Share our Winchester Lake article with your fellow Lake Lubbers!