Quaddick Lake, Connecticut, USA
Also known as:  Quaddick Reservoir
Welcome to the ultimate guide for history, statistics, local fun facts and the best things to do at Quaddick Lake.
If you're considering Quaddick Lake vacation rentals, we've made it super easy to explore accommodations and nearby hotels using the interactive map below. Simply click on a listing to compare similar properties, best rates and availability for your dates. Or keep scrolling to read our Quaddick Lake guide!
Quaddick Lake visitor and community guide
Northeast Connecticut is home to Quaddick Lake. This reservoir in Connecticut's Mystic Country was created by damming the flow of Five Mile River to deepen the existing Kings Pond. The dam and levees raised water levels about 11 feet, causing the rising waters to connect more directly to Stump Pond to the north. The 407-acre reservoir now consists of three separate basins connected by culverts, several islands and a bevy of happy lakefront homeowners. At the time, the increased water volume drove water-powered mills. Today, it mostly keeps the local 'lakelubbers' contented.
Quaddick Lake is relatively shallow with an average depth of only six-and-a-half feet. This allows the water to warm early in the spring for swimming, fishing and water sports. The shallow water creates a mostly warm-water fishery, although an occasional trout grabs the hook. The southern portion of the middle basin-sometimes called Middle Lake-holds many private cottages and year-round homes. Other parts of the shoreline furnish wetlands for local wildlife habitat. About 25% of the shoreline is undeveloped and wooded. Quaddick Lake is conveniently located to metro areas such as Worcester, MA, Providence, RI and Hartford, CT.
Along the eastern edge of Middle Lake, Quaddick State Park offers picnicking, horseshoe pits, ball fields, a swimming beach, trailered boat launch and plenty of recreational amenities to visitors. There is a concession stand near the beach for snacks, and the 1.5-mile Red Trail Loop circles the interior of the park and allows foot traffic only. In winter, it is ideal for snowshoeing and cross-country skiing.
Quaddick Lake Association, comprised of local property owners, monitors lake water quality, coordinates weed control, sponsors a summer camp program and produces several fund-raising activities throughout the year. Due to the Association's efforts, several weed control measures are now in place to contain excessive vegetation growth. As part of the on-going weed control efforts, lake levels are drawn down several feet in winter to freeze out some of the shallow-water weed beds.
The lake's islands and shallow areas make the waters ideal for canoeing and kayaking. A hand-carry launch site for small boats is also located on the north basin (called Upper Lake or Stump Pond) on the west side near the bridge. The culverts between the basins are navigable only by small boat during periods of low water, so Middle Lake hosts most of the boat traffic. Kayak and canoe fans prefer to utilize either Upper Lake (Stump Pond) or Lower Lake for quiet-water paddling. Sailboats, jet skis and pontoons are seen on the lake, mostly piloted by local lakefront owners.
The most common fish caught are largemouth bass, yellow perch, black crappie, sunfish, bluegill and American eel. Northern pike are now stocked and becoming more of an angling target, including through the ice. Unfortunately, the state park closes the road to the launch site in winter, so ice anglers must reach the lake by walking with their gear from one of the parking areas about a quarter of a mile from the water's edge.
The name Quaddick appears to be a variation of the Nipmuc Native American language meaning 'bend in the river'. This area of Connecticut has many place names adopted from the area's original residents. The name could also be a corruption of the term pattaquodtuck, meaning 'round hill near river'. The name pre-dates the creation of the reservoir and is used for several local features nearby such as Quaddick State Forest, which extends on both sides of the narrows between the Upper and Middle lakes. A variation of the name is commonly used for a section of the village south of nearby Thompson, CT, the nearest town. Thompson is a small old mill town with shopping and eating facilities, along with several inns, bed & breakfasts and country motels. The entire area is a perfect backdrop for a quiet, summer holiday-close enough to the bigger cities to provide entertainment and remote enough that there is plenty of room for bicycling, nature walks and scenic back road drives in the countryside.
For local sports, the Thompson Speedway Motorsports Park is one of the better-known race tracks in New England. Its 5/8ths-mile oval and adjacent 1.7-mile restored road course has one of the largest race schedules of any New England track. The schedule includes every type of event from modified NASCAR to road course racing. Throughout the summer, this facility also opens for auto-themed flea markets and swap meets, specialty car shows and even a 'mud run'. Located less than a half mile west of Stump Pond, visitors with a racing fan in the family will want to take in at least one race. And for history buffs and antique hunting, Old Sturbridge Village is less than 30 miles away, just across the Massachusetts border.
Quaddick Lake doesn't hold any large resorts but has a number of private lakefront rentals that will please nearly everyone in the family. There are even some rentals on islands in the lake that require arrival by water, complete with all the joys of a private island retreat. Many rentals include access to boats, pontoons and canoes or kayaks, with groceries and supplies located a short distance away. There are usually a few existing homes for sale along the shoreline in a variety of price ranges, and vacant land for development can still be found in some areas. Besides quiet country roads for strolling, the town of Thompson also holds several marked trails for wildlife viewing and photography, along with convenient cross-country ski trails. Quaddick Lake is a perfect Connecticut getaway destination: not particularly well-known and thus still somewhat secluded. It's a lucky visitor who secures a reservation for a week on Quaddick Lake.
Custom Quaddick Lake house decor
Read our full review of these personalized lake house signs.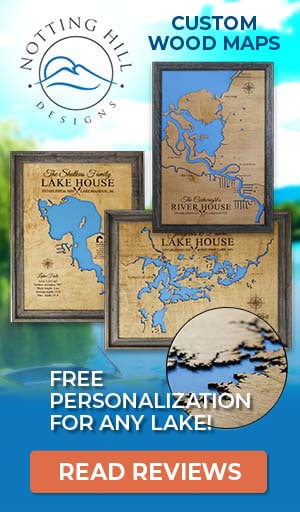 Things to do at Quaddick Lake
Vacation Rentals
Fishing
Boating
Sailing
Swimming
Beach
Canoeing
Kayaking
Jet Skiing
Picnicking
Hiking
Biking
Cross-Country Skiing
Snowshoeing
Hunting
Wildlife Viewing
State Park
State Forest
Antiquing
NASCAR
Shopping
Fish species found at Quaddick Lake
Bass
Black Bass
Black Crappie
Bluegill
Crappie
Eel
Largemouth Bass
Northern Pike
Perch
Pike
Sunfish
Trout
Yellow Perch
---
Best hotels and vacation rentals at Quaddick Lake
The Quaddick Lake map shown above is a simple and stress-free way to search for trip accommodations. But if you want to take a deeper dive to find the ideal waterfront home, cabin, condo, hotel or resort, visit our favorite lodging partners by clicking the buttons below.
Note: These are affiliate links so we may earn a small commission if you book through them. While there is no extra cost to you, it helps provide resources to keep our site running (thank you)! You can read our full disclosure policy here.
---
Quaddick Lake photo gallery
New photos coming soon!
Quaddick Lake statistics & helpful links
We strive to keep the information on LakeLubbers as accurate as possible. However, if you've found something in this article that needs updating, we'd certainly love to hear from you! Please fill out our Content Correction form.
Advertise your Quaddick Lake vacation rental
LakeLubbers will soon offer homeowners and property managers the opportunity to to showcase their vacation rentals to the thousands of lake lovers searching our site daily for accommodations. If you'd like additional details, please contact our advertising team here.
Looking for the Quaddick Lake forum?
LakeLubbers previously offered visitors the ability to create accounts and participate in lake forums. When we overhauled the site's content management system in 2021 we had to disable those features. We're evaluating options and welcome your comments and feedback here.
We also encourage you to join our lake-lovin' community on Facebook and Instagram!
Spread the word! Share our Quaddick Lake article with your fellow Lake Lubbers!