Crystal Lake, Connecticut, USA
Lake Locations:
USA - New England - Connecticut - River Valley -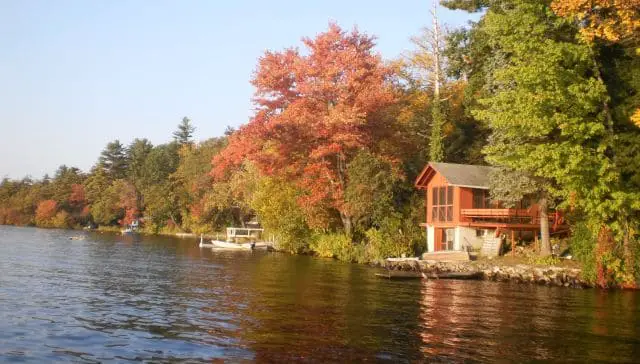 Crystal Lake lies in Connecticut's River Valley. A dynamic region of cities and countryside, visitors may experience a fusion of entertainment, culture, history, and the breathtaking beauty of New England geography. Crystal Lake lies between the semi-rural towns of Ellington and Stafford, close to the dynamic Shenipsit State Forest.
The first white settlers in the region called the lake Square Pond, because of its square shape, or Ruby Lake, for the many garnets that were found in the surrounding land. Before that, the Nipmuc people, who had an ancient village on the northern shore of the lake, called the lake Wabbaquasset which was a reference to the grass-like cattails that grew all over the lake. The name of the lake was changed in 1889 to Crystal Lake.
Surrounded by forests of oak, maple, pine, chestnut and hickory and a sandy beach, Crystal Lake became a popular resort area in the 1890s, attracting throngs of fun-lovers. Hotels, tourist cabins, and cottages were built to accommodate a growing patronage. The Sandy Beach Ballroom which saw its heyday in the 1930s, hosted big bands to the likes of Duke Ellington and Cab Calloway. The ballroom also doubled as a roller-skating rink where youngsters from nearby towns came to socialize and have a good time. Another ballroom, the Crystal Ballroom also enjoyed a large patronage that sought out its polka orchestras. The passing summers saw canoe carnivals, sailboat races, and plenty of fishing and swimming. And the winters brought out their own share of fans as ice skating and icefishing attracted still more crowds of people. In the 1930s, with its dances, beach fun and novelties (like the beach hot dog stand that served hungry customers from 1929 to 2004) Crystal Lake had the thrill of an amusement park.
Today, the entire shoreline is dominated with homes. As real estate began to develop from the small cottages that nearby town residents built at the lake, the once summertime resort slowly transformed into a year-round home for many, while vacation rentals continued to offer options to seasonal visitors. One thing definitely remained unchanged. Crystal Lake is still a hubbub of recreational delight.
Sandy Beach, operated by the Town of Ellington, offers a host of summertime activities. Fishing, boating, and swimming are still popular at the lake. Swimming lessons are offered in sessions through the summer. A state boat launch on the western shore of the lake gives boaters easy access. Crystal Lake offers a prime fishery. Designated a trophy trout lake in 1993, the lake is now a trout management lake and attracts anglers from everywhere. Atlantic salmon was stocked in 2007 by the Connecticut Department of Environmental Protection, and an annual bass tournament has wide appeal and attracts a loyal gathering.
.
The Ellington and Stafford areas offer much to do. The Ellington Annual Winterfest and Tree Lighting Ceremony feature choirs, a Christmas play, baking contest, parade and more. Summer concerts offer a delectable mixture of musical performances from country to jazz and will be a treat to music lovers. The stunning New England foliage during autumn is worth some sight-seeing adventures. And apple picking on apple farms and farmers markets are a fun way to appreciate the richness of these agricultural communities. There is so much more with Hartford only 15 minutes away from Crystal Lake.
At Crystal Lake you will contribute to the lake's traditions of good old-fashioned fun. Aside from the endless amusements at your fingertips, you will create lifetime memories of refreshing boat trips on the calm water, the chatter of the lakeside birds and the luminosity of the setting sun casting its glow.
Things to do at Crystal Lake CT
Vacation Rentals
Fishing
Fishing Tournaments
Boating
Sailing
Swimming
Beach
Canoeing
Cabin Rentals
Ice Skating
Birding
State Forest
Amusement Park
Fish species found at Crystal Lake CT
---
Crystal Lake CT Photo Gallery
Crystal Lake CT Statistics & Helpful Links
Spread the word! Share our Crystal Lake CT article with your fellow Lake Lubbers!