Wilson Lake, Ontario, Canada
Also known as:  Wauquimakog Lake
Welcome to the ultimate guide for history, statistics, local fun facts and the best things to do at Wilson Lake ON.
If you're considering Wilson Lake ON vacation rentals, we've made it super easy to explore accommodations and nearby hotels using the interactive map below. Simply click on a listing to compare similar properties, best rates and availability for your dates. Or keep scrolling to read our Wilson Lake ON guide!
Wilson Lake ON visitor and community guide
Ontario visitors who think 'cottage country' is limited to the Muskoka Region will miss out on Wilson Lake! Located in Ontario's 'near north', Wilson Lake is located in the Parry Sound District, immediately north of the Muskoka Region. Better known as Wilson Lake, some official maps call it Wauquimakog Lake. Wauquimakog is taken from the First Nations word meaning 'laughing water'. Known for excellent fishing and boating, Wilson and other lakes along the Pickerel River host fishing camps, hunting lodges, summer homes, rental cabins and larger resorts.
Wilson Lake, or Wauquimakog, is a special vacation memory-maker for vacationers of many years, one that is fondly passed down to new generations of 'cottagers'. Wilson Lake is ideal for fishing, swimming, sailing, canoeing the many small bays, wildlife watching, sunbathing, water skiing and boating excursions up the Pickerel River, through Pigeon Bay and Duck Lake. Evenings are campfires, S'Mores and hot dogs or marshmallows on a stick over the coals. Occasional rainy days or chilly autumn nights are perfect for board games or reading the latest novel. At Wilson Lake, the cares of the busy world are left behind and time seems to stand still, at least for the length of your stay.
Wilson Lake is the quintessential north-country lake: uncrowded, unaltered, unhurried. The lake remains unsurveyed, so estimates of its size range from 1200 acres to 6000 acres. Traffic is non-existent: many cottages are accessible only by boat, whether located along the wooded shoreline or on one of the small islands. Unspoiled by light pollution, both sunsets and sunrises are equally stunning. Some lucky visitors see the Northern Lights. It isn't unusual to hear a loon's eerie call in the morning mist, or experience wildlife venturing onto the porch. Here the lakelubber is – by choice and of necessity – one with the natural world and will come away refreshed and renewed.
Unincorporated Port Loring maintains government-owned docks and a public parking area to accommodate cottage-goers making the occasional trip to town for groceries, home improvement needs or medical services. The town offers a small restaurant, hardware and library. There are few organized amusements near Port Loring, but movie theaters, major restaurants and shopping malls are left for North Bay about 60 miles away. Loring, a few miles to the north, or Arnstein to the east are a bit bigger than Port Loring but still very small towns. One of Ontario's largest deer herds winters near Loring, kept healthy during heavy snows by supplemental feeding by area residents.
Fishing is excellent at Wilson Lake. The waters support pickerel (walleye), largemouth bass, smallmouth bass, northern pike, muskie, lake trout, channel catfish, lake herring, bluegill and perch. Wilson Lake connects to Pigeon Bay Lake, then Duck Lake, making for a large expanse of water for fishing and boat touring. A particularly beautiful spot on Duck Lake is the now-private Big Slide – a series of waterfalls where the Little River chain of lakes flows into the lake. Local resorts can arrange guided fishing trips or rent a boat and all necessities for the experienced fisherman. In winter, some resorts stay open to host ice fishermen and snowmobilers. Port Loring is on the Ontario Federation Snowmobile Trail System with 200 miles of pure winter enjoyment on groomed trails. In warmer weather, ATV trail riding is a favorite pastime. Autumn not only offers excellent fall colors but hunting for grouse, deer and rabbit. Resorts welcome each guest like an old friend; many quickly become annual visitors and return again and again. It is no wonder that many occasional visitors decide to become rear-round residents.
The Pickerel River system is a favored destination for paddle-sport enthusiasts. With over 45 miles of navigable water, many start out in the Wilson Lake area and paddle with the current west toward French River, North Bay and Lake Huron. A small dam at Dollars Lake helps maintain the water level in the chain. Less river than interconnected lakes, the Pickerel Canoe Route provides campsites every few miles along the way, so canoe or kayak trips can be relaxing, leisurely and thoroughly enjoyable. The Pickerel River flows through the Grundy Lake Provincial Park, with several campsites reached only by canoe. Accommodating resort owners are willing to help paddlers plan their route and provide transportation to and from landing spots along the river. Although easily reached by car on Highway 522 – either west from Highway 11 or east from the Trans-Canadian Highway – the Port Loring Water Aerodrome can also accommodate float plane arrivals. Again, resort transportation can be arranged.
Discerning cottagers have been coming to the Port Loring area since the early part of the last century. Even before that, loggers moved their families here to harvest the plentiful timber resources. Many of those families never left; their descendants still own cottages along the river system. Wilson Lake and the Pickerel River system provided excellent transportation for floating logs to the French River and out to saw mills. At one time, steam-powered boats were even built at Port Loring.
All types of vacation lodgings are available at or near Wilson Lake. Resorts with housekeeping cabins, bed-and-breakfasts, a small motel, private cottages and homes for rent and even a resort specializing in large-group rentals can be found within five miles of the lake. For visitors who simply must remain 'connected', several of the resorts provide internet and satellite television. Reservations are a must in order to get the accommodations you desire. So start planning now for your vacation to Ontario's 'Near-North' region. Wauquimakog is waiting . . .and laughing softly. Listen, and you will hear it whisper your name.
Custom Wilson Lake ON house decor
Read our full review of these personalized lake house signs.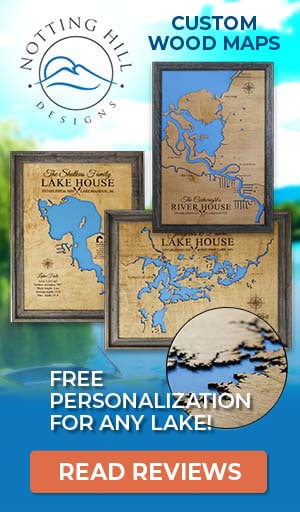 Things to do at Wilson Lake ON
Vacation Rentals
Fishing
Boating
Sailing
Swimming
Canoeing
Kayaking
Water Skiing
Camping
Cabin Rentals
Hiking
Snowmobiling
Hunting
Waterfall
Wildlife Viewing
Provincial Park
Movie Theater
Shopping
Fish species found at Wilson Lake ON
Bass
Black Bass
Bluegill
Catfish
Channel Catfish
Lake Trout
Largemouth Bass
Muskellunge
Northern Pike
Perch
Pickerel
Pike
Smallmouth Bass
Sunfish
Trout
Walleye
---
Best hotels and vacation rentals at Wilson Lake ON
The Wilson Lake ON map shown above is a simple and stress-free way to search for trip accommodations. But if you want to take a deeper dive to find the ideal waterfront home, cabin, condo, hotel or resort, visit our favorite lodging partners by clicking the buttons below.
Note: These are affiliate links so we may earn a small commission if you book through them. While there is no extra cost to you, it helps provide resources to keep our site running (thank you)! You can read our full disclosure policy here.
---
Wilson Lake ON photo gallery
New photos coming soon!
Wilson Lake ON statistics & helpful links
We strive to keep the information on LakeLubbers as accurate as possible. However, if you've found something in this article that needs updating, we'd certainly love to hear from you! Please fill out our Content Correction form.
Advertise your Wilson Lake ON vacation rental
LakeLubbers will soon offer homeowners and property managers the opportunity to to showcase their vacation rentals to the thousands of lake lovers searching our site daily for accommodations. If you'd like additional details, please contact our advertising team here.
Looking for the Wilson Lake ON forum?
LakeLubbers previously offered visitors the ability to create accounts and participate in lake forums. When we overhauled the site's content management system in 2021 we had to disable those features. We're evaluating options and welcome your comments and feedback here.
We also encourage you to join our lake-lovin' community on Facebook and Instagram!
Spread the word! Share our Wilson Lake ON article with your fellow Lake Lubbers!