Big Rideau Lake, Ontario, Canada
Lake Locations:
Also known as:  Rideau Lakes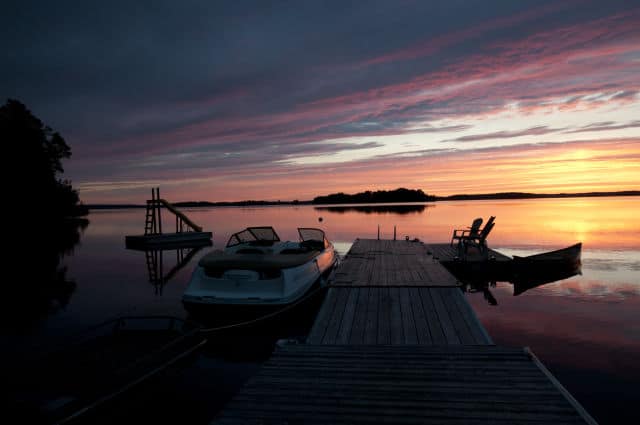 One of the largest lakes along the route of the Rideau Waterway in Ontario, Canada is Big Rideau Lake. This lake is controlled by a canal system called the Rideau Canal Waterway. With 45 locks at 23 stations along the canal, Rideau Waterway connects to more than nine lakes including Big Rideau Lake, Lower Rideau Lake, Upper Rideau Lake, Newboro Lake, Clear Lake, Indian Lake, Opinicon Lake, Sand Lake, and Whitefish Lake. Many of the locks operate today much as they did 160 years ago with big wooden doors and hand cranks. The Rideau Canal Waterway has been in continuous operation since it first opened in 1832. Big Rideau Lake connects to Upper and Lower Rideau Lakes and is the perfect place to visit with your family and friends.
With 1,610 acres of cool water, Big Rideau Lake is home to fish species such as northern pike, largemouth bass, smallmouth bass, lake trout, crappie, sunfish, rock bass, and walleye. Big Rideau Lake is the deepest lake in the Rideau chain with a maximum depth of 328 feet and an average depth of 41 feet, so boating, kayaking, canoeing, and sailing are popular activities. There are a multitude of islands dotting the lake's interior that are fun to visit and are used for recreational activities. Many of the islands host events like day camps and firework shows. Tennis, volleyball, and even sailing races are hosted on some of the islands as well. If exploring is in your blood, make your way down the chain of lakes to visit one or all of the connecting lakes.
In winter, a section of the Rideau Canal is open to ice skating and officially becomes the world's largest ice skating rink. Big Rideau Lake also hosts an annual international speed skating tournament called Skate the Lake. Portland, a city located at the southeastern shore of the lake, is the primary event planner. The city of Portland was one of the first settlements along the Rideau Waterway and is now a thriving city. Portland is home to the Big Rideau Lake Association whose purpose is "to preserve and enhance the quality of life on Big Rideau Lake."
Big Rideau Lake provides a haven for many species of wildlife including loon, blue heron, and osprey. On any typical day it is not uncommon to see half a dozen turtles sunning themselves on a log. By day hummingbirds flit back and forth and by night fireflies light up the air. Boaters keen on seeing wildlife may see beavers, otters, and even muskrats following in their wake. There is no better way to see wildlife off the lake than hiking through the wilderness. The Rideau Trail is popular among tourists for its range of terrain from flat farmland to rugged shield. Make your way through the forest hiking, snowshoeing, or cross-country skiing. Another trail to experience is the Cataraqui Trail, a four season experience for hikers, bikers, equestrians, snowmobilers, and cross-country skiers.
Located at the Northeastern edge of Big Rideau Lake is Murphys Point Provincial Park. This park offers tours of a restored mica mine and trails, as well as boat-in campsites on Big Rideau Lake. With its mix of open fields, mature forests and wetlands, Murphys Point offers a diversity of wildlife. Birders will love to visit during the warmer months to catch a glimpse of the bold feathers of scarlet tanagers, indigo buntings, yellow warblers and Baltimore orioles. These spring and summer months also bring with them an astonishing assortments of wildflowers.
With an abundance of vacation rentals and real estate properties for sale, Big Rideau Lake provides a variety of short-term and long-term housing options. Plan a trip to see this lake and everything the Rideau Waterway have to offer.
Things to do at Big Rideau Lake
Vacation Rentals
Fishing
Boating
Sailing
Canoeing
Kayaking
Tennis
Camping
Hiking
Ice Skating
Cross-Country Skiing
Snowshoeing
Horseback Riding
Wildlife Viewing
Birding
Provincial Park
Fish species found at Big Rideau Lake
Bass
Black Bass
Crappie
Lake Trout
Largemouth Bass
Northern Pike
Perch
Pike
Smallmouth Bass
Sunfish
Trout
Walleye
Whitefish
---
Big Rideau Lake Photo Gallery
Big Rideau Lake Statistics & Helpful Links
Spread the word! Share our Big Rideau Lake article with your fellow Lake Lubbers!