Otter Lake, Ontario, Canada
Also known as:  Big Otter Lake
Welcome to the ultimate guide for history, statistics, local fun facts and the best things to do at Otter Lake ON.
If you're considering Otter Lake ON vacation rentals, we've made it super easy to explore accommodations and nearby hotels using the interactive map below. Simply click on a listing to compare similar properties, best rates and availability for your dates. Or keep scrolling to read our Otter Lake ON guide!
Otter Lake ON visitor and community guide
Otter Lake is a sparkling 1,252-acre lake located near Parry Sound, Ontario, in the Georgian Bay region known as The 30,000 Islands. The Georgian Bay is 200 miles long by 50 miles wide and covers over 5,800 square miles making it almost as large as Lake Ontario. Local legend tells of a god called Kitchikewana, who was large enough to guard the entire Georgian Bay. Kitchikewana was known for his temper and, in a fit of rage, he dug his hands into the ground and threw fistfuls of earth at the departing canoe of his true love, thus the 30,000 Islands were created. Whether formed by an angry god or massive glaciers, the Georgian Bay region is the crown jewel of the Great Lakes and a fantastic spot for a vacation or second home.
Named Nigge-Cu-Bing (Lake of Many Otters) by the first Indian settlers, Otter Lake is located in the Township of Seguin (formerly Foley Township), in the District of Parry Sound. The lake is home to multiple islands, many of which are large enough for development. During the late 1800s, settlers were offered land grants to encourage development of the area. What is now Highway 69 served as a colonization road. Farms began to dot the landscape and agriculture became the predominant way of life. Seasonal residents began building on the lake in the early 1900s. The island properties were bought up first followed by the most desirable bays. The 24 miles of shoreline around the lake is mostly rocky with just a few sandy beaches. Today the perimeter of the lake is fully developed with cottages, permanent homes, resorts, a marina and one public beach.
Otter Lake, also known as Big Otter Lake, is easy to find on a map due to its unique meandering shape. The "Long Arm" of the lake is a long and narrow portion that stretches out from the southeast end of the lake. "Little Otter Lake" is a smaller, shallower part of the lake at the northeast end, separated from Big Otter Lake by an area called "The Narrows". A dam on the Boyne River on the outflow of Little Otter Lake controls the water level. The maximum depth of the lake is 147 feet, with an average depth of 36 feet.
Otter Lake is known for its excellent trout fishing. Since 1949, the Ministry of Natural Resources has stocked the lake with lake trout and more recently rainbow trout. Anglers will also find largemouth bass, smallmouth bass, walleye, northern pike, yellow perch, black crappie, cisco, pumpkinseed bluegill, and rock bass. Little Otter Lake is too shallow for lake trout, but other game fish can be found in the crystal clear water.
Visitors to Otter Lake can enjoy swimming, boating, canoeing, kayaking, and waterskiing during the warm summer months as well as nearby trails for hiking and biking. During the fall, the colorful foliage creates a spectacular backdrop for those getting in some last minute outdoor activities before winter's long freeze. When snow blankets the area, trails are used for snowmobiling, cross country skiing, dog sledding, and snowshoeing. No matter what time of year, whether it is on the water or on the ice, fishing is always a challenging sport.
Accommodations on Otter Lake range from resorts to campgrounds to cozy lakefront cottages. Although there are plenty of vacation rentals, they book quickly during the peak summer months. Real estate for purchase is also an option for anyone looking for a summer or year round home. Additional lodging can be found in nearby towns. Boaters can access the water from a public beach on the lake or through the lake's marina. Boat rentals are available along with fishing supplies. With the many islands and secluded bays, the lake is a paddler's paradise.
Otter Lake's proximity to Parry Sound and the Georgian Bay makes it a perfect vacation destination. The town of Parry Sound has the largest natural harbor on Georgian Bay and is the birthplace of hockey legend, Bobby Orr. With many recreational activities, Parry Sound offers something for everyone. Whether it's sightseeing in your own boat or from a 30,000 Island cruise boat, exploring Georgian Bay is a must. Additional attractions include beautiful beaches, golf courses, seaplane tours, provincial parks, full service marinas, and municipal docks. If you're hungry, there's no shortage of choices for dining. Many restaurants dot the shoreline in local towns. Wintertime brings a whole new life of activities including snowmobiling, cross country skiing, ice fishing, dog sledding, snowshoeing and much more.
For an interesting daytrip, the Algonquin Provincial Park is an easy drive east of Otter Lake and covers approximately 2,950 square miles. Over 2,400 lakes and 750 miles of streams and rivers are located within the park. Hiking, canoeing, camping and fishing can be enjoyed by visitors to the park. Hikers have a good chance of seeing a moose in the dense woods and there are also a small number of wolves, lynx and bears in forest.
Whether you choose to call Otter Lake home, or just enjoy taking your vacations on this scenic lake, you are sure to find the natural beauty of the area to be mesmerizing. With areas of pristine wilderness and thousands of islands to explore, Otter Lake is outdoor enthusiast's paradise.
Custom Otter Lake ON house decor
Read our full review of these personalized lake house signs.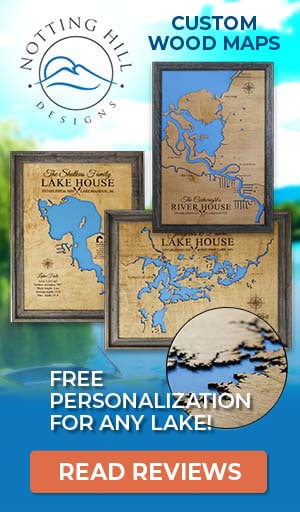 Things to do at Otter Lake ON
Vacation Rentals
Fishing
Ice Fishing
Boating
Swimming
Beach
Canoeing
Kayaking
Water Skiing
Golf
Camping
Campground
Hiking
Biking
Cross-Country Skiing
Snowmobiling
Dog Sledding
Wildlife Viewing
Provincial Park
Fish species found at Otter Lake ON
Bass
Black Bass
Black Crappie
Bluegill
Cisco
Crappie
Lake Trout
Largemouth Bass
Northern Pike
Perch
Pike
Pumpkinseed
Rainbow Trout
Smallmouth Bass
Sunfish
Trout
Walleye
Yellow Perch
---
Best hotels and vacation rentals at Otter Lake ON
The Otter Lake ON map shown above is a simple and stress-free way to search for trip accommodations. But if you want to take a deeper dive to find the ideal waterfront home, cabin, condo, hotel or resort, visit our favorite lodging partners by clicking the buttons below.
Note: These are affiliate links so we may earn a small commission if you book through them. While there is no extra cost to you, it helps provide resources to keep our site running (thank you)! You can read our full disclosure policy here.
---
Otter Lake ON photo gallery
New photos coming soon!
Otter Lake ON statistics & helpful links
We strive to keep the information on LakeLubbers as accurate as possible. However, if you've found something in this article that needs updating, we'd certainly love to hear from you! Please fill out our Content Correction form.
Advertise your Otter Lake ON vacation rental
LakeLubbers will soon offer homeowners and property managers the opportunity to to showcase their vacation rentals to the thousands of lake lovers searching our site daily for accommodations. If you'd like additional details, please contact our advertising team here.
Looking for the Otter Lake ON forum?
LakeLubbers previously offered visitors the ability to create accounts and participate in lake forums. When we overhauled the site's content management system in 2021 we had to disable those features. We're evaluating options and welcome your comments and feedback here.
We also encourage you to join our lake-lovin' community on Facebook and Instagram!
Spread the word! Share our Otter Lake ON article with your fellow Lake Lubbers!